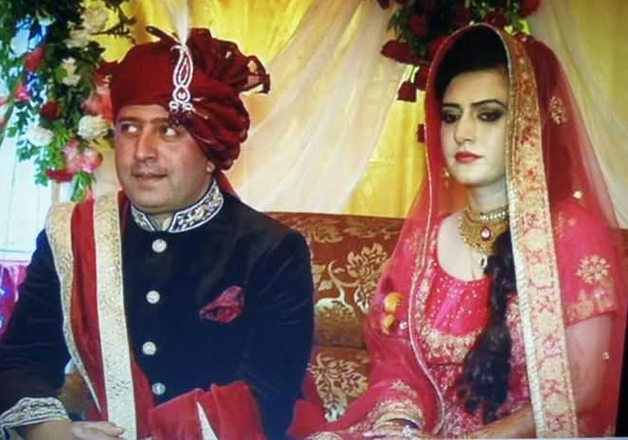 At a time when India and Pakistan continue to spar over the Kashmir issue, a heart-warming love story that culminated in marriage signifies a bond that traverses beyond the boundaries of the Line Of Control (LOC).
A J&K police officer married a Muzaffarabad (capital of Azad J&K, Pakistan) girl in Srinagar, overshadowing the unrest that has engulfed the Valley since the July 8 killing of Hizul militant Burhan Wani.
Sub-inspector from north Kashmir and posted in Srinagar, Owais Geelani married postgraduate Faiza Geelani of Muzzaffarabad at a hotel in Srinagar on Tuesday evening where relatives and friends of both families attended the function.
News website DailyO reported that Faiza along with her 13 family members had arrived here on August 29, when Kashmir was on boil, from Caravan-e-Aman (the Srinagar-Muzaffarabad peace bus service) that was restored after being suspended for three weeks following Wani's death.
The wedding ceremony also reunited the families because they were separated during the partition in 1947, it said.
The two sides credit the groom's father Syed Shabir Gilani, a retired police official, for their reunion.
Shabir said that he visited Muzaffarabad for the first time after his retirement in 2014 where he suggested to his cousin the match of his son for his daughter.
"I called up my son Owais and he agreed," he said, adding that they had sent 'mehndi' on July 25 when the "Carvan-e-Aman" bus plied after three weeks' suspension.
Shabir further said that due to the unrest, the venue was shifted from their native place Bandipora in North Kashmir to a hotel in Srinagar. "Otherwise the marriage would have been solemnised in a big way".
He also expressed hope that this marriage will bring peace in the region and end the hostilities between the two countries as the divided families are the worst victims of acrimony.