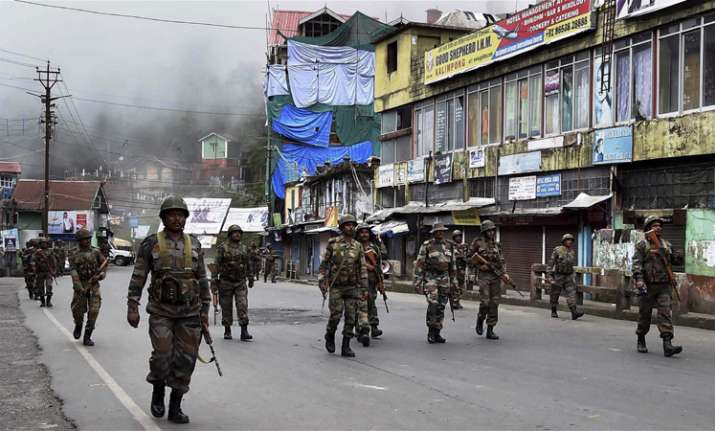 With the Gorkha Janamukti Morcha (GJM) gearing up for a prolonged confrontation with West Bengal government over the Gorkhaland statehood issue, the party's leadership is planning to revive Gorkhaland Personnel (GLP) - its "peacekeeping" wing. The move comes on the heels of the death of three GJM workers in clashes with the security personnel on Saturday. 
"The situation is getting worse with each passing day. We feel that a head-on collision is just a matter of time. So we need to prepare ourselves to counter the state government democratically," GJM central committee member and former in-charge of GLP Colonel (retd) Ramesh Alley told PTI. 
"We (GJM) will revive and recruit more youths in GLP our own peacekeeping force. We are not into any kind of violence nor is GLP into this. But we have to prepare ourselves," he said. 
GJM, Alley said, wants to raise a 8000-strong force in Darjeeling hills which will be well prepared to tackle "any kind of situation".
GLP history 
The idea of setting up GLP by recruiting youths from the hills was first mooted by GJM supremo Bimal Gurung during the Gorkhaland agitation of 2008. 
Gurung had then held a meeting with former army personnel and officers from the hills and requested them to take charge of selection, recruitment and training of the youths. The outfit was first named Gorkhaland Police, but after opposition from various quarters it was renamed Gorkhaland Personnel (GLP). 
The criteria for a place in this force was education up to standard eight and of course physical fitness and agility. After initial selection, nearly 3000 youths were trained for joining GLP. 
GLP tasks
The force in 2009 enforced bandhs called by GJM, ensured that locals wear traditional Nepali attire at least thrice a week, seize and destroy liquor and provide protection to Gurung and top GJM leaders. 
Paid only a paltry allowance, the GLP youths were promised to be absorbed into the police force after the creation of Gorkhaland. However, GLP took a back seat and most of its trained youths were absorbed into GJM youth wing instead following the formation of Gorkhaland Territorial Administration in 2011. 
"During GTA, the state government had promised that these youths would be absorbed in the state police force but nothing of the sort happened. Now we no longer have any expectation from the state government. We are Indians and we hope that the Centre will take action to resolve the crisis in the hills," Alley said. 
Why now 
After Bimal Gurung's office and other premises of GJM were raided in this latest round of agitation, the party leadership decided to revive the force to counter the alleged police atrocities. 
Alley and other GJM leaders pointed out they are not for any armed struggle as that would mean taking up arms against the Centre. 
"We have been soldiers all our life. We can never think of armed struggle against the Centre. We love our motherland India, but we want a separate state. It is a fight for our own identity," Alley said. 
The BJP is an ally of the Gorkha Janamukti Morcha (GJM) and party MP S S Ahluwalia had won the 2014 Lok Sabha elections from Darjeeling with its help. 
Darjeeling on boil; three GJM supporters dead, police officer critical
Darjeeling has been on the boil for the past ten days and indefinite shutdown is on by GJM in support of its separate Gorkhaland demand. 
The GJM has claimed that three of its activists were killed in the police firing, a charge West Bengal Chief Minister Mamata Banerjee and top police officials of the state rejected. The clashes that continued througout the day left 35 security personnel injured, including an IRB officer seriously.
Reacting to GJM's decision to revive GLP, senior TMC leader and minister Gautam Deb said " We all know that GJM is a separatist force. So it is expected that they well set up a militant organisation. But we will not allow such separatist forces to grow." 
The police said they are keeping a close watch on all the activities of GJM and will do the needful.
Meanwhile, the GJM has ruled out any discussion with West Bengal government but said it is "comfortable" in holding talks with the BJP-led government at the Centre. 
"We are not ready for talks with West Bengal government. Mamata Banerjee has insulted us, she has called us terrorists," GJM leader Binay Tamang said. 
Mamata Banerjee has claimed a "deep-rooted conspiracy" in Darjeeling Hills supported by insurgent groups of the NE for helping the GJM in its demand for a separate Gorkhaland. 
Banerjee said she is ready for talks but not under the current situation. 
GJM supremo Bimal Gurung has accused the state police of letting lose atrocities on the people of the hills and said the time has come for an all out fight for Gorkhaland.