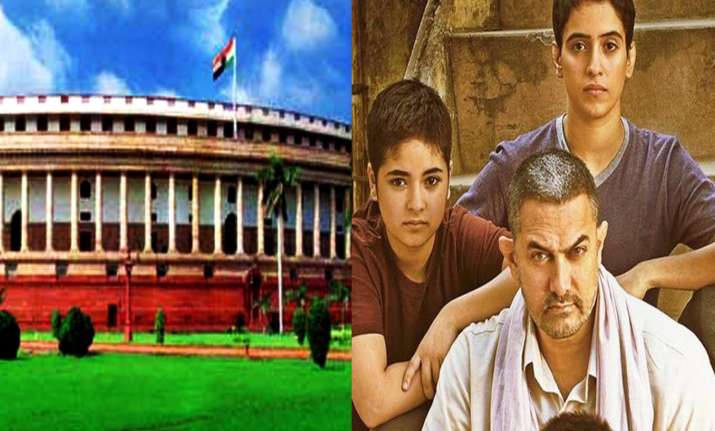 Amir Khan-starrer, 'Dangal', which won accolades with its unique yet interesting subject exemplifying 'girl power', will now be screened in Parliament for the Member of Parliaments (MPs) today. 
With MPs often heard giving lucid speeches on the most sensitive issue of women empowerment, 'Dangal' screening might act as a 'moral lesson' for all such leaders. 
No doubt, it will be a mood booster moment for all the MPs, who are most of the time busy discussing serious nation building issues or sometimes even in pulling leg of the opponent leaders in the supreme legislative body of India. 
The credit of this moving initiative would go to the Lok Sabha speaker, Sumitra Mahajan, on whose landmark decision, MPs will enjoy a visual treat once the session gets over today in the evening. 
'Dangal' will be screened in Parliament's Balayogi auditorium in the evening.
"It is my priviledge to inform you that the Speaker has desired that popular Hindi Film Dangal be screened for the Members of both Houses on Thursday, March 23 at 1830 hrs. I would be grateful if could kindly make it convenient to grace the occasion along with your spouse," said a communique by Secretary General of Lok Sabha, Anoop Mishra.
A senior official from the department disclosed that the objective behind screening of 'Dangal' in Parliament is to send across the message of women empowerment so that the lawmakers can carry forward the most sensitive issue in their respective constituencies. 
The event is being organised by the Welfare department of the Lok Sabha Secretariat.