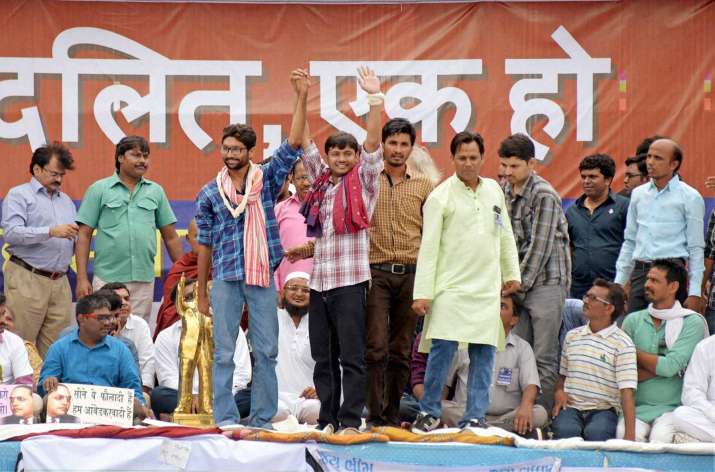 At least eight Dalits were severely injured when an upper-caste mob allegedly attacked them and 12 of their community members at Samter village near Una, while they were returning home after attending a protest rally in Una town of Gir Somnath district this evening. 
The incident took place around 5 PM. Police lobbed teargas shells to disperse the crowd and resorted to mild lathi-charge, even as the victims alleged that the force did "nothing to help" them. 
The victims also claimed that the attackers were residents of Samter village, who wanted to "avenge" the arrest of 12 persons in connection with last month's Una Dalit flogging case. 
Accused of Una incident belong to Samter village of the district. 
The 20 victims, who are from Bhavnagar district, had gone to Una on their motorcycles along with others. They were returning home after hoisting of a tricolour by Radhika Vemula, mother of Dalit scholar Rohith Vemula who had committed suicide in Hyderabad, and Balu Sarvaiya, father of one of the victims of Una Dalit flogging incident, in the presence of JNU student leader Kanhaiya Kumar. 
The mob stopped and attacked them at Samter, which falls on Una-Bhavnagar road and not far from Mota Samadhiyala village, where seven Dalits had been brutally beaten up by cow vigilantes last month. 
"Police fired tear gas shells to quell a violent mob at Samter this evening. When they refused to disperse, police also resorted to mild lathi-charge," an official of Gir-Somnath police control room said. 
Mavjibhai Sarvaiya, who survived the attack, alleged they were attacked by residents of Samter village. 
"Out of the 30-odd persons arrested till date in the Una Dalit thrashing case, 12 persons belong to Samter, which is 11 km from Una. Around 200 Dalits, including me, had come to Una on our bikes to attend the rally. When we were returning, Samter residents blocked the road and thrashed us mercilessly," he said. 
"Though the police force was there, they were outnumbered by attackers, who are holding us responsible for the arrests of 12 of their men. At least 20 persons were injured and eight of them received grievous injuries. The injured have been admitted to hospitals in Bhavnagar and Rajula. One of our bikes was also set ablaze," Sarvaiya said. 
He alleged that police did not help them during the time of the attack. 
"It was a pre-planned attack, as all the alternate roads were also blocked by them. We were attacked in the presence of police. When the situation went out of control, the police fired some tear gas shells on the mob," alleged Sarvaiya. 
Despite repeated attempts, no senior police officials were available for comment.
Veteran Dalit leader Jayantibhai Makadia also hit out at the police. He said the attacks had been taking place ever since the foot march reached close to Una few days back. 
"The situation is so serious that relatives of four Dalit youths of Mota Samadhiyala are forced to seek police protection to reach home after the rally, as angry locals of Samter are waiting on the road to attack them. Dalits are picked up and thrashed in Samter and many other adjoining villages," Makadia, who also attended the rally, said. 
As many as seven members of Dalit community from Mota Samadhiyala village in Una taluk in Gir Somnath district were on brutally assaulted on July 11 by some self-styled cow vigilantes for skinning a dead cow, sparking outrage. 
Dalits in Gujarat to intensify stir if demands not met 
Vowing to intensify their agitation at a protest rally on Independence day, the Dalit community in Gujarat today said they will launch a mega rail roko stir if their demand for granting five acres of land for each family is not met by Gujarat government within one month. 
As thousands of Dalits gathered in Una on the occasion of the country's 70th Independence Day where Prime Minister Narendra Modi also came under fire, their leaders sought freedom from atrocities and discrimination, amid chants of "Jai Bhim". 
The week-long rally which started from Ahmedabad by Una Dalit Atachiyar Ladat Samiti (UDALS), culminated in Una, the place where some dalits where brutally beaten by cow vigilantes for skinning a dead cow last month sparking outrage. 
"You take cow's tail, give us land," Jignesh Mavani, a lawyer-turned politician who established the UDALS and led the march, told the huge gathering. 
"We have presented our demand before the state government. If you do not accept our demand of giving five acres land to each dalit family in next one month, we will launch a rail roko agitation," Mevani said. 
He also made those who were present there to take a pledge not to be in the business of skinning of cows. 
Targeting Modi, Mevani said, "The sheer scale of protests had forced him to speak out on the issue. Modi did not speak a word when three youths were killed in police firing in Thangadh town in 2012, another incident of Dalit atrocity." 
JNU President Kanhaiya Kumar said the hype of Gujarat Model of development has been punctured by dalits of the state. "We want freedom from castesim. We will not tolerate any more atrocities on dalits anywhere in the country. Everybody has to come together to fight against such atrocities," he said. 
Radhika Vemula in her address said, "I have not got justice for my son. He had to commit suicide just because he was dalit. 
"But it is good to see that Dalit movement in Gujarat has forced the chief minister Anandiben Patel to resign. I have come here so that no other Dalit children face what my son had to suffer." 
Muslim community members came in large numbers to support the Dalit community in their campaign. Slogans like "Dalits-Muslims bhai bhai" were heard at the gathering. 
As many as seven members of Dalit community from Mota Samadhiyala village in Una taluk in Gir Somnath district were on July 11 brutally assaulted by some self-styled cow vigilantes for skinning a dead cow. 
Among others who attended the flag hoisting event at Una were documentary film maker Anand Patwardhan. 
The other demands of Dalits included banishment of each of the accused arrested in the Una atrocity incident under PASA and arrest of others who were seen in the videos participating in the beating of Dalits in the Una incident. 
They also demanded alternative employment options from government to Dalits who have pledged to not dispose of carcasses of dead animals, which they said should be first discussed in the coming session of the state assembly. 
They also demanded revocation of "frivolous cases" filed against Dalit agitators during demonstrations in the aftermath of the Una incident. 
The agitators also demanded arrest of absconding accused in the September 2012 Thangadh incident in which three Dalit youths were killed. They also asked for reopening of the case and trial be conducted in special designated case.
(With PTI inputs)