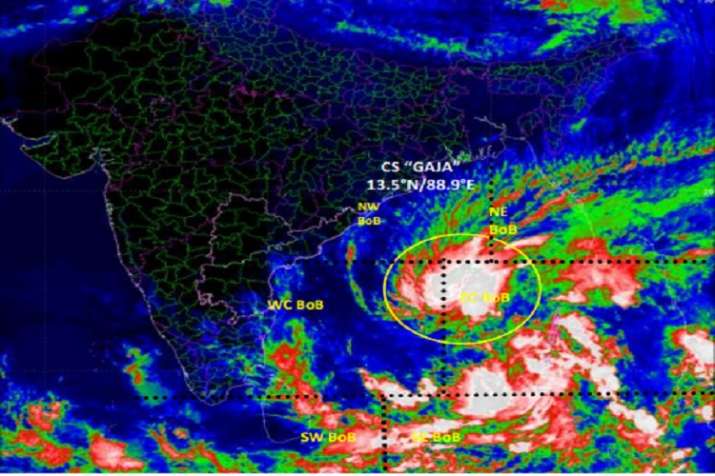 The depression that hit the south-east Bay of Bengal has intensfied into a 'severe cyclonic' storm named 'Gaja' and is expected to move to the coastal areas of Andhra Pradesh and Tamil Nadu over the next 48 hours. 
The MeT department has warned that the cyclone would intensify further into a 'severe cyclonic storm' by Monday and is likely to move west south-westwards towards north Tamil Nadu and south Andhra Pradesh coasts. However, it is likely to weaken and cross the coasts of Cuddalore (Tamil Nadu) and Sriharikota (Andhra) as a cyclonic storm.
"The deep depression over southeast and adjoining central Bay of Bengal moved west-northwestwards with a speed of 12 kmph during past 6 hours, intensified into a Cyclonic storm 'Gaja', and lay centred over east central and adjoining west central and southeast Bay of Bengal," the IMD said.
MeT department issues heavy rainfall warning, wind speeds likely to touch 100 kmph
IMD further warned of heavy rainfall at isolated places, including south Tamil Nadu, south Coastal Andhra Pradesh and Rayalaseema, from the evening of November 14. Rainfall intensity is very likely to increase gradually thereafter.
The IMD also said squalls, with wind speeds touching 65 kmph, would commence along north Tamil Nadu and south Andhra Pradesh coasts from Wednesday morning. "It is very likely to increase gradually, becoming a gale, with wind speeds clocking 100 kmph," the statement said.
Fisherman advised not to venture into sea during next two days
The MeT department has warned of rough sea conditions over north Andaman. Fishermen have been warned not to venture into south-east and adjoining east-central Bay of Bengal from Sunday and those engaged in deep sea fishing have also been advised to return to the coast before November 12.
Gaja will be the second cyclone to hit the coastal area in a month after Cyclone Titli wreaked havoc in Odisha and Andhra Pradesh on October 11, killing a total of 70 people. The severe cyclonic storm, with wind speeds of 175 km per hour, uprooted thousands of electricity and telecommunication poles, devastated coconut and cashew orchards, and flattened standing crops.