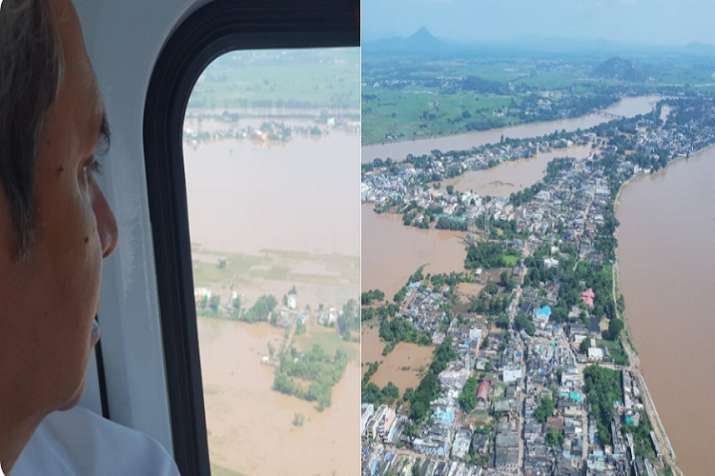 Odisha Chief Minister Naveen Patnaik on Saturday announced a monetary relief to be paid for 15 days to people affected by Cyclone Titli and the resultant flooding in Ganjam and Gajapati districts and Gunupur sub-division of Rayagada district.
Patnaik made the announcement after an aerial survey of the cyclone-hit areas of Ganjam, Gajapati and Rayagada districts earlier on Saturday.
"On an average, a family of four will be assisted with more than Rs 3,000 as relief," Patnaik told reporters in Bhubaneswar.
He said the relief amount will be provided at the rate of Rs 60 per adult and Rs 45 per child per day for 15 days.
He said the cyclone did the maximum damage to agriculture crops, roads and trees, adding a damage assessment will begin after immediate relief and restoration measures are completed.
The chief minister said road connectivity and power supply to 90 per cent of cyclone-hit areas will be restored within 48 hours. Power supply to rest of the affected areas will be ensured in four-five days, he added.
He said safe drinking water will be provided in all block areas within two days and all tubewells will be repaired by Sunday.
"In next 24 hours, water supply will be restored in all urban areas.
Meanwhile, at least 12 people were killed in a landslide triggered by cyclone Titli-induced heavy rain in Odisha's Gajapati district, raising the death toll due to the deadly storm to 15 in the state, officials said on Saturday.
The landslide occurred at Baraghara in the hilly Rayagada block where some villagers had taken shelter in a cave following very heavy rain on Thursday evening, a senior official said.
The toll could increase further as three others are feared trapped under the debris. Some houses and other structures were also damaged in the landslide, he said.