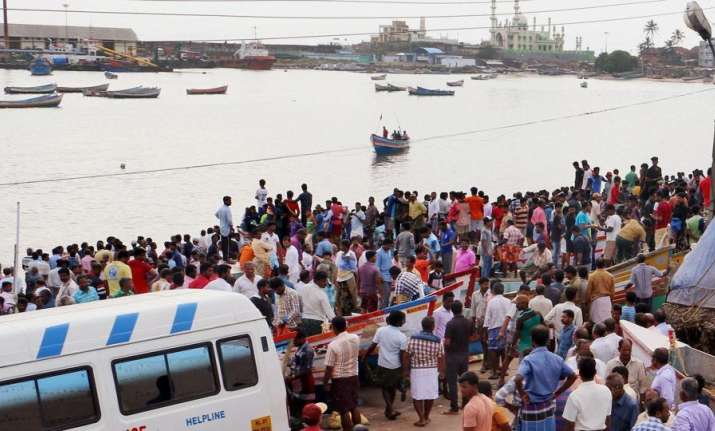 After leaving behind a trail of destruction in Tamil Nadu, Kerala and Lakshwadeep, Cyclone Ockhi is expected to make landfall in coastal Gujarat tomorrow midnight with squally winds, which may cause heavy rains in several parts of the state during the next two days.
An India Meteorological Department (IMD) forecast said, "The severe cyclonic storm Ockhi is now laid centred about 850 km south-southwest of Surat and is likely to cross south Gujarat and adjoining North Maharashtra coasts near Surat as a deep depression by mid-night of December 5." 
The Indian Meteorological Department's (IMD) Mumbai observatory issued a rain and thundershower warning for Mumbai and adjoining areas beginning Monday night in view of Cyclone Ockhi. The officials said that the situation would persist on Tuesday as well.
An official at the Mumbai office of India Meteorological Department said on account of the cyclone, the megapolis has started receiving rainfall due to spread of clouds.
The Maharashtra government has declared a holiday for schools and colleges in Mumbai and adjoining districts tomorrow due to "serious weather predictions".
The Mumbai Disaster management unit of Brihanmumbai Municipal Corporation issued advisory against visiting beaches in view of high tide alert issued for tonight and tomorrow morning due to Cyclone Ockhi.
The Mumbai Division of Central Railways said that all the emergency numbers have been updated, and an emergency cell has been opened at Chhatrapati Shivaji Terminus and Kalyan. 
It also said that over 250 personnel of the RPF and Maharashtra State Security Force have been deployed on crowd management and other related activities at stations and nearby areas.
Meanwhile, Gujarat Chief Secretary J N Singh today took stock of the administrative preparedness to deal with any eventuality. 
Revenue department's Principal Secretary Pankaj Kumar told reporters in Gandhinagar that the authorities concerned in the coastal region of the state have been directed to take all precautionary measures. 
Two National Disaster Response Force (NDRF) teams each have been deployed at Surat, Navsari, and Rajkot. 
The officer said the Army, Navy, and the Border Security Force (BSF) have been alerted in the view of the cyclone's landfall. 
"According to the IMD forecast, Cyclone Ockhi would enter south Gujarat tomorrow midnight. This will the impact coastal areas from Umargam (in south Gujarat) till Gir Somnath district (in Saurashtra). 
"We have directed local civic officials as well as the collectors to remain prepared and take all necessary steps for the safety of the people," Kumar said. 
The principal secretary said collectors of the coastal districts have been asked to ensure that fishermen do not venture into the sea as it will remain rough.
"Those fishermen who have already gone into sea should return now. Many such fishermen are already on their way to the coast," he said. 
Kumar said according to the IMD forecast, wind velocity would remain between 50 KMPH to 70 KMPH when the cyclone would make landfall.
In view of the adverse weather conditions, the RoRo ferry service between Ghogha and Dahej across the Gulf of Khambhat has been suspended. The service, inaugurated recently by Prime Minister Narendra Modi, would resume on December 6 subject if the weather conditions are suitable. 
According to the IMD, Gujarat is very likely to experience a wet spell during the next four days.
"Heavy rainfall might occur in Valsad, Surat, Navsari, Bharuch, Dang, Tapi, Amreli, Gir-Sonath and Bhavnagardistricts on December 5," it said. 
In a port warning issued here, the MeT Centre said, "Sea condition would be rough. Fishermen (have been) advised not to venture into the sea till December 6. Hoist Distant Warning Signal Number 2 at all ports".
According to an official release, Gujarat Chief Minister Vijay Rupani held an urgent meeting with senior officials to take stock of the preparedness. 
During the meeting, he was apprised that as many as 50 boats from Kerala had drifted towards Gujarat's Veraval coast due to the cyclone, it said.
2,604 fishermen rescued, search on for remaining: Tamil Nadu
The Tamil Nadu government on Monday said a total of 2,604 fishermen out of the 2,864 caught in the cyclone Ockhi have been rescued and search for the remaining 260 is on.
In a statement issued here, the state government said 2,604 fishermen were rescued from the sea after they were caught in the cyclone Ockhi and the search operations were continuing for the remaining 260 fishermen.
According to the government, 220 fishermen from Kanyakumari district were rescued out of 294 who went missing due to cyclone while fishing.
In addition, 2,384 fishermen and their 205 boats were rescued out of the 2,570 fishermen who had sailed in 284 boats from other places in the state, the statement said.
The government said search operations were being carried out to locate and rescue the remaining fishermen and their boats.
Meanwhile, women members of the fisher folk community held a protest in Kanyakumari district demanding that authorities intensify rescue operations to trace those caught in the deep sea in the wake of cyclone Ockhi.
Hundreds of women protested on the roads in Neerodi village, demanding the authorities trace their loved ones who are still missing since Ockhi struck southern Tamil Nadu and Kerala on November 30.
According to the fishing community in Kanyakumari, over 1,000 fishermen went into the sea before Ockhi struck the southern districts of Kerala and Tamil Nadu.
Meanwhile, some fishermen in Kanyakumari district have said that the Indian Coast Guard personnel was carrying out search operations only within 40 nautical miles from the shore and not venturing into deep sea, 200 nautical miles from the shore, where many fishermen go for deep sea fishing.
Speaking to a television channel, a fisherman in Kanyakumari who came back to the shore said: "Only God saved my life. We were thrown into the sea by the cyclone (Ockhi)."
He said he saw several bodies floating by when he was in mid sea.
Another person said deep sea fishermen would remain in the sea for several days. "They normally come back before Christmas and only then it will be known how many escaped the fury of Ockhi and how many succumbed to it."
According to defence officials, the coast guards carry out search operations within 100 to 150 nautical miles and they go beyond that depending on the situation.
In a statement issued on Sunday, the Press Information Bureau (Defence Wing) said 32 Tamil Nadu fishing boats with 346 fishermen had taken safe shelter at Karwar out of the 129 fishing boats and 1,247 fishermen, also belonging to Kerala, Karnataka and Maharshtra.
It also said that 25 Tamil Nadu fishing boats had also taken shelter at Meriya Bander, Ratnagiri and Devgarh.
In addition, 80 fishing boats from Kerala, 45 from Karnataka and 15 from Goa have reached Devgarh, Malvan, Meriya Bandar and Karwar ports safely.
According to the statement, three ships and one aircraft of the Indian Coast Guard - Eastern Region were continuing with search and rescue operation off the Kanyakumari coast.
A total of 11 Indian Coast Guard ships, two aircraft and two helicopters are presently carrying out search and rescue operations off the coasts of Tamil Nadu, Kerala, Karnataka, Maharashtra, Lakshadweep and Minicoy.