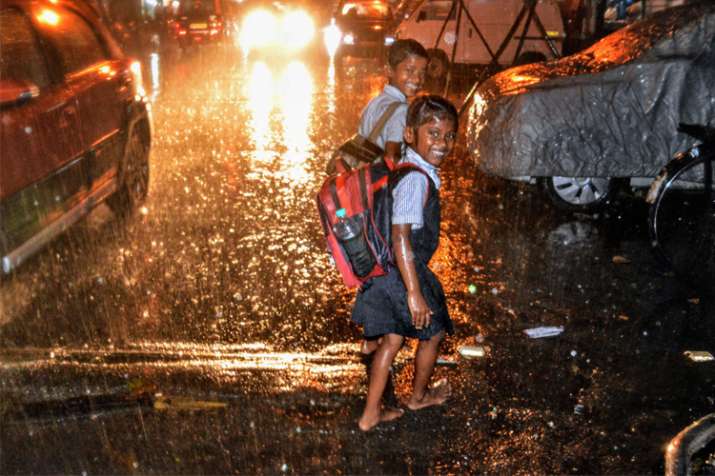 Cyclone Ockhi barrelled towards the Gujarat coast, where it is likely to make a landfall this midnight, forcing the BJP to defer tomorrow's election rally of Prime Minister Naerndra Modi in Surat. 
The cyclone also led to cancellation of the campaign meetings of Congress vice president Rahul Gandhi tomorrow. 
The rallies of BJP chief Amit Shah and several other political bigwigs scheduled for today were also cancelled.
Gandhi, however, made it to the state and addressed a rally in Kutch, while calling off three campaign meetings planned in Morbi, Dhrangadhra and Surendranagar towns. 
The prime minister, meanwhile, appealed to BJP workers to extend a helping hand to those who are likely be hit by the cyclone. 
According to the forecast by the Meteorological Centre here, the cyclone is approaching Gujarat steadily and now lies centred in the Arabian Sea just 390 kms away from the coastline near Surat. 
"It is very likely to continue to move north-northwestwards, weaken gradually and cross south Gujarat and adjoining Maharashtra coasts near Surat as a deep depression by the night of December 5," said the latest IMD bulletin.
The IMD has forecast light to moderate rainfall in most places with heavy rainfall at isolated places in Saurashtra and south Gujarat. 
As the cyclone is expected to cross Surat tonight, the prime minister's rally in the coastal city tomorrow has been rescheduled for December 7, the state BJP unit said in a release. 
However, Modi's all three other rallies in Dhandhuka, Dahod and Netrang will take place tomorrow as scheduled. 
"We had earlier announced that the prime minister will be in Gujarat on December 6, 8 and 9 to address 12 rallies.
Tomorrow's rally in Surat was supposed to be the last among the four scheduled rallies. The Surat rally has been now postponed to December 7," a BJP leader said. 
According to the release, remaining eight rallies of Modi in different parts of Gujarat scheduled for December 8 and 9 will take place. 
Though Rahul Gandhi addressed a rally in Anjar town in Kutch this morning, the Congress called off his three campaign meetings scheduled to be held in Morbi, Dhrangadhra and Surendranagar on account of bad weather. 
Gandhi's rallies in Narmada, Dang and Tapi districts tomorrow have been cancelled and he will now address public meetings at Chhotaudepur, Ahmedabad, Anand, and in Kheda district on December 8, a Congress release said. 
During the day, when almost the entire state experienced a wet spell, Amit Shah's campaign meetings in Rajula town in Amreli district and in Mahuva and Shihor towns in Bhavnagar district were cancelled. 
Similarly, BJP MP Manoj Tiwari's road show in Bapunagar area of the city was also cancelled due to showers since early morning, Bapunagar MLA Jagroopsinh Rajput said. 
The BJP also called off rallies and press conferences of Yogi Adityanath and Vasundhara Raje, chief ministers of Uttar Pradesh and Rajasthan, respectively, which were scheduled to be held in Surat. 
Former Congress strongman and "Jan Vikalp" front head Shankersinh Vaghela was also forced to cancel his road shows and rallies today at Junagadh, Mahuva and Palitana towns of Saurashtra. 
Though Vaghela was supposed to reach Surat tonight, he has dropped his plans due to the approaching cyclone, a Jan Vikalp leader said. 
Meanwhile, Prime Minister Narendra Modi appealed to the Gujarat BJP workers to focus on providing assistance to the people likely to be hit by the cyclonic storm. 
"With CycloneOckhi expected to make a landfall in Gujarat, I appeal to BJP Gujarat Karyakartas (workers) to focus on helping people across the state. Our Karyakartas should devote themselves to providing all possible assistance and stand shoulder to shoulder with fellow citizens," Modi tweeted. 
Inspired by his tweet, BJP leaders in Surat suspended all their campaign-related work and began shifting people to safer places, the ruling party MLA from Surat's Majura seat, Harsh Sanghvi, said. 
"We have decided not to do any kind of campaigning until the effect of cyclone remains. Since this morning, all our workers have spread across the city to help people. We are moving them to safer locations. During this work, we will not wear any scarves having BJP's election symbol," Sanghvi said.
The Met centre has warned that the cyclone would pack winds between 50 and 60 kmph at the time of the landfall, and may accelerate up to 70 kmph in south Gujarat. 
According to principal secretary of the state's revenue department Pankaj Kumar, at least nine districts received light showers or drizzle since this morning. 
Dharmarpur town of southern Gujarat received the maximum rainfall of 25 mm, he said. 
Gujarats chief secretary J N Singh interacted with the collectors of coastal districts via video conference to review their preparedness to deal with any eventuality, Kumar added. 
Cyclone Ockhi claims 39 lives, 167 still missing: MHA
A total of 39 people from Tamil Nadu and Kerala have been killed and 167 are still missing after Cyclone Ockhi hit both the states on December 30, a Home Ministry official said on Tuesday.
Of the dead, 10 hailed from Tamil Nadu and 29 from Kerala where 2,802 and 33,000 people got affected due to the impact of the cyclone respectively, he said. 
According to the official, five people from Tamil Nadu and 56 from Kerala suffered injuries after the cyclone which developed on November 30, a day after the India Meteorological Department (IMD) issued a warning. 
A total of 220 fishermen in Tamil Nadu, 390 in Kerala and 27 in Lakshadweep have been rescued along with 18 those who were stuck on two merchant craft boats, he said, adding "only those are missing till now who left into deep sea well before November 29". 
"The cyclone affected four districts in Tamil Nadu and eight in Kerala. There is lot of damage in Lakshadweep but no loss of human lives is reported." 
The official said a number of 74 people from Tamil Nadu and over 93 from Kerala are still missing and that the state government is in the process to identify them in the villages. 
A total of 33 Indian and foreign tourists visiting Lakshadweep at time the cyclone hit the island are safe, he said. "The tourists along with 250 people landed on the Lakshadweep coast and 809 landed on Maharashtra coast are being provided shelter and basic facilities." 
The official said that 10 ships and five aircrafts of Navy; 13 ships, four dornier aircrafts and one Chetak helicopter of Indian Coast Guard; one Advanced Light Helicopter, two MI-17 chopper and an AN-32 aircraft of Air Force is being used in the rescue operation.
"This is a totally coordinated rescue operation. Cabinet Secretary review everyday about the situation apart from joint secretary level officers taking congnisance of the situation every three hours," the official said. 
(With inputs from agencies)