Follow us on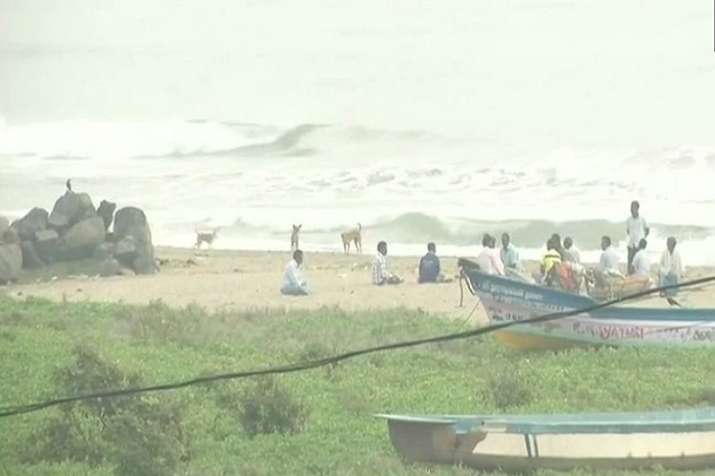 The cyclonic storm 'Gaja' which hit the south-east Bay of Bengal is likely to make landfall between Cuddalore and Pamban districts in Tamil Nadu on Thursday.
'Gaja' that lay over southwest and adjoining southeast and west central Bay of Bengal is about 550 km north east of Nagapattinam and is very likely to cross coast between Pamban and Cuddalore on Thursday evening or night with a wind speed gusting upto 100 kmph, the Met office said.
Over 30,500 rescue personnel have been deployed across various in the state. Meanwhile, the district collectors of Thanjavur, Tiruvarur, Pudukottai, Nagapattinam, Cuddalore and Ramanathapuram have declared holiday for schools and colleges on Thursday. All the educational institutions in Puducherry and Karaikal regions would remain closed on Thursday in the view of the cyclone.
Against the backdrop of the Central Water Commission advising constant vigil over dams, Tamil Nadu Revenue Minister RB Udayakumar told reporters that dams, lakes and rivers channels were being monitored continuously.
The CWC had advised action as per the Standard Operating Procedure as heavy rainfall in catchment areas could fill up the dams fast in less than 24 hours.
The Minister said mobile operators have assured to move 'Cell on Wheels,' mobile platforms to provide uninterrupted mobile connectivity to Nagapattinam and Cuddalore districts which are likely to witness the cyclone impact during landfall.
The government has also held discussions with oil marketing companies and they have been advised to maintain sufficient fuel stock, he said.
While reiterating caution to fishermen to not venture into the sea, Mr Udayakumar said a comprehensive list of do's and don'ts have been circulated to the people on cyclone eve.
The red column in the Met bulletins only indicate that steps to mitigate possible disaster should be taken by the government which has already been done and people should not panic, he underlined.
The Met office had warned storm surge of about 1.0 metres likely to inundate low-lying areas of Nagapattinam, Thanjavur, Pudukkottai and Ramanathapuram districts of Tamil Nadu and Karaikal district of Puducherry at the time of landfall.
The IMD also cautioned about major damage to thatched huts. "Roof tops may blow off," and communication and power lines may be affected it had said adding standing crops could also be hit besides water intrusion in low lying areas.
Speaking to news agency ANI, Gagandeep Singh Bedi, Special Officer for Disaster Management said; "It's expected that Gaja cyclone will make landfall late night today. People should be well-prepared. Government is making its best efforts in this regard".
Meanwhile, the Indian Navy has been put on alert for relief efforts. Four NDRF teams and four TNDRF tams have been positioned in Nagappattinam. Two Indian Naval ships Ranvir and Khanjar are standing by to proceed to undertake Humanitarian Aid Distress Relief (HADR), evacuation, logistic support including providing medical aid. These ships will be embarked with additional divers, doctors, inflatable rubber boats, integral helicopters and relief material that include food, tentage, clothes, medicines, blankets etc",  read on official statement, reported news agency ANI.
In addition to this, aircraft from Naval Stations Dega, Rajali and Parundu and Water Jet FACs and patrolling Boats from Naval detachments in Ramnad and Nagapattanam have been warning the fishing vessels about the storm.
Gaja will be the second cyclone to hit the coastal area in a month after Cyclone Titli wreaked havoc in Odisha and Andhra Pradesh on October 11, killing a total of 70 people. The severe cyclonic storm, with wind speeds of 175 km per hour, uprooted thousands of electricity and telecommunication poles, devastated coconut and cashew orchards, and flattened standing crops.