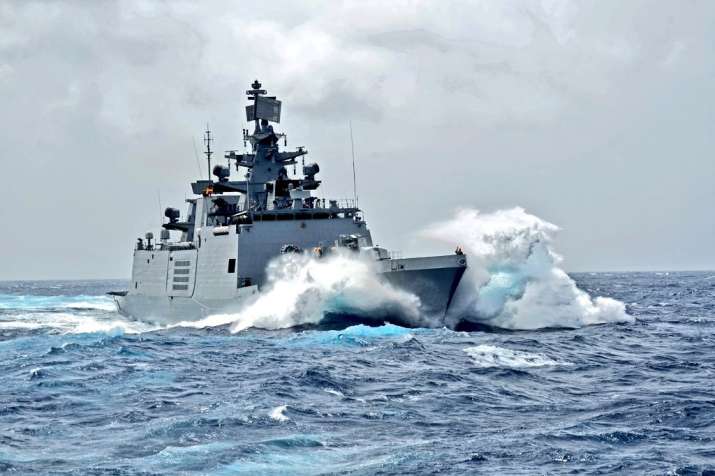 As Fani intensifies into a severe cyclonic storm, Eastern Naval CD, on Tuesday, assumed a high degree of readiness to render necessary humanitarian assistance. Ships are embarked with additional divers, doctors, inflatable rubber boats and relief materials in sufficient quantities, reported ANI.
"IMD has predicted cyclone is likely to hit Odisha coast in Puri district on 3rd May. All district collectors have been alerted. All cyclone centres are being kept ready," said Bishnupada Sethi, Special Relief Commissioner, Odisha. 
Meanwhile, MHA has ordered for advance release of financial assistance of Rs. 1086 crore to Andhra Pradesh, Odisha, Tamil Nadu and West Bengal, to their State Disaster Response Fund (SDRF) to assist them in undertaking preventive and relief measures in response to cyclonic storm Fani.
On Monday evening, cyclone 'Fani' intensified into a 'severe cyclonic storm'. It headed towards the Odisha coast, the India Meteorological Department (IMD) said. 
It could take a shape of an 'extremely severe cyclone' by Wednesday, prompting the government to put the National Disaster Response Force and the Indian Coast Guard on high alert, officials said. In its 9 pm bulletin, the Cyclone Warning Division of the IMD said the storm currently lays about 620 km east-northeast of the Trincomalee in Sri Lanka, 770 km east-southeast of Chennai and 900 km south-southeast of Machilipatnam, reported PTI.  
"The Cyclonic storm 'Fani' (pronounced as Foni) over Southeast Bay of Bengal and neighbourhood moved north-northwestwards with a speed of about 16 kilometres per hour in last six hours, intensified into a severe cyclonic storm. It is very likely to intensify into a very severe cyclonic storm during next 24 hours and into an extremely severe cyclonic storm during subsequent 24 hours. It is very likely to move northwestwards till May 1 evening and thereafter recurve north-northeastwards towards the Odisha coast," the bulletin said.
The National Crisis Management Committee (NCMC), on Monday, took stock of the situation arising out of cyclone 'Fani' and assured the state governments concerned of all assistance from the central government to face the storm. NCMC is the country's top body to deal with emergency situation,
The NDRF and the Indian Coast Guard have been put on high alert. The fishermen have been asked not to venture into the sea.
80 to 90 kilometres per hour is the wind speed of a cyclonic storm. However, in case of an 'extremely severe cyclonic storm', it goes up to 170-180 kmph. On Thursday, light to moderate rainfall at a few places is very likely over north coastal Andhra Pradesh and south coastal Odisha.
Indian Navy: As #Fani intensifies into a severe cyclonic storm, Eastern Naval CD assumed high degree of readiness to render necessary humanitarian assistance. These ships are embarked with additional divers,doctors,inflatable rubber boats&relief materials in quantities sufficient pic.twitter.com/GCoWSuWiCG

— ANI (@ANI) April 30, 2019
IMD: Severe cyclonic storm 'FANI' over Southeast&adjoining Southwest Bay of Bengal is very likely to intensify further into Extremely Severe Cyclonic Storm during next 36 hrs; very likely to move northwestwards till May 1 evening&recurve north-northeastwards towards Odisha Coast. pic.twitter.com/2gnmd7Oubc

— ANI (@ANI) April 30, 2019