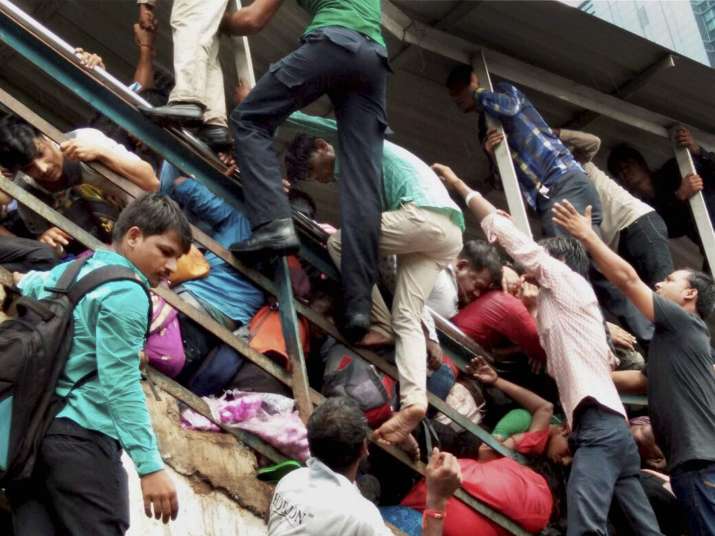 At least three people were killed and several others were injured after a foot overbridge near Mumbai's Chhatrapati Shivaji Terminus railway station collapsed on Thursday evening. The incident is a grim reminder of Elphinstone stampede when another neglected overbridge had caused a major tragedy.
On 29 September 2017, a stampede broke out at the sub-urban Elphinstone Road railway station in Mumbai, India. At least 23 people were killed and 39 others were injured in the stampede. The incident took place between the Parel railway station and Elphinstone road railway station.
Also read | Foot overbridge at Mumbai CST station collapses | Latest Updates
The incident occurred during the morning rush hour at Elphinstone road station when four trains arrived simultaneously at the station. It was further raining at the time and there were already numerous people crammed into the narrow bridge. Someone may have slipped and fallen when passengers resumed their travel after the rain, leading to the stampede.
A rumour that the pedestrian bridge was collapsing may have caused the passengers to surge forwards to flee. According to a witness, the situation worsened as police and emergency officials did not respond immediately or enforce crowd control measures.
Also read | Mumbai Bridge Collapse: Site of tragedy is infamous as Kasab Bridge, here's why
In the aftermath, railway minister Piyush Goyal said that the government has ordered a probe into the incident. He also ordered a safety and capacity audit of all foot overbridges at suburban stations across Mumbai. 
According to India TV sources, the overbridge was among the structures identified for repair in an audit ordered after the Elphinstone stampede in 2017. However, the audit recommended minor repairs in the bridge, sources said. 
Also read | Story of negligence: CST Bridge collapse third such tragedy in Mumbai in past two years