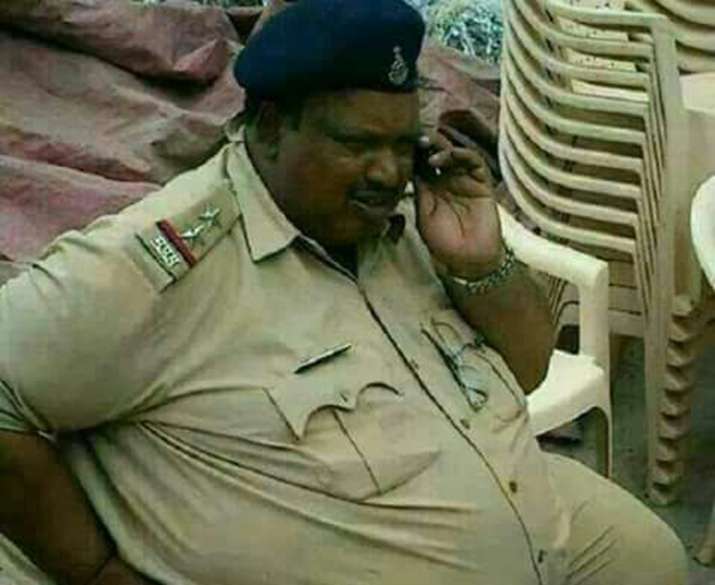 In writer Shobhaa De's tweet and Mumbai Police's "epic" response on a full-bodied policeman, we all forgot about one important character - the policeman himself. 
As it turns out, Daulatram Jogawat, whose picture the socialite used to mock Mumbai Police, has health issues because of which he has gained weight. 
Jogawat is an inspector with the Madhya Pradesh police and is posted at Neemuch police lines, according to a report by the Hindustan Times. 
Talking to the daily, Jogawat said he gained weight due to an insulin imbalance, and "not because I overeat".
"It (his weight) is due to my illness that I am so fat, and not due to overeating. I had gall bladder operation in 1993 and I developed insulin imbalance which resulted in my obesity", Jogawat was quoted as saying by the daily. 
"If madam wants, she can pay for my treatment. Who doesn't want to be thin?" Jogawat, perhaps pained by De's taunt on Twitter, said. 
Despite his weight, Jogawat is dedicated towards his duty and his investigations have often won praise from the court, according to Neemuch SP Manoj Kumar Singh.  
"He also performed creditably during the rigorous Simhasta in Ujjain for a month," Singh said.
Heavy police bandobast in Mumbai today! pic.twitter.com/sY0H3xzXl3

— Shobhaa De (@DeShobhaa) February 21, 2017
Shobhaa De had yesterday tweeted out a picture of an obese policeman with a caption that read "Heavy police bandobast in the city today!"
We love puns too Ms De but this one is totally imisplaced. Uniform/official not ours. We expect better from responsible citizens like you. https://t.co/OcKOoHO5bX

— Mumbai Police (@MumbaiPolice) February 21, 2017
Mumbai Police, known for its efficient and sometimes quirky use of social media, responded that the uniform and the official in the picture was not theirs.