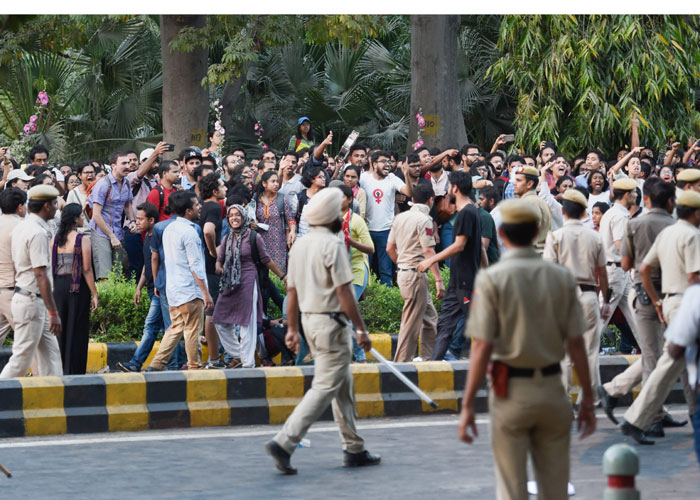 A journalist who has accused a Delhi Police inspector of molesting her has said in her complaint that he groped her breast even after being told that she was with the media. A case was registered on Monday and a probe is on, the police said. 
Inspector Vidhyadhar Singh, who was accused of molesting the journalist during a students' march, has been sent to the district lines, the police said. 
The complainant said she was standing in a service lane near the site of a protest organised by students of Jawaharlal Nehru University along with a fellow journalist when the police started hitting the demonstrators with batons. 
She alleged that she and the other journalist were pushed by Singh. 
"Both of us at that point told Singh that we are journalists and he backed off for two minutes. He then proceeded to come towards us again and hooked at my chest and placed his hand on my right breast and pushed me again," she said in her complaint.
 
The journalist also claimed that when she, along with other media people, confronted Singh about the incident, he "denied (it) saying to my face that I was lying". 
Following her complaint, a vigilance inquiry was ordered into the matter. The journalist reiterated her allegations in front of those looking into the incident. 
The police inspector had denied the allegations. 
The case was on Tuesday transferred to the Crime Branch for a thorough probe. 
On Friday, JNU students had taken out a march from the varsity campus towards Parliament. 
At the Sanjay Jheel area in Lakshmi Bai Nagar, police lathicharged the crowd and used water cannons to disperse the students and teachers who had gathered there as well as journalists covering the protests. 
Two journalists filed separate complaints -- one on molestation and another on assault -- with regard to violent incidents at the march. 
A woman constable and a male head constable were suspended on Sunday for allegedly snatching the camera of a photojournalist during the protest.