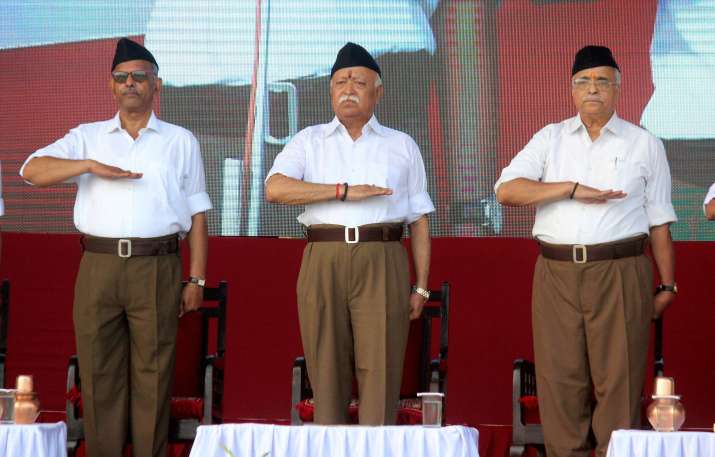 RSS chief Mohan Bhagwat on Saturday said that "necessary constitutional amendments" are needed for the people of Jammu and Kashmir to be "completely assimilated" with the rest of the country. In his over an hour-long Vijayadashmi speech at the Rashtriya Swayamsevak Sangh (RSS) headquarters here, he also said that the problems of the people displaced from the Kashmir Valley during the 1990s are yet to be addressed. 
"Necessary constitutional amendments will have to be made and old provisions will have to be changed in that state. Only when the constitutional amendments are done, the residents of Jammu and Kashmir can be completely assimilated with the rest of India," Bhagwat said, apparently referring to Article 370 of the Constitution which gives special status to J&K. 
There is an urgent need to take the benefits of development to the masses in the entire state of J&K, including the Jammu and Ladakh regions, without any discrimination and through transparent and clean governance, he said. He said that in J&K, the problem of refugees had also not been resolved. 
For decades, they are living in a miserable condition as refugees for their decision to be in "Bharat", Bhagwat said. 
Despite being the citizens of India, they still don't have the basic facilities of education, employment and democratic rights, the RSS chief said. 
"The problems of permanent residents of the state, who migrated from the Pakistan-occupied Kashmir in 1947, and the people, who were displaced from Kashmir Valley in the 1990s, remain as they are," he said. 
Conditions should be created so that they can lead a happy, dignified and secure life like other Indians, by ensuring them equal democratic rights, even while allowing them to remain firm and devoted to their religion and national identity, he said. 
"And for this just work, necessary constitutional amendments will have to be made...Then and only then, the residents of Jammu and Kashmir can be completely assimilated with the rest of India and their equal cooperation and share will be possible in national progress," the Sangh chief said. 
Lauding the people living in the border areas, he said they were "bravely and persistently holding ground amid incessant cross-border firing and terrorist-infiltration" and called for relief and assistance for them from the government and social groups.