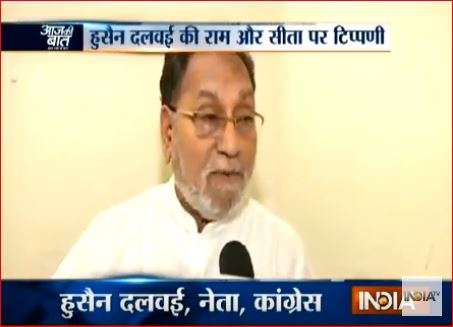 Congress MP Hussain Dalwai on Friday stoked a controversy by offering a shocking analogy of Lord Ram to oppose the triple talaq bill.
The Congress MP said that the male community has always dominated the society, adding women are oppressed in every religion.
Opposing the triple talaq bill, he went to the extent of saying that even Lord Ram had abandoned his wife Sita over some suspicion. 
Taking offence to Dalwai's remarks, the BJP launched a scathing attack on Rahul Gandhi and asked the Congress to sack the MP from the party.
Union minister Ashwini Chaube said that such people have no right to live in the country.
The Congress has also distanced itself from Dalwai's remarks.
A Congress spokesperson said that leaders should be cautious while making statements.
After getting isolated on the issue, Dalwai apologised for his remarks.
Watch: Congress MP Hussain Dalwai invokes Lord Ram to oppose triple talaq bill