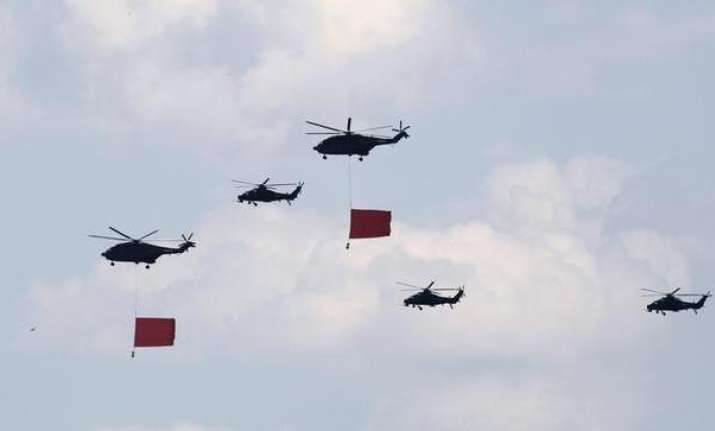 The two aircrafts were believed to have hovered for around five minutes along the Indian airspace.
According to data from the army and the Indo-Tibetan Border Police (ITBP), China's Peoples' Liberation Army (PLA) has violated Indian airspace at least five times in the first three months this year.
These five took place in the sensitive Depsang sector of Ladakh (J&K) and the Barahoti plains (Uttarakhand).
Overall, the PLA has made 45 transgressions in 2018.
Ladakh's Trig Heights and Depsang valley are of immense strategic importance to India, thereby eliciting aggressive patrolling by the Chinese troops along the border.
But the Chinese fancy the world's highest active airstrip, the Daulat Beg Oldi airfield, that falls in Ladakh and has long been successful in thwarting unwarranted incursions along the border.
Intelligence reports state that the PLA has been eyeing the airstrip in order to keep a check on Indian troops' preparedness in the region.
The latest transgression comes hours after reports emerged that Chinese troops transgressed in Dibang Valley district of the Arunachal Pradesh,  Locals, quoted by the defence ministry, said that the incident happened a few days ago.
The ties between India and China have hit a rock-bottom since the 73-day-long military face off on Bhutan's Doklam plateau last year.
On June 16, 2017, Chinese troops entered Doklam territory with construction vehicles and road-building equipment began extending an existing road southward. To stop the Chinese troops from constructing the road, around 270 Indian troops, on June 18, 2017, with weapons and two bulldozers, entered Doklam.
Doklam is claimed by both China as well as India's ally Bhutan.
Both India and China, on August 28, announced that they had withdrawn all their soldiers from Doklam.