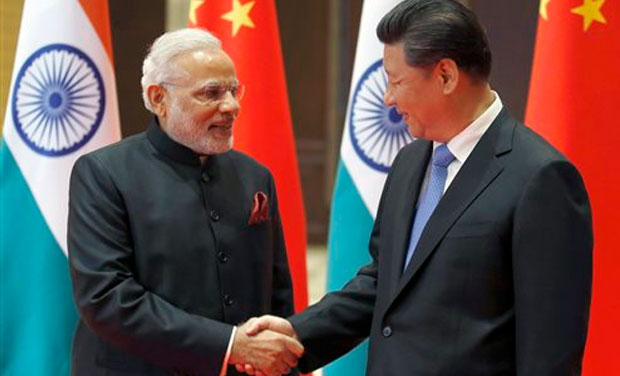 Even as Prime Minister Narendra Modi made concerted effort to isolate Pakistan with Goa declaration in BRICS summit calling upon countries to ensure that their territory is not used for terrorist activities but New Delhi remained inches away from delivering the deserving blow to Pakistan, thanks to China's unflinching attitude for its all weather ally.
The presence of the dragon in the summit, impeded any specific mention of cross border terrorism that India has been a victim of, especially Jaish-e-Mohammed and Lashkar-e-taiba, which focus border areas in India, reports Times of India.
Addressing media, MEA secretary Amar Sinha said, while they could not get a consensus on including Pakistan-based groups like the Lashkar-e Taiba and Jaish-e Mohammed because that would have been too specific to India and Pakistan (even though China has considered Lashkar a threat in the past), the declaration did mention the need to counter internationally designated terror organisations and officials were "quite happy with it".
When asked why India couldn't address cross-border terrorism adequately, Sinha said that India focussed on ideas and concepts and refrained from specific terms.  "We were focused on the ideas we wanted to be included. And if you look at what the joint statement says, I think it is pretty clear that we are talking about our neighbourhood," Sinha said. 
In his speech at the plenary session, China's President Xi Jinping had called for "political solutions to regional hotspots" in a reference to the need for dialogue between India and Pakistan.
The Goa declaration calls for a "holistic approach" and says all counter-terrorism measures should "uphold international law and respect human rights".
Three agreements -- on agricultural research, co-operation between diplomatic academies and regulations on custom cooperation --  were reached at the end of the summit that represents the emerging power blocs of the world including Brazil,Russia,India,China and South Africa.
Speaking at the restricted BRICS leaders' meet, Modi said that the neighbouring country sheltered not just terrorists but also "nurtures a mindset" which backs terrorism for political gains.
"In our own region, terrorism poses a grave threat to peace, security and development. Tragically, the mothership of terrorism is a country in India's neighbourhood. Terror modules around the world are linked to this mothership," Modi said at the meeting attended by Presidents Vladimir Putin of Russia, Xi Jinping of China, Jacob Zuma of South Africa and Michel Temer of Brazil.
On achievement of BRICS, that groups Brazil, Russia, India, China and South Africa, PM Modi said the footprint of intra-BRICS engagement has expanded over time to include large areas of economic activity.
He said the establishment of the New Development Bank and the Contingency Reserve Arrangement are "indeed signature achievements".