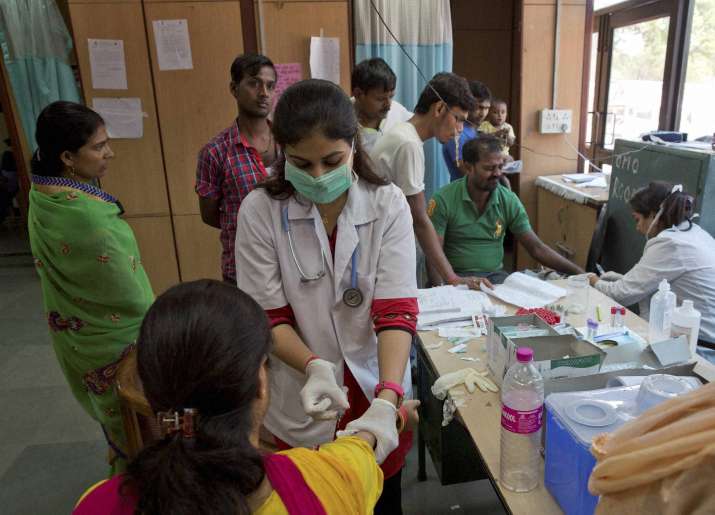 In what comes to an affect from increasing death toll of dengue and chikungunya patients, Delhi government has finally launched a helpline to provide medical assistance to people and help them locate nearest fever clinics.            
A senior government official said people can call at 011-22307145 to get information relating to nearest fever clinics and also medical assistance.
Deaths due to Dengue rose to 18 on Thursday with half of the fatalities being reported at AIIMS.
In a report released on Thursday on vector-borne disease cases at AIIMS, the premier institute said, "Nine dengue patients have died from September 1 till date."
A top AIIMS official had on Wednesday confirmed five deaths, which were earlier suspected to have taken place due to dengue.
Chikungunya is also taking its toll in Delhi with the number of cases increasing to over 1,700 this season and fever clinics getting swamped with patients. A 75-year-old man from south Delhi today succumbed to chikungunya complications at a city hospital, taking to 12 the number of fatalities due to the vector-borne disease in the city.
The Health Department of Delhi government has set up 355 fever clinics across the city to deal with dengue and chinkungunya cases, the official said.
Besides, the government has also made public lists of its 24 hospitals where diagnostic tests are done free of cost.
These hospitals where free medicines are also available include Aruna Asaf Ali Hospital, Babu Jagjivan Ram Hospital, Bhagwan Mahavir Hospital and GTB Hospital.
"The Government has directed medical superintendents of its hospitals not to refuse to admit patients. There is no dearth of beds at government hospitals as about 2,000 beds are lying vacant," the official said.
The death toll due to dengue in the city has increased to 18 while the total number of cases of the disease crossed over 1,150.
"A total of 96 patients were admitted to AIIMS, out of which 56 have been discharged. Among the patients, 70 per cent belonged to Uttar Pradesh, 10 per cent to Bihar and rest to Delhi," AIIMS said in a statement.
Till Tuesday, at least nine deaths due to dengue were reported this year in the national Capital, though the South Delhi Municipal Corporation, which compiles the report on vector-borne diseases on behalf of all civic bodies here, has maintained the death toll at four.
AIIMS is getting several suspected dengue patients everyday in its fever clinics, though less number are showing confirmed cases compared to chikungunya for which 1,440 blood samples have tested positive till September 13.
At least 1,158 cases of dengue cases have been reported in the national capital with nearly 390 of them being recorded in the first 10 days of September, the month in which the vector- borne disease begins to peak.
Out of the total number of cases, August alone has accounted for 652.
The last dengue fatality reported was of Iram Khan (25), a native of Meerut, who lived in Jamia Nagar in south Delhi. He succumbed to dengue on August 31 at Apollo Hospital.
The other three deaths reported by SDMC include Nazish (38), sister-in-law of Okhla MLA Amanatullah Khan, who had died of dengue shock syndrome at Apollo Hospital on August 12.
Muskan (12), a resident of Shaheen Bagh here, had died on July 29, while Deepak (19), from Jaunpur in Uttar Pradesh, succumbed to the disease on July 27. Both died at Safdarjung Hospital.
Besides, five other fatalities have been reported by different hospitals in the city which have not yet been acknowledged by the SDMC.
The vector-borne disease had claimed its first victim on July 21 when a girl from Jafrabad in northeast Delhi died at Lok Nayak Jai Prakash (LNJP) Hospital.
Last year, the city saw a staggering 15,867 dengue cases –the worst in 20 years–with the disease claiming 60 lives, as per municipal reports. In 1996, a severe outbreak of dengue had occurred in Delhi when about 10,252 cases and 423 deaths were reported.
(With inputs from PTI)