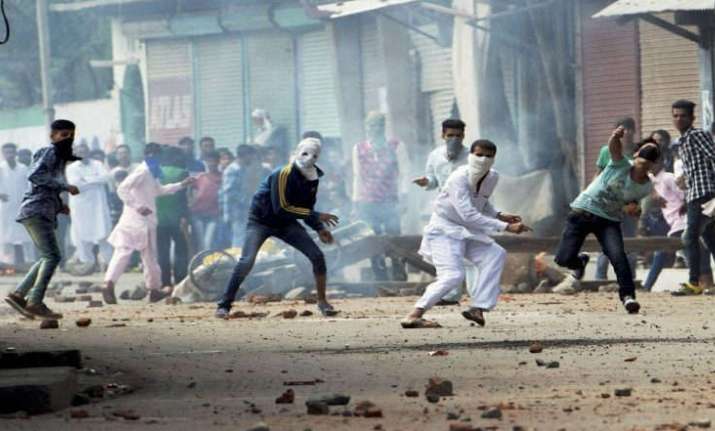 A tourist from Chennai, who was injured in stone pelting on Srinagar-Gulmarg road on Monday, succumbed to his injuries at a hospital in Srinagar, police said.
The tourist, identified as R Thirumani, 22, son of Rajwali, of Chennai was injured when stone pelters attacked a tourist vehicle in Narbal area on Srinagar-Gulmarg road.
Director general of police Shesh Paul Vaid said: "Some two-three vehicles had come under a bout of stone-pelting in which the tourist from Chennai died."
Chief minister Mehbooba Mufti went to the SKIMS hospital immediately after she was informed that the tourist had passed away. She later said, "My head hangs in shame. It is very sad and heartbreaking."
Last week, two children were injured, one critically, when protesters threw stones at a school bus in Shopian in south Kashmir. There were more than 50 children on the bus, including four-year-old nursery students of a private school.
On April 30, seven tourists were injured when stone-throwers targeted vehicles in south Kashmir's Anantnag district. The injured were part of a group of 47 tourists travelling in four vans.
Five Hizbul Mujahideen terrorists including its top commander Saddam Padder and a fresh recruit, an assistant professor from the Kashmir University, were killed in an encounter on Sunday in militancy-infested Shopian area in south Kashmir even as five civilians died during clashes between protesters and security forces near the encounter site.
The five slain terrorists were identified as Saddam Hussain Padder, Bilal Ahmad Mohand, Adil Ahmed Malik, Tauseed Ahmad Sheikh and Mohammed Rafi Bhat, a PhD scholar and an assistant professor in the Kashmir University.