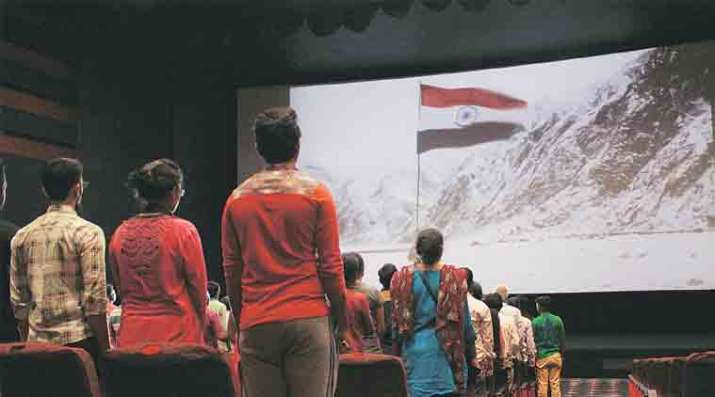 Days after the Supreme Court made it mandatory to play national anthem in cinema halls before film screening, a group of 20 people roughed up a young man and two women students at a city theatre on Sunday afternoon, as the three had not stood up when the national anthem was being played before the screening of 'Chennai 28-II'. 
According to a Times of India report, the violence broke out during the intermission of an afternoon show at Kasi theatre in Chennai's Ashok Nagar. 
Witnesses told that the three were beaten up by around 20 people following a heated argument. The three were among the nine people who had remained seated while the anthem was being played. 
During the intermission, one Vijayakumar grabbed Viji, a freelance movie reviewer, by the collar asking him why he did not stand up for the anthem.
As per report, soon after the argument, 20 people ganged up on Viji and two women, Sabaritha and Shreela, and beat them up. 
"We were harassed and manhandled. They issued life threats and assaulted us. We did not have any intention to show disrespect," Shreela, a law student, was quoted by Times of India as saying. 
On the other hand, Vijayakumar, a civil service aspirant, said that "they were taking selfies when the anthem was being played, which was not welcomed by many of us." 
According to Supreme Court's directive on November 30, everyone present in cinema hall should rise up and pay respect to the national anthem.
"It is the duty of every citizen to abide by the ideals ingrained in the Constitution and as such show respect to the national anthem and the national flag," the court observed.
"This will instill feeling of constitutional patriotism and nationalism. Time has come for people to realise that the national anthem is a symbol of Constitutional patriotism. It is now mandatory that all present inside the theatre should stand up as a sign of respect while the anthem is played," the bench said.