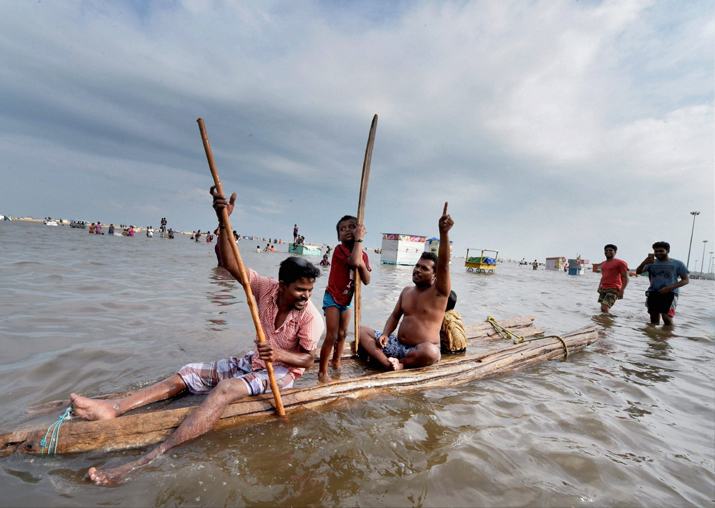 Torrential downpour threw normal life out of gear in several parts of the metropolis and neighbouring districts today even as the death toll in rain-related incidents mounted to twelve in the state.
Schools will be closed on Saturday and several areas remained waterlogged, adding to fears of a repeat of the 2015 floods.
Sharp showers battered parts of Chennai such as Mylapore, Foreshore Estate, southern suburbs of Tambaram, Chrompet and Pallavaram.
A government release said 105 relief camps have been set up in chennai. 
Facing criticism over the handling of rains in Tamil Nadu, Chief Minister K Palaniswami visited several water-logged parts of the city and its suburbs, insisting that his government was working on a "war-footing". 
He was accompanied by his deputy O Panneerslevam and senior officials. 
Schools and colleges, closed since October 31, remained shut on Friday in Chennai, Tiruvallur and Kancheepuram districts, as the Tamil Nadu government appealed to private firms to allow their employees to work from home.
The Marina Beach area recorded a whopping 30 cm of precipitation. 
A middle-aged farmer was electrocuted at Manal Agaram near Tiruvarur when he stepped on a snapped live wire lying under water in his field, police said, raising the death toll in rain-related incidents to eight since October 27, when the northeast monsoon arrived.
As the heavy spell led to fears of a repeat of the December 2015 deluge, the AIADMK government sought to dispel such rumours.
 
It asked people not to pay heed to rumours on social media that many lakes and reservoirs around the city were about to surplus and that water would be released. 
"Do not spread and believe in rumours #work from home and 3rd Nov leave is 2 avoid traffic jams nd to avoid any untoward incident(sic)," the Tamil Nadu State Disaster Management Agency tweeted.