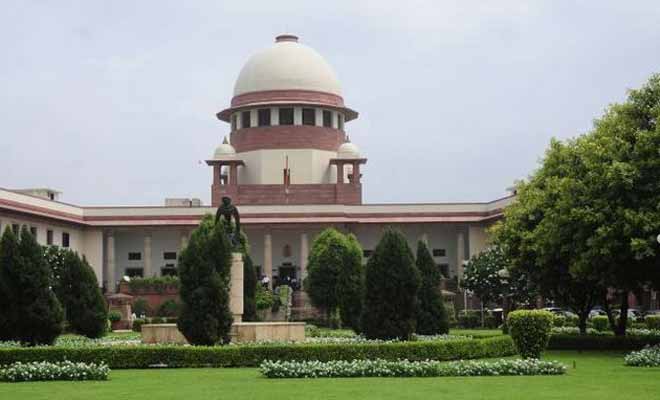 The Supreme Court on Thursday said that it was "100 per cent" in favour of protecting the rights of SC/ST communities and punishing those guilty of committing atrocities against them.
The Supreme Court Bench's observation came after the Centre demanded a stay on the apex court order on the SC/ST Act under which safeguards were put on the provisions for immediate arrest under the Scheduled Castes and Tribes (Prevention of Atrocities) Act, 1989. 
Seeking a stay on the Supreme Court order in the matter, Attorney General K K Venugopal said that the apex court cannot make rules or guidelines which go against the law passed by the legislature. 
Venugopal also pointed out that the SC/ST verdict had resulted in loss of life and the case be referred to a larger bench. 
However, justifying its March 20 order, the bench comprising justices A K Goel and U U Lalit said that while deciding on the verdict on the SC/ST Act, the top court had considered every aspect and all the judgements before reaching a conclusion. 
The bench said it was "100 per cent" in favour of protecting rights of SC/ST community and of punishing those guilty of atrocities against them.
 
The argument in the matter will continue on May 16, says a report.
On April 2, the Centre had moved the apex court seeking review of its judgement in this case.
On April 27, while hearing the Centre's plea seeking review of its March 20 verdict on the SC/ST Act, the apex court had made it clear that it would not entertain any other petition in the matter.
In his written submission filed in the top court, the Attorney General had said that the verdict has "diluted" the stringent provisions of the Act, resulting in "great damage" to the country by causing anger and a sense of disharmony among the people. 
The government, in its review petition, has told the apex court that its judgement would violate Article 21 of the Constitution for the SC/ST community and sought restoration of the provisions of the Act. 
The apex court had on March 20 said that on "several occasions", innocent citizens were being termed as accused and public servants deterred from performing their duties, which was never the intention of the legislature while enacting the SC/ST Act. 
Several states were rocked by wide spread violence and clashes following a 'Bharat Bandh' call given by several SC/ST organisations protesting the top court's March 20 order, that claimed eight lives. 
While hearing the Centre's review plea on April 3, the top court had asserted that "no provisions of SC/ST Act have been diluted" and clarified that additional safeguards had been put in place "to protect the fundamental rights" of innocents. 
It, however, had refused to keep the March 20 verdict in abeyance till it decided the Centre's review petition.
(With PTI inputs)