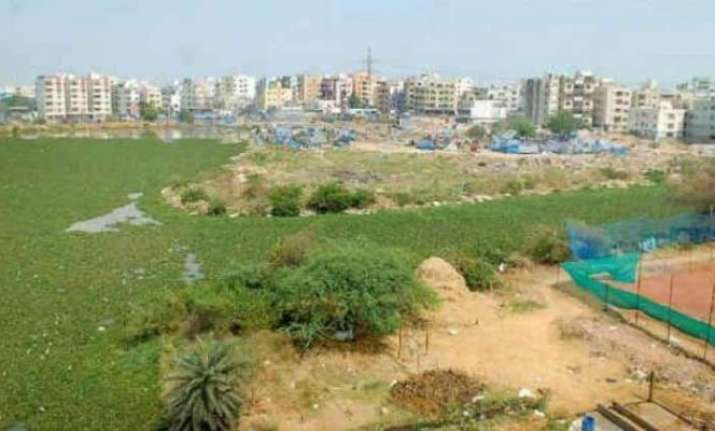 The Centre has approved a land pooling policy for Delhi, which will allow the city to get 17 lakh housing units capable of accommodating 76 lakh people. 
Last month, the policy was approved by the Delhi Development Authority (DDA) under the chairmanship of Lt Governor Anil Baijal. 
"Yes, I have signed it (land pooling policy)," Union Housing and Urban Affairs Minister Hardeep Singh Puri told reporters when asked about the current status of the policy. 
A senior official of the ministry also confirmed that land pooling policy has been approved by the minister. 
The land pooling policy was cleared by Delhi Development Authority (DDA) at its board meeting in September after almost five years. It covers any urbanisable area of urban extensions in 95 villages. With a floor area ratio (FAR) of 200, Delhi's 76 lakh people will be accommodated in these homes. To promote affordable and inclusive housing, 15 percent FAR, over and above the permissible FAR, has been allowed for economically weaker sections (EWS).
The core of the policy is the active role of the private sector and farmers also involved in assembling land and developing physical and social infrastructure. Owners or group of owners can pool land parcels for development as per prescribed norms. Land owners of any size can participate under the policy. However, the minimum land to be pooled is 2 hectares to ensure the adequate return of land for development and form a Developer Entity. DDA will now play the role of a facilitator and the process of planning, pooling and development will be taken up by Developer Entities/ Consortiums.
For smooth planning and development of infrastructure, integrated Sector-based planning approach shall be followed. A minimum of 70% contiguous land of the developable area within a sector, free of encumbrances is required to be pooled to make the sectors eligible for development under the Policy.
Considering the availability of resources and services an FAR of 200 is allowed for group housing/residential use under the policy. DDA has estimated that it is expected to generate about 17 Lakh Dwelling units out of which around 5 lakh Dwelling units will be available under EWS category, to house about 76 lakh persons.
Differential land return in two categories as per the earlier policy has been replaced with the uniform division of land on 60:40 basis in the modified Policy. The Consortium will retain 60% of pooled land and hold the remaining 40% on behalf of DDA. The consortium can utilize 60% of pooled land for development of residential, commercial, public and semi-public facilities as per the policy and MPD-2021 provisions. The remaining 40% of the pooled land is to be surrendered, free of encumbrances, as and when required to DDA/service providing agencies to undertake developmental work. To keep pace with new forms of development, provision for achieving a vertical mix of uses (residential, commercial, public and semi-public) at building level is introduced. Additional Development Controls have been introduced to regulate building and infrastructure aspects of developments.
External Development Charges (EDC) shall be payable on the entire area of pooled land in instalments to cover the cost of providing city level infrastructure.
In order to promote affordable and inclusive housing, FAR of 15% over and above maximum permissible residential FAR has also been allowed for EWS/ affordable housing.
A Single Window System is being created for the implementation of policy in DDA. All processes of receiving applications, verifications, grant of approvals and licenses, etc. shall be online and will be completed in a time bound manner. A two-stage Grievance Redressal Mechanism within DDA has been introduced for clear operationalization and implementation of the policy.