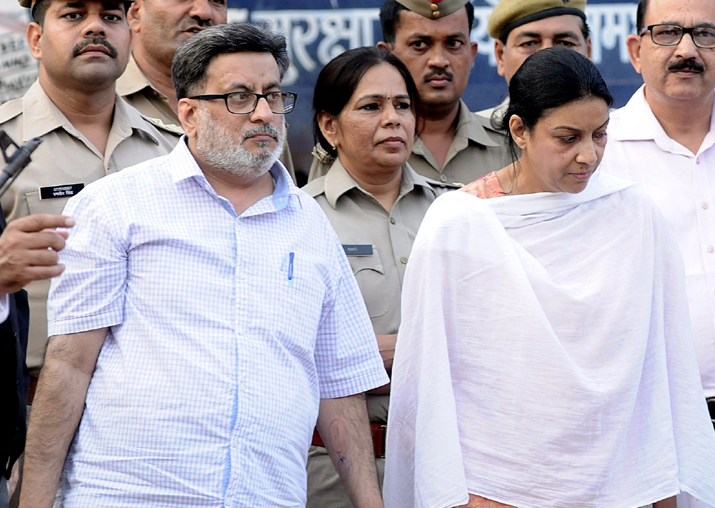 The Central Bureau of Investigation (CBI) today approach the Supreme Court against an Allahabad High Court verdict acquitting Rajesh Talwar and Nupur Talwar in the murder case of their daughter Aarushi and domestic help Hemraj.
The CBI filed an appeal challenging the high court order acquitting the Talwar couple, CBI's spokesperson said.
On October 12 last year, a bench of Justice BK Narayana and Justice AK Mishra of the Allahabad High Court had acquitted the dentist couple by giving them the benefit of doubt in the murder of 14-year-old Aarushi and Hemraj at their Jalvayu Vihar home in Noida on May 16, 2008.
The High Court had upheld an appeal by the Talwars against a Ghaziabad CBI court order awarding them life imprisonment on November 26, 2013, bringing an end to a nine-year ordeal of the couple. 
After Aarushi was found murdered in her bedroom, Hemraj was initially considered a suspect. However, his body too was found in a pool of blood a day later on the terrace of the house.
The Uttar Pradesh Police accused Rajesh Talwar of killing his daughter in a fit of rage. Rajesh Talwar was arrested on May 23, 2008.
On May 31, 2008, the CBI took over the case and initially absolved the parents but later held them responsible for the two murders.
On June 13, 2008, Rajesh Talwar's compounder Krishna was arrested by the CBI. Ten days later, Raj Kumar, a servant of a doctor friend of the Talwars, and Vijay Mandal, the domestic help of the Talwars' neighbour, were also nabbed. The three were later freed after no evidence was found against them.