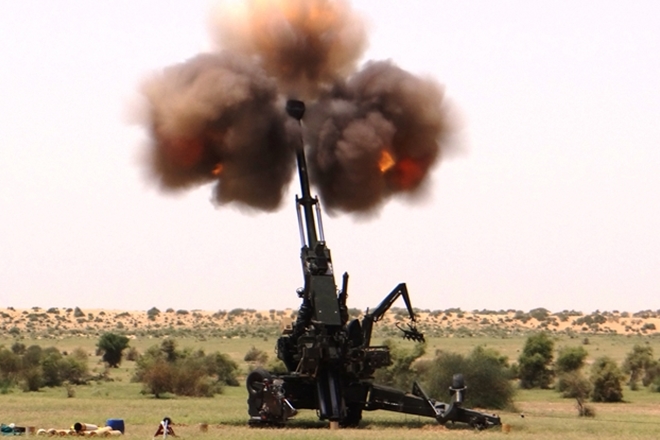 In a significant development, the Central Bureau of Investigation (CBI) has launched a probe into the alleged supply of "fake Chinese parts" for manufacturing Dhanush guns, the India-made version of Bofors  gun.
The CBI has filed a case against a Delhi-based firm and unidentified officials of the Gun Carriage Factory in Madhya Pradesh for supplying fake Chinese parts, camouflaged as 'Made in Germany', for the production line of the 155mm artillery guns.
In the FIR, the CBI has levelled charges of criminal conspiracy, cheating and forgery against Delhi-based firm Sidh Sales Syndicate and unknown officers of Guns Carriage Factory (GCF), Jabalpur.
The Indian-made gun has cleared trials with the Indian Army and has proved its ability to strike targets 38 km away as compared to the original Bofors gun which has a range of approximately 27 kilometres. The Army plans to acquire 414 Dhanush guns.
But an initial probe by the CBI suggests that the Gun Carriage Factory in Madhya Pradesh's Jabalpur, that built the initial few guns, had accepted a Chinese made crucial part called 'Wire Race Roller Bearings'.
The first order for four bearings was placed by the factory in 2013. In August 2014, the company was asked to provide six. The delivery of two bearings each was made on three occasions between 7 April 2014 and 12 August 2014.
The CBI said production and performance of the Dhanush gun is extremely crucial for India's defence preparedness and "wire race roller bearing" is its vital component.
This was done as a special case though its tests showed that the bearings supplied by Delhi-based Sidh Sales Syndicate were unacceptable due to deviations in dimensions.
The company had claimed that it was sourcing the spares from a German firm, CRB Antriebstechnik and even produced certificates from this company. The CBI's complaint said the spares were also embossed as 'CRB-Made in Germany'.
The CBI, however, found that the documents were forged and German company didn't even manufacture the parts it was supposed to have supplied.
To further back its case, the agency has also seized emails exchanged between the Delhi-based company and the Chinese firm which had supplied the parts.
(With PTI inputs)