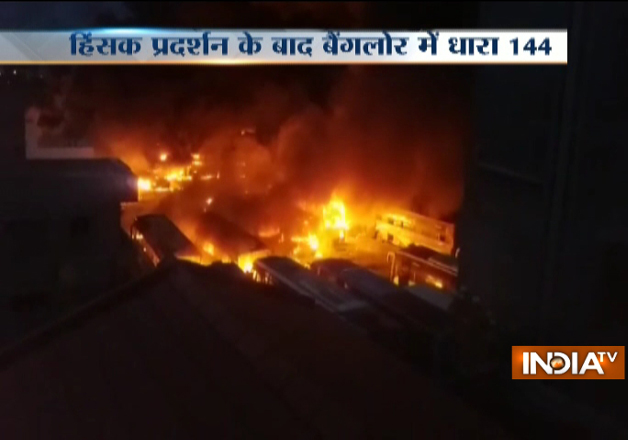 The Cauvery river water dispute today turned ugly with protestors laying siege to over 20 buses at a depot near Bengaluru. Reports said that over 20 buses were set on fire at the KPN bus depot on the Bengaluru-Mysuru Road. According to reports, the private bus depot belongs to a person of Tamil origin.
The development comes amid rising tensions in both Tamil Nadu and Karnataka with security being tightened across the two states to prevent attacks on people over the controversy and also for the Bakrid festival on Tuesday.
In Bengaluru, police have imposed Section 144 of the CrPC, meaning no more than five people will be allowed to gather at public places. 
"As a preventive measure Section 144 of CrPC is imposed in Bengaluru city from 1700 hours today," the city police said in a tweet.
Though no casualties have been reported, tension prevailed on the Bengaluru-Mysuru highway with mobs targeting Tamil Nadu trucks and cars. Traffic on the highway too came to a standstill as farmers' organisations and Kannada activists staged rasta-roko agitations.
In Bengaluru and Mysuru, shops and vehicles of Tamil Nadu registration were attacked and set on fire. The state has also stopped bus services to Tamil Nadu and police jeeps were positioned along the border to warn vehicles against entering that state. Schools and colleges were closed and metro services have been stopped as a precaution, an official said.
Karnataka Home Minister G Parameshwara appealed to people across the state to maintain peace.
"It is very difficult because the technology behind social media is very complicated. It is very difficult to monitor and take action. But we will see as much as possible that false content does not go up. Our appeal is that if you are protesting, please protest peacefully. We know that injustice has been done to Karnataka," the Minister said.
He informed that the state government has deployed sufficient amount of police force to maintain law and order across the state. 
"We have got support from Centre. CRPF, RPF and CISF personnel have been deployed across the state. 20,000 home guards and 185 KSRP platoons have also been deployed," he said. 
"200 protesters who were involved in such acts (violence) in the state have been detained," the Home Minister said.
CM Siddaramaiah, on the other hand, tweeted a copy of his letter to Tamil Nadu CM J Jayalalithaa, urging her to ensure that perpetrators of violence are immediately brought to book and that Kannada-speaking people are protected. 
He has also called an emergency cabinet meeting tomorrow.
Former Karnataka CM and Union Minister Sadananda Gowda reacted to the violent protests saying, "People of Karnataka never expected such a verdict from the Supreme Court. We thought the Supreme Court will send a team to oversee situations of reservoirs, collect data and then come to a conclusion. But nothing as such happened. It is normal for people in this situation to get excited, but I request the people to maintain peace, law and order."
State BJP president BS Yeddyurappa too expressed his displeasure over the Supreme Court's verdict to modify its earlier order.
"I am terribly disappointed over the Supreme Court's decision asking Karnataka to release 12,000 cusecs of water every day till September 20. This order is impractical, unscientific and illogical, given the existing circumstances in both the states. At the same time, I strongly condemn violent incidents on Kannadigas in Tamil Nadu. The need of the hour is to maintain calm. I also oppose any retaliatory attacks by Kannadigas on Tamil brethren in our state, I urge CM to look into this matter with the urgency it requires," he said. 
Senior Congress leader Mallikarjun Kharge also appealed to the people of Bengaluru to maintain peace and calm. 
"The city is known for following law and order and many people live in the city. Perpetrators of violence will be identified and punished," he said. 
Platoons of Karnataka State Reserve Police have been rushed to Mandya and Mysuru for deployment on the state highways and protecting reservoirs in the river basin from being attacked by angry protestors over the release of Cauvery water to Tamil Nadu. 
The additional measures were taken after miscreants set afire two trucks with Tamil Nadu registration at Nice road on Bengaluru-Mysuru road and at Attibele near the Karnataka-Tamil Nadu border on National Highway 7.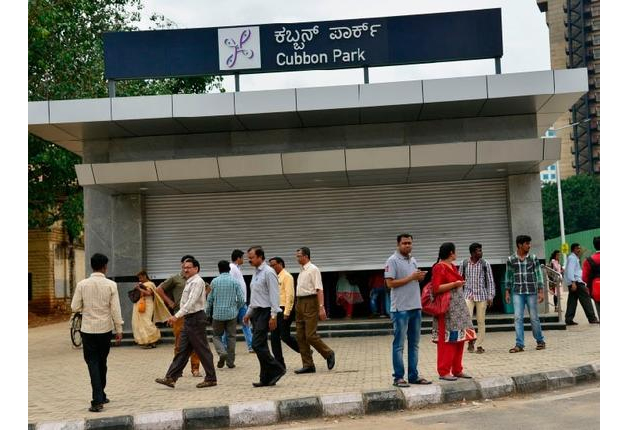 Pro-Kannada activists, led by Karnataka Rakshana Vedike members, protested in the city against attacks on Kannadigas in Chennai and damage to Karnataka registered buses earlier in the day.
"I appeal to the people, especially the protesters, not to attack anyone or damage public property, including buses, cars and transport vehicles," reiterated Parameshwar.
Expressing disappointment over the Supreme Court's Monday order, directing the state to release 12,000 cusecs of water daily to Tamil Nadu till September 20, the minister said though the state had respect for the court, the government would again approach it to modify the latest order due to water shortage in the reservoirs.
"We are not happy with the latest order. But we have to respect the order. We will again ask the court to modify its order, as we not in a position to release any more water due to the distress situation in the state," asserted Parameshwar.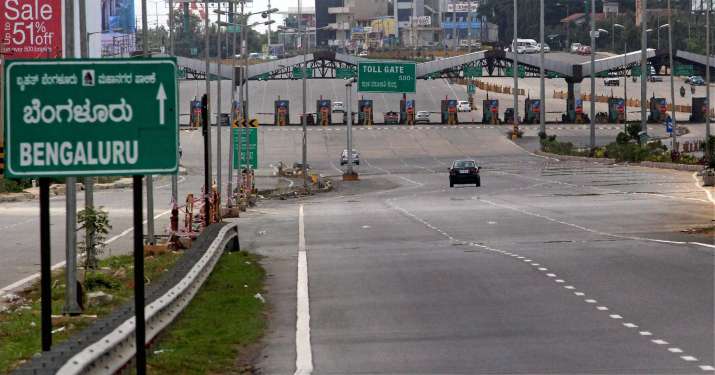 Karnataka filed an interim petition on Saturday seeking modification of the apex court's September 5 order directing the state to release 15,000 cusecs daily from September 7 for 10 days (up to September 16).
"We have petitioned the court to modify its order and accept our offer to release 10,000 cusecs daily for six days instead of 15,000 cusecs for 10 days, as we need water for drinking purpose in the region till June next," Paremeshwar added.
The miscreants alleged that the Supreme Court's directive to release 12,000 cusecs of water till September 20 would worsen the water crisis the state is reeling under.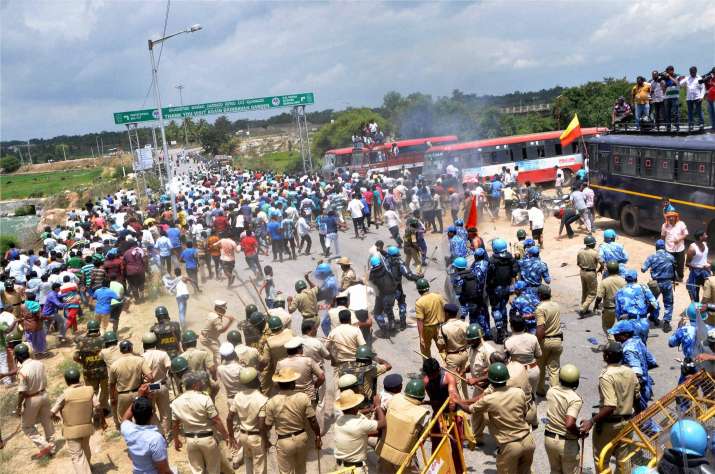 In Tamil Nadu, an unidentified group hurled petrol bombs at New Woodlands Hotel in Chennai, owned by a Karnataka based group, in the early hours today. 
In Rameswaram, about eight members of the Naam Tamizhar Katchi, the Tamizhaga Vazhvurimai Katchi and the Tamil National Movement, attacked Karnataka-registered vehicles, including two buses.