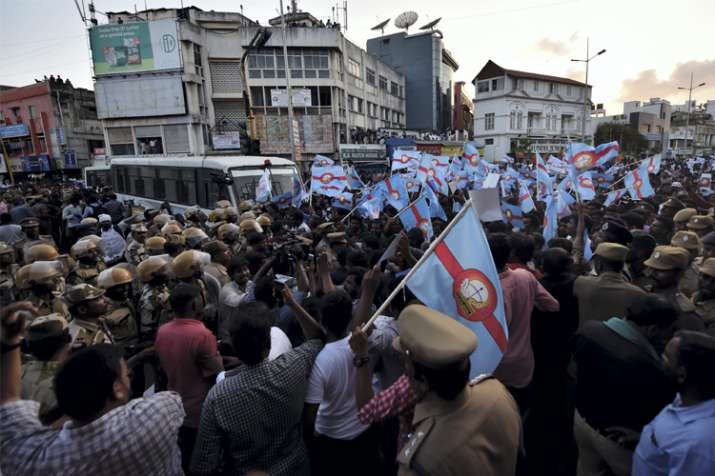 The Board of Control for Cricket in India (BCCI) has picked four cities to host home matches of Chennai Super Kings  (CSK) after the Indian Premier League (IPL) franchise was asked to shift matches from Chennai in the wake of protests over the Cauvery river dispute. According to reports, Visakhapatnam, Trivandrum, Pune and Rajkot are among the cities kept on stand by the BCCI.
Meanwhile, the Tamil Nadu Cricket Association (TNCA) has stopped ticket sales for the match between Chennai Super Kings and Rajasthan Royals scheduled to be held on April 20. "Further details will be intimated in due course," TNCA said in a statement.
Tamil outfit threatens to disrupt CSK matches
Workers of pro-Tamil outfit Tamizhaga Vazhvurimai Katchi (TVK) have threatened to let loose snakes into the Chepauk stadium in Chennai to protest over the Cauvery issue if another match of the cricket league is held at the venue. 
On Tuesday (April 11), TVK workers protested outside the M A Chidambaram Stadium, ahead of the ahead of the IPL match between Chennai Superkings (CSK) and Kolkata Knightriders (KKR).
Political parties and outfits have been demanding that IPL matches not be held at this time, saying the state is witnessing widespread agitations on the vexed issue.
Rajanikanth wants matches to be shifted
Tamil film star Rajinikanth on Sunday said it would be good if organisers stopped the games in the city as such a gala event would be embarrassing when the entire Tamil Nadu was agitating.
Alternatively, he suggested Chennai Super Kings (CSK) team players play wearing black bands as a mark of expressing the anguish of people who have been staging protests demanding setting up of Cauvery Management Board.
Rajinikanth also appealed to the fans to wear dress in black while watching the matches here to extend their support to the stir.
Dhinakaran has appealed to the cricket fans to shun the matches scheduled to be held here in order to strengthen the voice of farmers' seeking CMB.