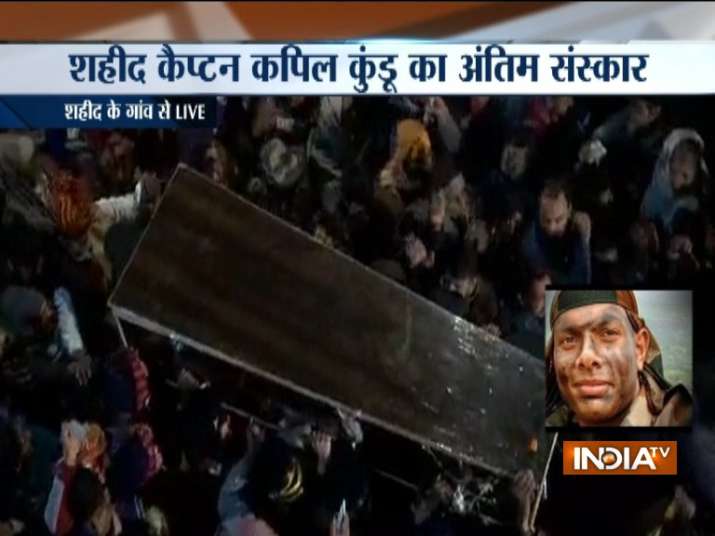 Indian Army Captain Kapil Kundu, who was martyred in Pakistani shelling in Rajouri on Sunday, was cremated with full military honours late Monday night in Ransika village in Pataudi near Gurgaon. 
Earlier in the day, the mortal remains of the officer, who died in the line of duty, was flown to Delhi in a Dornier aircraft.  
Defence Minister Nirmala Sitharaman and Army chief Gen Bipin Rawat were among those who paid homage to the martyr. 
Sitharaman paid respects by laying a wreath on the tricolour-wrapped coffin, which was laid at the Palam Air Force Base after the aircraft reached around 6:20 PM.  Earlier, Minister of State for Defence Subhash Bhamre and Rawat also paid tributes to the soldier of the 15 Jammu and Kashmir Light Infantry (JAKLI), by laying wreaths. 
The defence minister later met the sister and other family members of Kundu, who had arrived in Delhi, to take the body of the officer to his hometown in Haryana.  
His body was later carried in an ambulance, on way to his Ransika village in Pataudi in Gurgaon district.
Born on February 10, 1995, Kundu was commissioned in the Army on December 10, 2016, senior Army official said.  Two of his grief-stricken friends from Army education days, also came to the Air Base. 
"We were course mates, and he have such fond memories of Army education. I was on leave, so I came from Punjab after hearing the news. We will go along with the ambulance carrying his mortal remains to his home," said, one of the friends, who did not wish to be named. 
They also shared that Kundu had a hobby of writing poems, both in Hindi and English. 
"He was good in studies and also in sports and other activities. He was a very jolly person, we are going to miss him terribly," he said.
 
The tragic news has hit the family like a tsunami, as Sunita Kundu had lost her husband when her son was just 15.