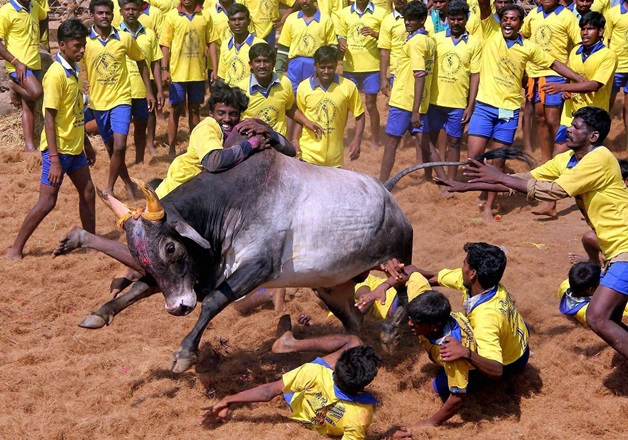 The Supreme Court today observed that the popular bull taming sport Jallikattu cannot be allowed just because it is a 5,000-year-old tradition and made it clear it will only be decided legally whether it can continue.
Rubbishing the Tamil Nadu government's plea that the ban on Jallikattu should be lifted because it is a centuries old tradition, the bench of Justices Dipak Misra and Rohinton F Nariman said, "Your argument doesn't hold any water. In 1899, ten thousand girls below 12 years of age were married. Should we allow it today because it was a tradition at that time?"
"So what if it is 5000-years-old. It can not be justified in name of tradition," the bench added.
The court posted the matter for final hearing on August 23.
Tamil Nadu CM Jayalalithaa during last month meeting with Prime Minister Narendra Modi in New Delhi had submitted a memorandum asking the government to bring an ordinance allowing Jallikattu in the state.
In 2011, Ministry of Environment and Forest had issued a notification which had banned the use of bulls as performing animals, thereby banning Jallikattu. However the sports continued to be held under Tamil Nadu Regulation of Jallikattu Act, 2009. On 7 May 2014, the Supreme Court of India struck had down the state law and banned the sport.
In January this year, the Environment Ministry issued a notification allowing Jallikattu in Tamil Nadu and Maharashtra. But the Supreme Court had stayed the notification and declined to vacate its order barring the bull taming sport held during Pongal festival.
Jallikattu, an ancient sport, is held in rural parts of Tamil Nadu during Pongal festival. It involves young men clinging on to the hump of bulls to win prize money.