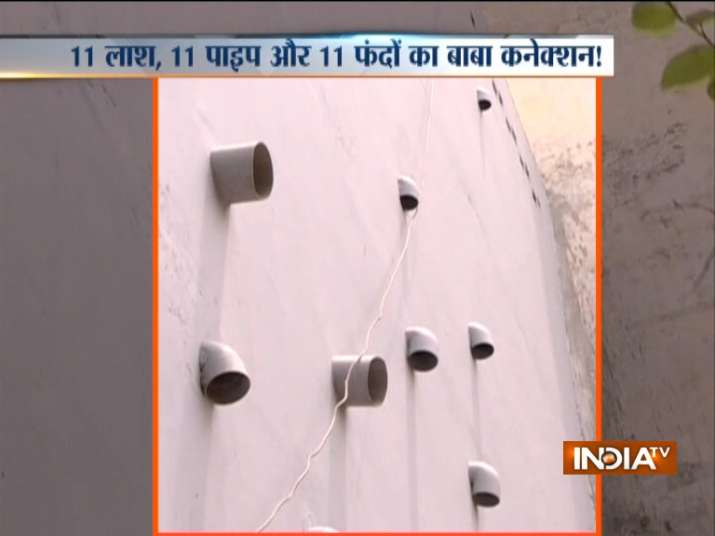 With each passing day, new revelations are making the Burari death mystery in Delhi an even complex account of how and why eleven members of a family decided to take their lives, or was it a mass murder?
In one of the latest revelation, 11 pipes, synonymous with 11 deaths in the family, were found protruding from one wall of the house. Four of the pipes point straight, seven are bent. Even as the crime branch is investigating all aspects, many have pointed out the similiarities--four of the dead were men and seven women.
 This has baffled investigators because there was no water outlet on that side of the house. Spiritual link in the entire matter is gaining further momentum with such strange and chilling details.
Eleven members of the family, including seven women and two children, were found dead under mysterious circumstances at their residence on Sunday.
The post-mortem of eight of the 11 people, who were found dead at their house in north Delhi's Burari locality, has revealed there were no signs of struggle and all of them died as a result of hanging.
The post-mortem of eight persons, including the two children and their grandmother Narayan Devi, has been carried out and so far, police have not found any signs of strangulation or scuffle, according to an officer. 
Ten of those dead were found hanging from an iron-mesh in the ceiling for ventilation, while the body of 77-year-old Narayan was lying on the floor in another room of the house. 
Earlier, it was suspected that Narayan died due to strangulation. But doctors have said that she had died due to "partial hanging", the officer said, adding that a rope was found hanging near her body. 
It is being probed who took out the rope from her neck, he said. 
"From initial examination it seems that they all died due to ante-mortem hanging. The final report is awaited," the officer said. 
Police suspect that the deaths were part of a suicide pact, carried out in accordance with a religious practice, as handwritten notes found on the spot indicated. Some of the notes stated that "one will not die" but attain something "great", the officer said. 
Those who were found hanging had their mouth taped and their faces covered with cloth pieces cut from a single bed sheet. Only Narayan's face was not covered. 
The deceased were identified as Narayan, who was found dead on the floor, her daughter Pratibha (57), her two sons Bhavnesh (50) and Lalit Bhatia (45). 
Bhavnesh's wife Savita (48) and their three children - Meenu (23), Nidhi (25) and Dhruv (15) were among the deceased. 
Lalit Bhatia's wife Tina (42) and their 15-year-old son Shivam were also among those found dead along with Pratibha's daughter Priyanka (33), who was engaged last month and supposed to get married this year end. 
Locals had said Meenu was preparing for entrance exams and Nidhi was pursuing her Masters. 
Except for Devi, the others were found hanging from the iron-mesh in the ceiling, police said.
Relatives dismiss suicide theory, allege family was killed 
Even as the religious angle soared, relatives insisted that the family were killed and did not commit suicide. 
"I used to speak to my mom every alternate day. Everything was going fine within our family. We are a well educated family and do not believe in babas. It's not a case of suicide. Media has been speculating things and publishing wrong info about my family members committing suicide," Sujata Nagpal, daughter of the 77-year-old Narayan Devi said. 
Geeta Thakral, Devi's niece, said she suspect someone from outside the family was involved in the deaths. 
Thakral came to know about the incident at 6.30 pm yesterday. She said the family was gearing up for the wedding of Priyanka (33), who was among the deceased, and celebrated her engagement last month. 
"They were religious like any other normal family. After hearing about various cases involving babas and tantriks, our family hardly believed in them. 
"The family business was going fine. There was no fight within the family. They were busy with wedding preparations. They were all happy. So why would they commit suicide at all," she questioned. 
Notes suggest Burari family could be replicating 'badh tapasya' 
The hand-written notes of the family suggest that they might have been trying to replicate the "badh tapasya". 
Police said the two registers found at a temple inside the house had notes mentioning 'salvation', 'badh tapasya', 'shunya'. 
"The notes state that if one follows a set of rituals, their problems would be solved and God would be happy. It seems that the rituals went awry. The notes mention how after climbing the stool and covering one's face and taping the mouth, and wrapping a chunni around one's neck, one has to climb down and help others," an officer privy to the probe said. 
The notes mention about doing a 'jaap' before starting the rituals and think about 'shunya', so that other thoughts do not cloud their minds. 
The oldest entry in the registers was made in August 2015 and the latest on June 30 this year. The family is believed to have performed the rituals on June 30, a day before the bodies were found. 
"The earliest entries are about philosophical musings and religious beliefs. Every entry in the registers would begin with a 'shree'. There have been months when no entries were made," he said. 
The officer said entries on rituals to please God to get the family's issues resolved began earlier this year. 
"There are notes on 'badh tapasya', in which people get into a banyan tree-formation whose branches hang around. The notes say that doing this would make God happy," he added. 
The notes ask the participants to "be cautious" when performing the rituals. 
They say that participants won't cook food at home and keep their phones on silent mode for six hours on the day they perform the rituals. The notes also instruct that one person has to stand guard to ensure others have hanged themselves, the official said. 
Police suspect the family had ordered food from outside and are trying to find from where they had ordered the food. 
They detailed how by following the rituals, one would not actually die "but would be saved by God and attain something great". They had instructions on how an elderly person, who may face problem in climbing a stool, can perform the rituals. 
WATCH Full Video: 11 deaths, 11 pipes - Mystery continues over chilling Burari tale
(With agency inputs)