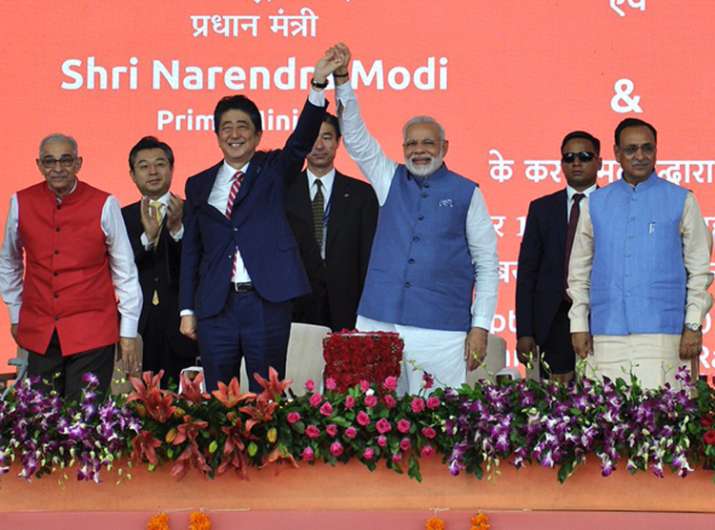 As India on Thursday embarked on a new path with the inauguration of country's first high-speed rail project, Prime Minister Narendra Modi said the credit for the quick rollout goes to "close friend" Japan that has extended a helping hand with a loan of Rs 88,000 crore on a near-zero interest rate for 50 years. 
Modi, who along with Japanese Prime Minister Shinzo Abe inaugurated the project connecting Ahmedabad to Mumbai in the Gujarat capital, said the bullet train will bring facility along with security. Modi added that the bullet train is not only human-friendly but also eco-friendly.
Earlier, Modi and Abe on Thursday laid the foundation stone for the ambitious Rs 1.08 lakh crore ($17 billion) 508-km Ahmedabad-Mumbai High Speed Rail here.
The project, which is expected to begin operations by the year 2022, is being partially funded by Japan which has provided Rs 88,000 crore loan at the interest rate of 0.1 per cent for 50 years, and the repayment will begin only after 15 years. The estimated cost of the project is Rs 1.10 lakh.
Also Read: Bullet Train Project Launch: India focusing on more productivity with high-speed connectivity, says PM Modi
Thanking Abe, Modi said India is lucky to have a "true friend" like Japan which has given such a huge amount to India on such a low interest rate. 
The Prime Minister said the bullet train is a project which will bring fast results with high speed, fast development and fast technology.
Laying emphasis on high speed, Modi said, "Earlier development was where the rivers were, then development came along the highways. Now the next generation growth will be where the high speed corridors are."
On the occasion, Abe said the Indo-Japan partnership is special, strategic and global. 
A strong India is in Japan's interest and a strong Japan is in India's interest, Abe said. 
"My good friend Prime Minister Narendra Modi is a far-sighted leader. He took a decision two years ago to bring high-speed train in India and to create a new India," he said adding that he hoped to enjoy the beautiful scenery of India through the windows of the bullet train when I come back here in a few years.