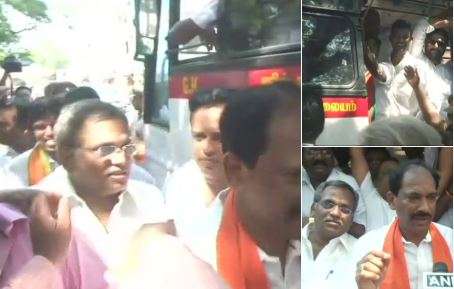 The Bharatiya Janata Party's three MLAs, S Swaminathan, K G Shankar and V Selvaganapathy, and BJP workers who were marching towards the Puducherry Legislative Assembly detained by police, on Monday.
On March 26 too, they were not allowed to enter the Assembly although High Court had allowed them to attend the session.
Puducherry Lieutenant Governor Kiran Bedi had called for a report from the Chief Secretary after three nominated Bharatiya Janata Party (BJP) MLAs were allegedly denied entry in the state Assembly.
Speaking to ANI, Bedi had said, "It's been brought to our notice that three nominated BJP MLAs have been obstructed from coming into the assembly despite clear orders of the Madras High Court. I am calling for a report from the Chief Secretary and will take required follow-up action."
The trio had staged a protest outside Legislative Assembly after they were allegedly stopped by the speaker V. Vaithilingam from entering.
The three BJP members were nominated by Kiran Bedi last year. The Madras High Court on March 22 upheld the appointment, declaring the nominations to be valid.
It is pertinent to mention here that the budget session of the territorial assembly, re-convened by speaker V Vaithilingam, has begun today. 
The assembly had a one-day session on March 26 to pass a vote on account for earmarking funds for the territorial government for the first four months (April to July) of the current fiscal 2018-2019. 
The funds are from consolidated fund to enable the government departments to meet their expenditure. 
The session has been re-convened to present a full-fledged budget for fiscal 2018-2019. 
The exact date on which the budget would be presented would be decided by the Business Advisory committee shortly, official sources said. 
Congress has 15 MLAs, DMK two, AINRC eight, AIADMK four and independent one.
(Inputs from agencies) 
YOU MAY ALSO LIKE TO READ
OPINION: PM Narendra Modi Vs the rest
Monday Talk: 'CM Yogi Adityanath government successfully checked menace of cheating mafia in UP Board exams', says Mahendra Kumar, Dy Director of Education