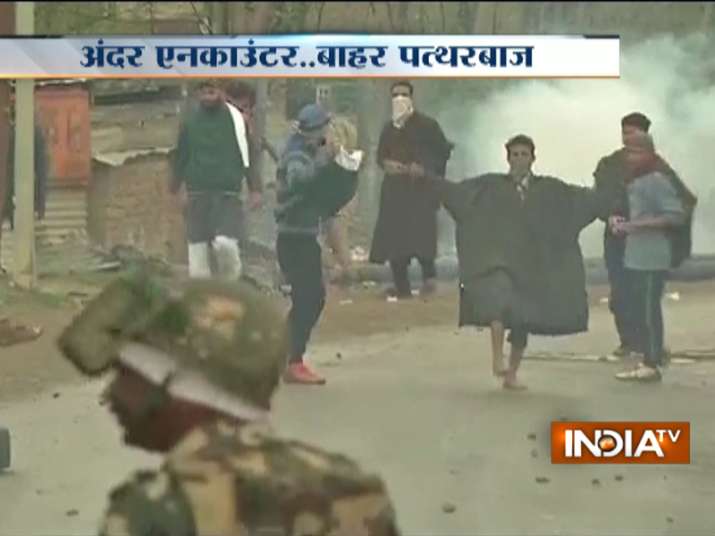 Three civilians were killed when they were hit by bullets in central Kashmir's Budgam district where a gunfight is underway between the security forces and militants.
According to reports, security forces have cordoned off a house in Chadoora area where one or two militants are believed to have taken shelter. 
While the operation is still underway, security personnel were seen on the back foot when a group of masked youths reached the site and started pelting stones on them, in an apparent bid to help the militants escape. 
"Not appropriate to comment on the challenges we are facing. We are doing our duty. It is a challenge but we are still doing it. We are trying to keep the crowd away from the encounter site. I can't confirm you the exact number of militants but maximum one or two," Sanjay Sharma, DIG, CRPF, said.
PTI later quoted Army as saying that one militant has been killed and that the operation was still underway.
Budgam encounter (J&K): Stone pelters try to disrupt army operation against terrorists. pic.twitter.com/FJRbjARql1

— ANI (@ANI) March 28, 2017
When CM Mehbooba Mufti was quizzed about the matter, she replied: "It is for the people of the state to decide what they want – militancy or peace. Militancy here has been from last many decades but they achieved nothing. Dialogues are needed because it is the only medium that offer an opportunity for peace." 
The stone pelting incident also took place a couple of kms from the encounter site. Anti-social elements also pelted stones at a paramilitary CRPF vehicles at Nagam village, 3 km away from the encounter site. The CRPF vehicles were on their way to augment the strength of the security forces engaged in the gunfight.
Meanwhile, two deceased persons have been identified as Zahid Dar and Saqib Ahmad. They were hit by bullets near the gunfight site.
Security forces on a specific information about presence of militants surrounded Durbugh village in Chadoora area of Budgam district. As the security forces closed in on the house where the militants were hiding, they were fired upon, which triggered a gunfight.
Two days ago, two Hizbul militants were killed when they tried to ambush a police party in south Kashmir's Pulwama district. The incident took place at Padgampura when militants came from behind and started firing indiscriminately at the convoy.
Last night, some militants barged into the residence of an ASI and a Constable in Shopian district and ransacked their houses. The terrorists fired gunshots in air before fleeing from the spot.