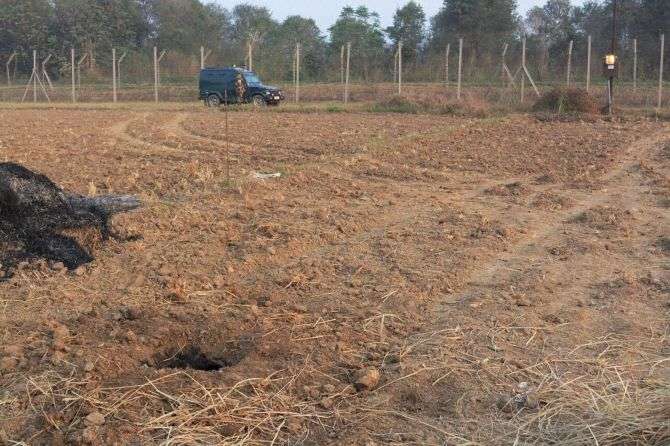 The Border Security Force (BSF) has played down the detection of a tunnel in Chamliyal-Ramgarh sector in Samba district after the gunning down of three heavily armed terrorists on Tuesday, saying that it was merely a "rat hole tunnel" used only once by the terrorists.
Talking to media persons on Thursday, D K Upadhayaya, Inspector General of BSF, Jammu Frontier, said: "Militants had come out to this side via a tunnel on the night on the intervening night of 28 and 29 November in Chamliyal area. The operation was conducted there. Details have been shared with you (media)"
Ahead of the press conference, BSF played a video to showcase a tunnel to the media apart from the route of the terrorists, who came from Pakistan while crawling through the tunnel and the place of hiding, where the three militants were killed by BSF during the gun-battle.
"We have given you the full details of the tunnel. There were various reports coming in the media about the tunnel and old profile pictures of some tunnels were shown which was totally different in shape and size," he said.
"As per the pictures shown to you it is a rat hole tunnel and it is generally used one time, which opens up in a plain area. The area was ploughed two to three days ago. BSF and farmers were keeping a watch over the area.
"The mouth of tunnel was opened a few days ago and militants came through it. There were no tell-tale signs of the tunnel before this. To make you understand, so that no wrong news get published or aired, this is what I want to bring it to your notice," he added.
The tunnel is roughly 65- to 70-feet long, he said, adding that on this side of the fencing it is 35-feet long and other side of the fence towards Pakistan it is over 30-feet.
"The aim of the militants was to negotiate the fencing. Otherwise, they would have been facing the hurdle of the fencing which was not possible to negotiate. That is why they digged tunnel under the fence to avoid it", he said.
Replying to a question whether the group of militants that attacked army artillery unit in Nagrota on the same day, killing seven army personnel including two Majors came from this side, the IG said "I cannot reply to any query based on speculation. As I said such tunnels are used tactically one time. Once it used it gets identified immediately".
He said digging a tunnel without help of Pak rangers was not possible.
"We were prepared which is reflected from the conduct of our operation. We always remain alert as entire IB is sensitive for us".
(With PTI inputs)