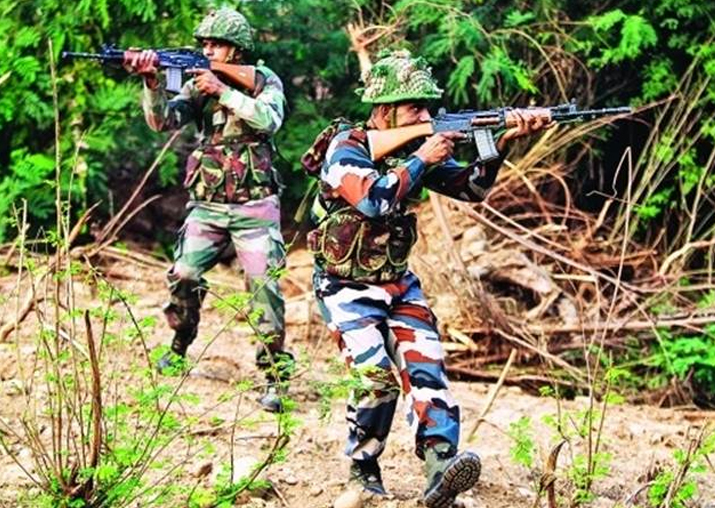 The Border Security Force (BSF) today shot dead seven Pakistani rangers and destroyed their several border out posts along the Indo-Pak border in Paragwal and Arnia sectors of Jammu and Kashmir.
Pakistani troops have been consecutively violating ceasefire along the International Border from last four days. The BSF battalion was put on high alert in the region following shelling from the Pakistani side. According to reports, BSF troops retaliated strongly, resulting in exchange of fire in which all 7 Pakistanis were killed.
It is also reported a large number of terrorists in PoK are waiting to infiltrate into Indian side, but Indian jawans have foiled their several attempts to cross the border.
On the other hand, an Indian soldier was martyred and two injured when Pakistani troops opened fire at an Army patrol along the LoC in Keran sector of the border state.
Earlier in the day, two Pakistani intruders were neutralised when they refused to surrender while crossing over to Indian territory. DIG BSF JS Oberio said the BSF shot dead two Pakistani intruders when they ignored warnings and kept marching towards BSF troops aggressively. The incident took place along the Indo-Pak border in Ajnala sector of Amritsar at BOP Shahpur where BSF troops spotted two Pakistani nationals who crossed over to India and refused to surrender. 
The border guarding force said it has recovered the bodies of the two. An AK-47 assault rifle, a pistol and over two dozen bullet rounds were recovered from them. A BSF spokesperson said that a Pakistani SIM card, four kgs of heroin and Pakistani currency worth Rs 20,000 were recovered from the two. 
When challenged by BSF troops, infiltrators fired on ambush line with automatic weapons. Taking cover, the fire was appropriately retaliated and infiltrators were neutralised near the border fence. The area has been cordoned off and the search is on at the IB.