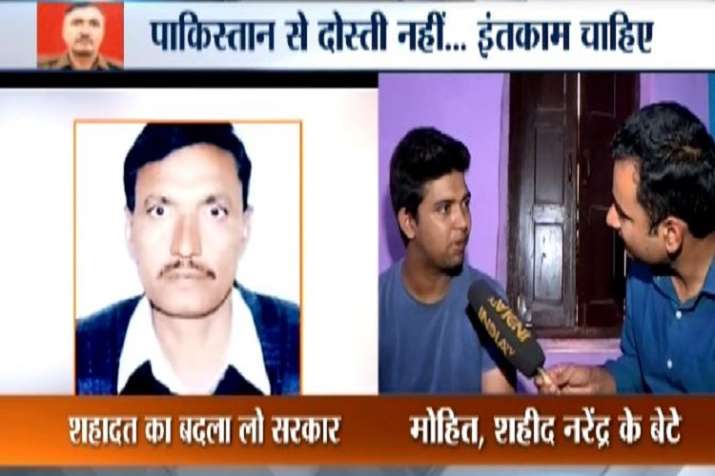 "I am feeling proud of the sacrifice that my father made but deep inside am angry too," said Mohit, son of BSF head constable Narender Singh, who was killed by Pakistani forces along the international border in Jammu on September 18. 
Speaking to IndiaTV about the brutality meted out to his father by Pakistan forces, Mohit said it was for the government and other authorities to decide what action to take but there are plenty of questions which need to be answered. 
"He took bullets but everyone knows what Pakistan's Border Action Team (BAT) does. I can't mention that. There has to be some response...how long should be mourn?" Mohit said. 
Anger and anguish persisted in martyred head constable Narender Singh's village as thousands bid final farewell to him at his village in Sonipat, Haryana on Thursday. 
"Shaheed Narendra Singh amar rahein (Long live martyred Narendra Singh)," chants reverberated as thousands gathered to pay last respects to the BSF jawan who was reportedly tortured by Pakistan forces after being killed. Locals also demanded the government 'an-eye-for-an-eye' approach to send a strong message to Pakistan.
India has strongly protested the brutal killing of BSF soldier by Pakistani troopers along the International Border. Sources in the security establishments said the killing of BSF trooper has been taken "very seriously" by the government.
They said India strongly raised the issue at the Directorate General of Military Operations (DGMO)-level talks held on Tuesday.
Meanwhile, the Congress used the killing to target PM Narendra Modi and his government's policies concerning Pakistan.
senior Congress leader Randeep Singh Surjewala asked PM Modi to speak up over the BSF head constable Narender Singh's killing. 
"Kahan gaya 56' ka seena aur kahan gayi laal aankh? Kahan gaya 1 ke badle 10 sar laane ka vaada? Govt is worried about the corrupt but not jawans. Modi ji uses Army for his political gains but doesn't think of their security. Nation demands answers you'll have to answer,"  Surjewala said. 
"What is the Modi government doing?" he added. 
WATCH: Martyred BSF soldier's son demand action against Pakistan