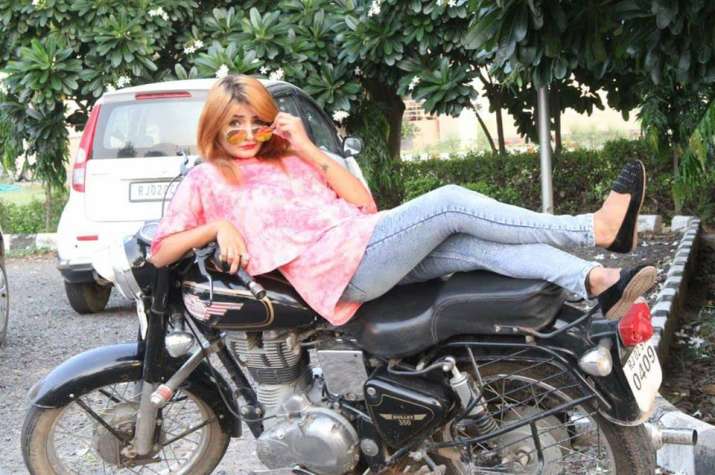 A day after Haryanvi singer and dancer Harshita Dahiya was killed, her jailed brother-in-law has emerged as the main suspect in the crime, according to the police. Harshita's sister Lata alleged that her husband Dinesh had got the artist killed because she was the prime witness in their mother's murder in 2014 in which he is an accused.
Panipat police said they will question Harshita's brother-in-law Dinesh in connection with the murder after getting his production warrant from the court here. 
"We have applied in the court here for the production warrant of Dinesh who is lodged in Jhajjar jail. After bringing him here, we will question him about the murder," said Panipat DSP Desh Raj. 
Police said no arrest has yet been made in the case and investigations are underway. 
Harshita, a 22-year-old Haryanvi singer, was shot dead yesterday by unidentified assailants at Chamrara village in Haryana's Panipat district. 
She was shot when she was on her way back to home in a car at around 4 pm after completing her performance at a function in village Chamrara, police had said. 
"Dinesh, my husband," alleged Lata, when she was asked who could be behind the murder of her sister Harshita. 
"He got her (Harshita) killed because she was a witness in the murder of her mother," Lata claimed in Panipat while talking to reporters today. 
Police said Dinesh had allegedly threatened to kill Harshita a few months back. 
"Her brother-in-law was already charged with the murder of Harshita's mother. He was facing several criminal cases and was already in jail," said Desh Raj. 
Harshita's mother was killed in 2014 in Delhi and the singer was the prime witness in the murder case, police said. 
Meanwhile, seven to eight bullet injury marks were found during the postmortem of Harshita's body. 
"There were seven to eight bullet injury marks on the body while three bullets were recovered from it. One bullet was found from the portion below the chest and two in the rear side of the head," said doctor Rajiv Mann. 
"Only three bullets were recovered while rest of the bullets had pierced through the body. There was no other injury mark," he added. 
DSP said no arrest has yet been made and killers are yet to be identified. 
"Four to five police teams including cyber crime cell, CIA were working on to crack the case," said DSP. 
Meanwhile, a video clip of Harshita has emerged in which she is seen claiming that she was being threatened by some artists from Haryana industry. 
"Some people from our industry, our own artists from Haryana are threatening me via phone to enter into a compromise and delete the video, otherwise I will face consequences. I have not said anything wrong. Despite this, people are threatening me. I am not afraid of anybody. 
"I will not delete my video...do whatever you want and I will not delete my live video. I am 'Jaatni' (belonging to Jaat community) and I am not afraid of death," she is heard saying the video. 
It was not clear which video she was referring to. When asked about the video, the DSP said, "we are examining the case from all angles. Several police teams are working it and we will soon crack this case." 
Harshita used to live in Narela in Delhi.