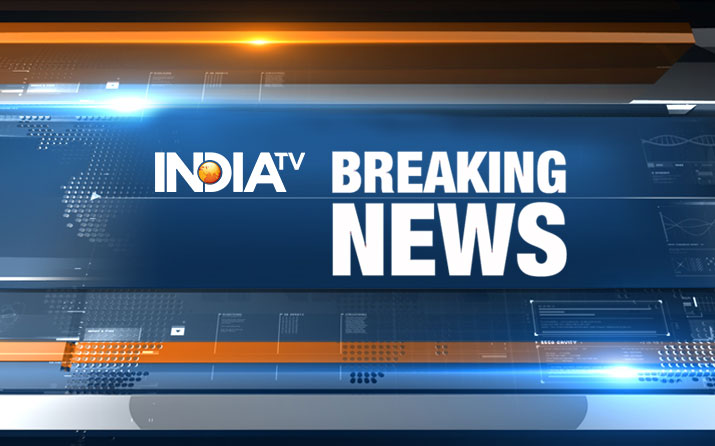 Twitter is buzzing with breaking news and news alerts from India and rest of the world. Here is the coverage of all breaking alerts and latest updates from the micro-blogging site on one page:
Breaking News of November 18:
11:37 pm: Sri Lankan Navy apprehended 4 Tamil Nadu fishermen & seized one boat near Delft Island, taken to Kankesanthurai naval camp (ANI)
11:35 pm: Saints & seers have worked hard to preserve Indian culture over centuries, says PM Modi at 50th death anniversary of Avadhoot Maharaj (PTI)
11:33 pm: Ludhiana Court sends 3 suspects in RSS leader Ravinder Gosain murder case to 5 days police remand. The RSS Leader was shot dead in October (ANI)
11:31 pm: Palestinians say they will suspend all communication with Trump administration if US closes PLO office in Washington (AP)
11:28 pm: Telangana: NIMS Hospital in Hyderabad developed an app for patients to register themselves online to avoid standing in long queues. The app also allows them to access their medical record and download reports (ANI)
11:12 pm: Mugabe's ruling party to meet Sunday to discuss his exit according to party sources (AFP)
11:05 pm: She is focusing on completing her education, she wants to be a heart specialist. However if she is offered a very good script & she thinks she will be able to give time for that, she will consider it: Coach of Miss World 2017 Manushi Chhillar on if she will be coming to Bollywood (ANI)
10:35 pm: And we have a successor!Congratulations Manushi Chhillar on becoming Miss World 2017. Cherish and learn and most importantly enjoy it. Bravo, tweets former Miss World and actress Priyanka Chopra (ANI)
10:18 pm:
J&K: At least 40 people, stuck in heavy snowfall near Mughal Road in Pir Panjal Range, rescued. Mughal Road closed due to heavy snowfall. pic.twitter.com/zOOLWLOcvc

— ANI (@ANI) November 18, 2017
10:15 pm: Telangana CM announced road connectivity for every ST habitation in state & funds for this will be allocated in Budget. He said residential schools would be provided in tribal areas & admissions  will be provided for locals. Schemes like Sheep rearing will also be extended to STs (ANI)
10:14 pm: Telangana CM Chandrashekhar Rao announced waiver of all pending power dues of the STs as well as lifting of electrical cases against them. He also announced that for every ST habitation, house, for every ROFR patta farmer, power connection would be provided (ANI)
10:12 pm: Miss India Manushi Chhillar, hailing from Haryana, crowned as Miss World2017, people say it's a matter of pride for the country that an Indian became the titleholder at the beauty pageant after 17 years (ANI)
10:11 pm: International Jury of the Indira Gandhi Prize for Peace, Disarmament and Development announces former PM Manmohan Singh as the  recipient of this year's prize (ANI)
08:46 pm: In Goa illegal mining case Former CM Digambar Kamat filed anticipatory bail application before Panaji Special Court. Court issued notice returnable on Monday to SIT but refused interim relief to Digambar Kamat (ANI)
08:33 pm: BJP releases 2nd list of 36 candidates for Gujarat Elections 2017 (ANI)
08:10 pm: Rajasthan CM Vasundhara Raje, in her letter, suggested that a committee be formed to to discuss the film & its plot and then suggest amendments to avoid 'hurting sentiments'. She added that Censor Board must think of consequences before certifying Padmavati (ANI)
08:06 pm: Rajasthan CM Vasundhara Raje writes to I&B Minister Smriti Irani requesting her that Padmavati be not released until some changes are made to it so that it 'does not hurt the sentiments of any community' (ANI)
08:03 pm: Former Uttarakhand & Uttar Pradesh CM Narayan Datt Tiwari shifted to ICU of Max Hospital Saket in Delhi after he became unresponsive while being given physiotherapy (ANI)
07:43 pm: India's Manushi Chillar wins Miss World 2017
07:15 pm: Lebanon PM Hariri confirms he will return to Beirut for Wednesday (AFP)
07:13 pm: MV Emerald Star with 26 Indians sank on 13 October 2017.  While 16  Indians were rescued, remaining 10 could not be found. There was extensive search by Japan and Philippines which was joined by Indian Navy, tweets EAM Sushma Swaraj (ANI)
07:02 pm: Jammu High Court Bar Association prez B S Slathia asks govt to file sedition charges against National Conference chief Farooq Abdullah for his recent remarks that PoK belongs to Pakistan (PTI)
06:59 pm: Centre says woman who died recently in Bareilly in UP due to alleged starvation was an Antodaya Anna Yojana cardholder and had received PDS foodgrain till October on regular basis (PTI)
06:51 pm: Purchase of 36 Rafale fighter jets will bolster India's security & it is a "win-win partnership" for both countries, says French Foreign Minister Jean Yves Le Drian (PTI)
06:38 pm: Cong prez Soni Gandhi & Rahul Gandhi accuse BJP leader Subramanian Swamy of delaying trial in National Herald case filed by him against them & others (PTI)
06:22 pm: Moody's India upgrade is a recognition of the fact hat India has carried out vast number of structural, institutional & procedural reforms, it has made India easy & simple, says NITI Aayog CEO Amitabh Kant (ANI)
06:12 pm: Zimbabwe army stops crowd marching on Mugabe's official home (AFP)
06:17 pm: Schedule of party president election to be discussed in Congress Working Committee (CWC) meeting to be held on Monday (ANI)
06:04 pm: Congress Working Committee (CWC) meeting to be held on Monday at 10.30 am (ANI)
06:16 pm: Indian DGMO impressed upon Pakistan DGMO that there appears to be a  disconnect b/w intent at the Pak GHQ which reiterates its desire for peace & actions of Pakistan troops along the Line of Control, who resort to heavy firing without provocation (ANI)
06:03 pm: DGMO level talks held between India and Pakistan on request of Pakistan DGMO (ANI)
05:47 pm: CBFC chief Prasoon Joshi slams makers of Padmavati for screening the movie for various TV channels without getting censor certificate (ANI)
05:39 pm: One IAF Garud personnel lost his life, 2 Army personnel injured in Hajin encounter. Operation continues (ANI)
05:00 pm: Security forces gun down 5 terrorists during encounter in Bandipora's Hajin,J&K. Operation continues (ANI)
04:49 pm: Macron welcomes Lebanon's Hariri at Elysee Palace (AFP)
04:47 pm: 1500 participants from 150 countries will participate in the Global Entrepreneur Summit, with 1/3 participants from India, 1/3rd from US & 1/3rd from other countries, says Amitabh Kant, CEO, NITI Aayog (ANI)
04:45 pm: We want to promote start ups and entrepreneurship in India so we are  partnering US in the Global Entrepreneur Summit, says AmitabhKant,CEO,NITI Aayog (ANI)
04:23 pm: Patiala House Court adjourns Abu Salem extortion case, next hearing on November 21 (ANI)
04:10 pm: An encounter started in Jammu and Kashmir's Hajin. 2 terrorists trapped (ANI)
040:07 pm: Indian reply to Pakistan's Humanitarian offer for Commander Jadhav received & is being considered, tweets Ministry of Foreign Affairs Pakistan Spokesperson (ANI)
04:06 pm: Earthquake of magnitude 4.2 occurred in Rajasthan's Jodhpur (ANI)
03:48 pm: I think the controversy is unnecessary. How can it be said that the history has been distorted when no one has watched it yet? I didn't find anything controversial with the film. The movie must first be watched before opposing it, says Khalish Masoom, CBFC Member on Padmavati (ANI)
02:28 pm: 1st Test, Day 3: Sri Lanka 113/2 at tea vs India (172); Thirimanne 48*, Bhuvneshwar 2/38 CLICK HERE FOR LIVE MATCH UPDATES
02:00 pm:
Yes, I say it (PoK) belongs to them (Pakistan). Are they (Pakistan) wearing bangles? They also have atom bombs! Do you want us to be killed by them? You are sitting in palaces, think about the poor people living in border areas, who are bombed daily: Farooq Abdullah in Jammu pic.twitter.com/C2WkpowNji

— ANI (@ANI) November 18, 2017
01:52 pm: Farooq Abdullah says, 'You have made one Pakistan, how many Pakistans will you make, how many pieces will you cut India into?' (ANI)
01:50 pm: 3 women killed, one critically injured after hit by Bandra-Indore Express while trying to cross a Railway track in Mumbai's Malad (ANI)
01:27 pm: Padmavati's application came up this week for review. Makers admit paper work isn't complete, the disclaimer whether film is work of fiction/historical was left blank & on being asked to provide imp documents, target CBFC for "looking the other way". It is surprising: Prasoon Joshi (ANI)
01:26 pm: It's myopic to treat certification process haphazardly to suit convenience. On one hand, holding CBFC responsible & pressurizing to accelerate process & on other hand, attempt to subvert the very process, sets an opportunistic precedent: CBFC Chairman Prasoon Joshi to ANI
01:25 pm: Disappointing that Padmavati is being screened for media & getting reviewed on national channels without CBFC having seen or certified the Film. This compromises role of systems & balances that are part of a functioning industry: CBFC Chairman Prasoon Joshi to ANI
01:17 pm: Lebanon's PM Hariri arrives in France after Saudi 'hostage' rumours. Hariri is in Paris at the invitation of France's President Macron. (AFP)
01:10 pm: Murshidabad (WB) police busted a gang dealing in fake currency and recovered FICN worth Rs 5,96,000 in Rs 2000 notes, three arrested (ANI)
01:04 pm:
At 7:30 this evening, I will address the programme to commence the year long celebrations of the 50th Nirvan Anniversary of Shri Rang Avadhoot Maharaj, via video conferencing. You can watch the speech on your mobiles. https://t.co/TYuxNNJfIf

— Narendra Modi (@narendramodi) November 18, 2017
12:50 pm:
Significant day for me today. The way Narendra Modi ji, Amit Shah ji have been taking the country forward, also in changing the view how the world looks at India now, is remarkable: Rahul Roy pic.twitter.com/IOuMUPvZqk

— ANI (@ANI) November 18, 2017
12:38 pm: The way people are expressing their views after watching Padmavati, one cannot say that it was a private screening. This is not done: Top CBFC Official to ANI
12:36 pm: The way Padmavati's makers screened it for individuals before CBFC certification isn't in good taste. There is a thin line b/w private & public exhibition of a film and this screening w/o certification sets wrong precedent. CBFC isn't happy with this attitude: CBFC Official to ANI
12:25 pm: Siddaramaiah did not celebrate Kittur Chennamma festival but he is busy celebrating Tipu Jayanti: Anantkumar Hegde (ANI)
12:18 pm: Court in Ahmednagar, Maharashtra, holds 3 men guilty of raping and murdering 15-year-old girl in Kopardi village (PTI)
12:16 pm: Siddaramaiah celebrated Tipu Jayanti, it is a matter of time before he starts making you celebrate Kasab (Ajmal Kasab) Jayanti: Union Minister Anantkumar Hegde in Belgavi (ANI)
12:10 pm: Team of Special Cell has arrested 2 persons with over 1300 cartridges from Delhi (ANI)
11:57 am: All 3 accused in Kopardi rape and murder case found guilty, by Ahmednagar district sessions court. Quantum of punishment to be pronounced on 21st November. (ANI)
11:50 am: GST is an idea which had the blessings of the Congress party, but we would have implemented it after due care and adequate preparation: Former PM Manmohan Singh in Kochi, yesterday (ANI)
11:46 am: Attempts being made to destroy our family using the Income Tax department, we are not scared. Won't run away: TTV Dhinakaran on IT raids (ANI)
11:35 am: Have given a call for Bharat Bandh on 1st December, won't let Padmavati release: Lokendra Singh Kalvi, Rajput Karni Sena President (ANI) Click Here to Read More
11:27 am: 1st Test, Day 3: India all-out for 172 in first innings vs Sri Lanka; Pujara 52, Lakmal 4/26  CLICK HERE FOR MORE UPDATES
11:09 am: Notification was issued that Executive Council approved Dyal Singh evening college becoming a full-fledged day college. Then we had to give it a new and inspiring name, we decided it should be 'Vande Mataram Mahavidyalaya': Amitabh Sinha,Chairman of college's Governing Body, Delhi (ANI)
10:55 am: 2 drunken Policemen create ruckus at a Dhaba in Haryana's Panipat over bill issue, suspended (ANI)
10:40 am: Prime Minister Narendra Modi to address today, via video conferencing, the 50th Nirvan Anniversary of Rang Avdhoot Maharaj, Nareshwar, Ahmedabad (ANI)
10:25 am: 21-year-old girl allegedly gangraped in Chandigarh, last evening. Case registered by police (ANI)
10:23 am: 22 kg contraband suspected to be heroin seized from Firozpur, Punjab; 9 mm pistol, Pistol magazine with 11 live rounds recovered (ANI)
10:09 am: A Class 11 student in Kanpur (UP) suffered cuts on both legs allegedly after school management used scissors to cut off his jeans as punishment for not wearing school dress. Case registered by police (ANI)
10:00 am: We did not accept our defeat. East India Company sent their forces twice to occupy nation. They said they need more force. Meanwhile, Queen Victoria finished the company and became Empress of India: HP CM Virbhadra Singh on Shashi Tharoor remarks about India's erstwhile kings.
09:37 am: Jammu and Kashmir- Authorities have imposed restrictions at 8 police station areas in Srinagar as a precautionary law and order measure after the killing of a terrorist in Zakura, last night (ANI)
09:33 am:
Himachal Pradesh: #LatestVisuals of snowfall in Dhundi pic.twitter.com/FS9ZMSAIQr

— ANI (@ANI) November 18, 2017
09:31 am: Uttarakhand- Badrinath continues to witness snowfall (ANI)
09:30 am: UN climate envoys agree to 2018 stocktake of planet-warming emissions (AFP)
09:25 am:
#Visuals Wreath laying ceremony of Sub-Inspector Imran Tak in J&K's Udhampur; he lost his life in terrorist attack on Police's Party in Zakura area of Srinagar pic.twitter.com/1LUqwi7r7Q

— ANI (@ANI) November 18, 2017
09:16 am: Businessmen in Gilgit Baltistan against illegal taxation say, we will carry on with the protests with same force and zeal until Pakistan withdraws notification of taxes (ANI)
08:47 am: A former model in Mumbai, alleges that her Muslim husband forced her to follow his religion; says "I am a Hindu and didn't give into his pressures". Bandra Police registered case against two people under sections 354,323, 324, 504, 506 and 34. Police investigation underway
08:15 am:
Jammu and Kashmir: Pir Panjal Range experienced heavy snowfall this morning, Mughal road closed pic.twitter.com/090IhDpcPV

— ANI (@ANI) November 18, 2017
07:48 am: Massive anti-Pakistan protests across Gilgit Baltistan against illegal taxation (ANI)
07:35 am: 49 trains delayed, 14 rescheduled, 1 cancelled in Delhi (ANI)
07:25 am:
#Visuals from Rajpath after overnight drizzling: #Delhi's Anand Vihar at 260, Punjabi Bagh at 251, Siri Fort at 236, Shadipur at 214 in Air Quality Index; all of them fall in 'Very Unhealthy category' pic.twitter.com/DIJh030LfO

— ANI (@ANI) November 18, 2017
07:13 am: CLICK HERE TO READ MORE
#FLASH Earthquake of magnitude 6.4 occurred in India-China border region in #ArunachalPradesh, at 4:14 AM pic.twitter.com/rU5g83IrAn

— ANI (@ANI) November 18, 2017
06:23 am: Trump administration puts Palestine Liberation Organization on notice that its DC office may be shuttered (AP)
06:05 am: Saudi Arabia recalls ambassador to Berlin in protest over Lebanon comments (AFP)
06:02 am: Russia again vetoes a UN resolution to extend the mandate of experts investigating chemical weapons in Syria (AP)
06:00 am: IT raids- Protesting Sasikala supporters detained by Police in Poes Garden, Chennai CLICK HERE TO READ MORE