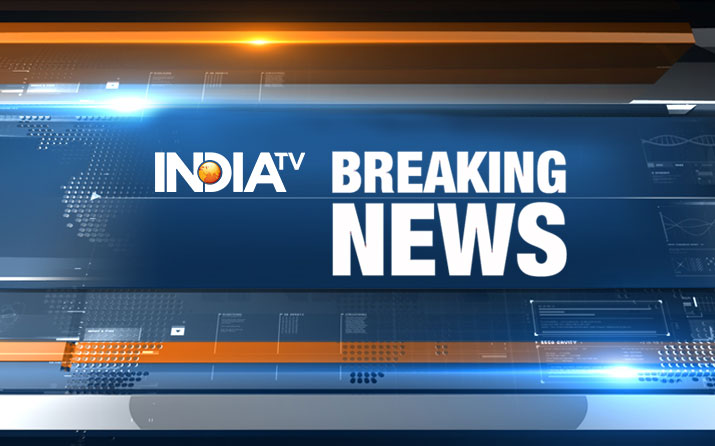 Twitter is buzzing with breaking news and news alerts from India and rest of the world. Here is the coverage of all breaking alerts and latest updates from the micro-blogging site on one page:
Breaking News of November 13:
11:24 pm: Uber's India, South Asia policy chief quits in latest senior departure (Reuters)
11:22 pm: Executive order indefinitely restricted travel to the US for citizens from 8 countries: Somalia, Syria, Libya, Iran, Yemen, North Korea, Venezuela, Chad (Russian media)
11:17 pm: US court allows Trump's travel ban to take partial effect (Russian media)
10:23 pm: Court in Bihar's Bettiah orders filing of FIR against Farooq Abdullah on charges of treason after a lawyer approached the court over Abdullah's remarks on PoK (ANI)
10:17 pm: Income Tax officials say, unaccounted income of over RS 1400 crore has been unearthed during raids on VK Sasikala's family members and premises of Jaya TV in Chennai (ANI)
09:36 pm: Chhattisgarh: 20 Naxals arrested under joint operation 'Prahar' in Sukma's Chintagufa and Chintalnar (ANI)
09:14 pm: When Congress comes to power we will not tell you our 'mann ki baat', we will listen to your 'mann ki baat' and run the govt accordingly: Rahul Gandhi in Mehsana's Visnagar (ANI)
09:13 pm: Zimbabwe army chief warns Mugabe's party after VP sacked (AFP)
08:53 pm: US President Donald Trump says he will nominate former pharmaceutical executive Alex Azar to be next secretary of health and human services (AP)
08:51 pm: Tejashwi Yadav leaves Enforcement Directorate office after being questioned for nine hours over IRCTC scam case (ANI)
08:50 pm: President shared impressions of his Asian visit. Terrorism also came up, particularly in context of the region west of India, all the way till the middle-east: Foreign Secretary S. Jaishankar on Modi-Trump meeting
08:49 pm: Bilateral meet was mainly on economic issues, trade and investment was discussed. Thrust of the discussion was how to grow trade and investment: Foreign Secretary S. Jaishankar on Modi-Trump meeting
08:48 pm: Meeting lasted for about 45 minutes. Started with President Trump saying that there is a lot of good report coming from India, he was talking mainly in economic terms: Foreign Secretary S. Jaishankar on Modi-Trump meeting (ANI)
08:27 pm: Air strikes kill 21 civilians in Syria's Aleppo province (AFP)
08:26 pm: Iran in compliance with nuclear deal (AFP quoting UN watchdog)
08:25 pm: Four agreements were signed between India and Philippines, including ones on defense cooperation and logistics, agriculture and on micro small and medium enterprises: Preeti Saran, MEA
08:24 pm: This is the first Prime Ministerial visit from India to Philippines in 36 years. President Duterte and PM Modi had an excellent meeting, President said he'd like to have very good relations with India: Preeti Saran, MEA (ANI)
08:07 pm: Death toll in Iran's powerful earthquake rises to 407 (The Associated Press)
07:59 pm:
Hyderabad: Fire broke out in Annapurna studios in Banjara Hills. Four fire tenders at the spot pic.twitter.com/lbY1M0fp0T

— ANI (@ANI) November 13, 2017
07:54 pm: FM Arun Jaitley says there is scope for further rationalisation of GST rates; revenue buoyancy to decide the course of rationalisation
07:53 pm: Finance Minister rules out single tax rate of GST, says those seeking single rate have no understanding of tariff structure
07:52 pm: Finance Minister Arun Jaitley says it is juvenile politics to link GST rate rationalisation with elections or political demand (PTI)
07:44 pm: Hyderabad: Fire breaks out in Annapurna studios in Banjara Hills. Four fire tenders at the spot (ANI)
07:42 pm:
PM Narendra Modi meets Philippines President Rodrigo Duterte in Manila #ASEANSummit pic.twitter.com/3XSDcPp4wu

— ANI (@ANI) November 13, 2017
07:29 pm: Two sons of Gujarat threw out the British from India, Mahatma Gandhi ji and Sardar Patel ji: Rahul Gandhi in Mehsana (ANI)
07:11 pm: Puducherry Assembly speaker rejects nomination of three BJP members to the House by the Centre (PTI quoting speaker's office)
06:41 pm: Retail inflation marginally up at 3.58 percent in October against 3.28 percent in September (PTI)
06:36 pm: Girl from Hyderabad who went missing after she was allegedly trafficked to Dubai and later to Oman on pretext of job, returns home. Family thanks EAM Sushma Swaraj for the help (ANI)
06:33 pm: Two terrorists killed in Handwara, one policeman injured. Search operations continue (ANI)
06:15 pm: Terrorists attack a Police party in Jammu and Kashmir's Handwara
06:10 pm: Indian Film & Television Directors' Association addresses the media  in Mumbai, say they support Sanjay Leela Bhansali & his film Padmavati (ANI)
06:00 pm: 10 trains scheduled for today cancelled, 4 cancelled for tomorrow due to smog/operational reasons in Delhi (ANI)
05:59 pm: CBI files 4th charge-sheet against 7 accused persons in Bihar srijan scam (ANI)
05:48 pm: Average AQI for last 24 hours are Delhi at 460, Ghaziabad at 497, Gurugram & Noida at 466; all fall in severe category (ANI)
05:24 pm: Supreme Court to pass orders on maintainability of plea filed by an advocate alleging bribes being taken in the name of judges (PTI)
05:19 pm: NGT reserves judgement in Art Of Living- Yamuna floodplain matter (ANI)
05:04 pm: India is the land of Mahatma Gandhi and peace is integral to our culture: PM Modi in Manila
05:01 pm: We have started from where Mahatma Gandhi left and till now more than 2 lakh villages in India have become open defecation free: PM Narendra Modi
04:59 pm: Everyone wants to reside in a clean environment, but some people have a problem if our govt takes an initiative for cleanliness: PM Narendra Modi
04:54 pm: If the 21st century is considered Asia's century, then it becomes our duty to make it India's century and I say it is possible: PM Modi addressing the Indian community in Manila
04:52 pm: India has always contributed to world peace. Our contingent in the UN Peacekeeping Forces is among the biggest. India is the land of Mahatma Gandhi, peace is integral to our culture: PM
04:48 pm: Difficulties are a part of any development. But once you overcome those, there is no stopping for the people of India: PM Narendra Modi
04:46 pm: Our efforts are aimed at transforming India and ensuring everything in our nation matches global standards: PM Narendra Modi
04:40 pm: PM Narendra Modi addresses Indian community in Manila
04:31 pm: Star campaigner of Congress Rahul Gandhi is visiting temples and is offering prayers which is good as it is a part of the Indian culture. However, this must come naturally to a person and not only during elections: Bhupender Yadav, BJP National Gen Secretary (ANI)
04:22 pm: Odisha: Two Cobra jawans injured in an IED blast during combing operations near Jantapai village in Malkangiri's Chitrakonda; admitted to hospital for treatment (ANI)
04:17 pm: Supreme Court sends businessman Gagan Dhawan to two-day Enforcement Directorate remand in bank fraud case against him (ANI)
04:09 pm: Odd-even restrictions must be applied to two-wheelers and three- wheelers for impact, says Columbia researcher, adding the scheme doesn't work in long run (PTI)
04:01 pm: Supreme Court defers review plea of Nirbhaya gang-rape and murder convict to December 12 (ANI)
03:59 pm: We recommend Pakistan Govt to provide freedom to people of PoK by ending its illegal and forceful occupation, to dismantle special terrorist zones, safe havens and sanctuaries and take verifiable actions, including on terror funding: India at Universal Periodic Review of Pak in UN (ANI)
03:58 pm: Supreme Court appoints amicus curiae and orders setting up of a web portal which will register grievances of homebuyers of Jaypee Infratech (PTI)
- Supreme Court asks directors to furnish details of their personal assets in court on November 22
03:52 pm: Sensex drops 281 points to close at 33,033.56; Nifty falls 96.80 points to 10,224.95 (PTI)
03:51 pm: Supreme Court asks non-institutional directors of Jaiprakash Associate Limited (JAL) to appear in person before it on November 22 (PTI)
03:49 pm: Large sections of India did not have access to banking services. The Jan Dhan Yojana changed that in a matter of months and transformed lives of  millions, says PM Modi (ANI)
03:30 pm: TMC MP Abhishek Banerjee sends defamation notice to BJP leader Mukul Roy for leveling corruption allegations against him (ANI)
03:16 pm: In Air pollution case Supreme Court observed that it was an emergency like situation and sought expeditious action (ANI)
03:12 pm: Supreme Court issued notice to Center, Uttar Pradesh, Punjab, Haryana and Delhi Govt on petition on stubble burning and dust pollution (ANI)
03:15 pm: The aircraft made a normal landing at Bengaluru airport, all passengers were deplaned as per normal procedure and the DGCA was voluntarily informed: Indigo Airlines (ANI)
03:10 pm: Our Indigo representative was pushing her wheelchair towards arrival.As he was guiding wheelchair through vehicular lane,which was dimly lit at that time, her wheelchair got stuck in a deep crack on tarmac & lost balance and she fell off: Indigo Airlines (ANI)
03:08 pm: We apologize to Ms. Urvashi Parikh Viren for the mishap which occurred at the Lucknow Airport yesterday at 8 PM: Indigo Airlines (ANI)
02:59 pm: Journalist Vinod Verma's judicial custody extended to November 27 by Raipur court. He was arrested by Chhattisgarh Police over a case of blackmailing and extortion. (ANI)
02:34 pm: Jet Airways flight 9W 825 Cochin-Mumbai was rescheduled to depart Cochin at 14:02 hours, with a delay of 2 hours on account of security related matter. The airline has informed relevant authority of the same for further necessary action and has offered full cooperation: Jet Airways (ANI)
02:30 pm: Man detained for allegedly threatening to hijack Mumbai-bound Jet Airways flight at Cochin International Airport, says airport spokesman. (PTI)
02:25 pm:
More visuals of bilateral talks between PM Modi and US President Donald Trump, in Manila #Philippines pic.twitter.com/7S0nF4oGoK

— ANI (@ANI) November 13, 2017
02:24 pm: Relations between India and US are growing. Our relations go beyond, we are working for future interests of Asia and humanity, says PM Modi in meeting with US Pres Trump (ANI)
02:22 pm: PM Narendra Modi holds bilateral with US President Donald Trump in Manila ASEAN Summit, Philippines (ANI).
02:20 pm: Delhi Govt files an appeal in the National Green Tribunal seeking certain changes in NGT's previous directions. Tribunal likely to hear the plea, tomorrow on Odd-Even (ANI)
02:15 pm: I will go into fast unto death from tomorrow itself, says Dr Ravindra, IMA Karnataka President on being asked what would he do if the govt passes KPME Act (ANI)
02:11 pm: Doctors of Private Hospitals Association & Indian Medical Association held protest against KPME Act in Belgaum, Karnataka (ANI)
01:56 pm: Iran quake death toll rises to 328 and over 2,500 injured, says official (AFP)
01:37 pm: South Korea says North Korean soldiers fired at and injured a fellow soldier as he was defecting in a border village (AP)
01:21 pm: Delhi CM & cabinet are in touch with environment scientists & continuously monitoring situation. Movement of trucks & construction works are under scrutiny, water is being sprinkled. We're re-filing before NGT that 2 wheelers & women be exempted from Odd Even, says Gopal Rai, Delhi Minister (ANI)
01:17 pm: Members of Youth Congress marched towards CM Pinarayi Vijayan's residence in Thiruvananthapuram alleging that he is shielding minister Thomas Chandy who is involved in a land encroachment case, water cannons used (ANI)
01:16 pm: North Korean soldier defects through Demilitarised Zone (AFP)
01:09 pm: French foreign minister calls for 'non-interference' in Lebanon crisis (AFP)
01:06 pm: I think the top management of the school is involved. I also believe that local administration and people with access to govt might be involved to save the real killer, says Varun Thakur, father of Pradyuman (ANI)
01:14 pm: I am planning to move a right to clean air bill as a private member bill in Lok Sabha, in the winter session. This is a bill in which I will be putting together thoughts of all citizens, experts, says Deepender Hooda,Congress on Air Pollution (ANI)
01:05 pm: I have written to PM requesting him to constitute a high level committee including all CMs of north Indian states, he should head it himself. Everyone should rise above political lines and sit together, present before nation a plan with budgetary provisions, says Deepender Hooda,Congress on Air pollution (ANI)
12:54 pm: Person injured in Delhi's Rohini Court firing, succumbs to injuries (ANI)
12:44 pm: SC issues notice to Central govt on blatant use of pesticides in India. Govt to reply within six weeks. Petition demanded a policy to regulate use of chemical pesticides in farming (PTI)
12:32 pm: Proposal approved in COA meeting regarding business class travel for all cricketers for their domestic flights on and off series, says BCCI acting President CK Khanna (ANI)
12:31 pm: A new route to Vaishno Devi exclusively for pedestrians and battery-operated cars will be opened from November 24, says NGT (PTI)
12:27 pm: While inaugurating 'Shri Narendra Modi Resilient Rice Field Laboratory' at Los Banos, Philippines, PM Modi also presented two Indian rice seed varieties to the IRRI gene bank (ANI)
12:25 pm: I would be going to Ayodhya day after tomorrow, so far all talks have been positive, says Sri Sri Ravishankar on Ram temple (ANI)
12:12 pm: NGT caps number of devotees allowed to visit Vaishno Devi shrine in Jammu and Kashmir at 50,000 a day. Any more people found proceeding towards the shrine would be stopped either at Ardhkumari or Katra. All new constructions taking place inside shrine complex also stayed. (ANI)
12:09 pm:
PM Narendra Modi visits Mahaveer Philippine Foundation, in Manila #Philippines pic.twitter.com/QMq8duqL6p

— ANI (@ANI) November 13, 2017
12:05 pm: 1 person critically injured in firing at Rohini Court premises; more details awaited (ANI)
11:52 am: Pradyuman Murder Case- We have been saying for long that he is innocent, this is a conspiracy hatched by school administration and the police. We want proper investigation and justice, says Mamta, wife of bus conductor Ashok Kumar (ANI)
11:50 am: Saudi Arabia's mission to the UN says Saudi-led coalition will begin reopening airports and seaports in Yemen (AP)
11:47 am: Tejashwi Yadav reaches Enforcement Directorate office to join Investigation in IRCTC scam Case (ANI)
11:43 am: Andhra Pradesh Chief Minister N Chandrababu Naidu visited the site of Krishna boat capsize incident which has claimed lives of 19 people so far. (ANI)
11:40 am:
PM Narendra Modi inaugurated 'Shri Narendra Modi Resilient Rice Field Laboratory' at Los Banos, #Philippines. pic.twitter.com/cVQa3i8SDI

— ANI (@ANI) November 13, 2017
11:36 am: Ram Setu case- Supreme Court gives 6 weeks' time to the Central government to file affidavit on their stand on Ram Setu. The Central Government will have to clarify if they want to remove Ram Setu or protect it (ANI)
11:33 am: Watch the film first and then decide for yourself. Don't have a preconceived notion: Shahid Kapoor on Padmavati (ANI)
11:30 am:  Iran quake toll rises to 207 dead, 1,700 injured: official (AFP) Click Here to Read More
11:20 am: Iranian state TV now reports that 200 people were killed and 1,686 injured in the earthquake along Iran-Iraq border (AP)
11:10 am: Case registered against a cab driver for attempting to kidnap a minor girl in Hyderabad, further investigation by police underway (ANI)
10:57 am: Congress Vice President Rahul Gandhi interacts with Leaders from SC Community in Patan, Gujarat (ANI)
10:53 am: NGT on Delhi Smog and Odd-Even: Delhi Government has still not moved modification application on NGT on the issue of Odd-Even. NGT observes "govt approaching us or was its minister's statement for press only?" (ANI)
10:50 am: NGT asks whether the Delhi government was only informing the media about a review petition on the Odd-Even scheme since no review petition has been filed as yet (ANI)
10:48 am: Air pollution matter- The CJI bench decided to hear the matter at the end of the board today. The plea mentioned before CJI bench has sought immediate action against stubble burning and construction dust. (ANI)
10:45 am: The plea seeks direction to Centre and states on stubble burning, road dust and effective implementation of odd-even car rationing scheme. (PTI)
10:43 am: SC agrees to hear fresh plea seeking immediate measures to curb rising pollution in Delhi-NCR. (PTI)
10:39 am: Iran quake toll rises to 164 dead, 1,600 injured: official. (AFP)
10:15 am: Krishna boat capsize incident: Death toll rises to 19 in AndhraPradesh (ANI)
10:09 am: Congress Vice President Rahul Gandhi visits Patan's Vir Megh Maya Temple in Gujarat (ANI)
09:54 am: Strong earthquake, measuring 6.5 rocked Costa Rica, but no major damage has yet been reported (AFP)
09:41 am: Prime Minister Narendra Modi visits International Rice Research Institute in Los Banos, Philippines; inaugurates Resilient Rice Field Laboratory (ANI) Click Here to Read More
09:38 am: Krishna boat capsize incident in Andhra Pradesh: Death toll rises to 18 (ANI)
09:22 am: A portion of the ceiling at Mumbai's Andheri Railway station fell off, last night, injuring 2 people (ANI)
09:15 am: Sensex opens 37.74 points higher at 33,352.30; Nifty at 10,318.25
09:05 am: Rescue operation has been continuing since yesterday with four of our teams, divers are also making efforts to trace missing people: Santosh Kumar, NDRF Deputy Commandant (ANI)
09:00 am: 17 bodies recovered so far, trying to trace remaining missing persons. Govt has appointed a senior committee to inquire, police has also registered a case against 4-5 persons out of which one has been arrested: Krishna District Collector B. Lakshmi Kantam (ANI)
08:46 am:
Capsizing of a boat in the Krishna River is anguishing. My thoughts are with the families of those who lost their lives in this tragedy. Andhra Pradesh Government and @NDRFHQ have been working on rescue operations: PM @narendramodi

— PMO India (@PMOIndia) November 13, 2017
08:41 am: Magnitude 6.5 quake hits coast of Costa Rica, shakes capital (AP)
08:38 am: Iran's state-run news agency reports over 140 killed, 860 injured in 7.2-magnitude earthquake along Iran-Iraq border (AP) CLICK HERE TO READ MORE
08:30 am: Earthquake measuring 6.5 rocks Costa Rica. No reports yet of damage. Quake occurred at a depth of 20 kilometers near popular tourist beach town of Jaco (Source: AFP)
08:10 am: Schools in Delhi reopen, after being closed due to severe smog conditions in the national capital. Students seen wearing masks, teachers 'say collective efforts must be made, closing schools not a solution' (ANI)
07:50 am: According to latest AQI figures, Delhi's Mandir Marg at 523, Anand Vihar at 510, Punjabi Bagh at 743, Shadipur at 420; all fall in the 'Hazardous' category in the Air Quality Index (ANI) CLICK HERE TO READ MORE
07:45 am: Uber to sell stake to Japan's SoftBank (AFP)
07:40 am: 69 trains delayed, 22 rescheduled and 8 cancelled due to smog conditions Delhi (ANI)
07:38 am: Krishna boat capsize incident in Andhra Pradesh- 17 bodies have been recovered so far (ANI) Click Here to Read More
07:33 am: Assam Rifles jawans killed in an IED explosion during patrolling near Manipur's Chandel, this morning. More details awaited. (ANI)
07:30 am: Tamil Nadu- Schools in Chennai, Kanchipuram and Tiruvallur remain closed, today, after MeT department predicted rain in the areas (ANI)
07:11 am: Death toll rises to 129 in Iranian quake: state media (AFP) CLICK HERE TO READ MORE
06:54 am: Prime Minister Narendra Modi to hold a bilateral with US President Donald Trump, also with President Duterte of Philippines. PM to address at the ASEAN Bussiness and Investment Summit and later attend a Community Reception (ANI) Click Here to Read More
06:50 am: PM Modi to attend the opening ceremony of 31st ASEAN Summit in Manila, will also visit International Rice Research Institute, Mahaveer Philippines Foundation (ANI)
06:44 am:
#WATCH: Prime Minister Narendra Modi arrives at the venue for opening ceremony of 31st #ASEANSummit in #Manila #Philippines pic.twitter.com/P02tneuTj4

— ANI (@ANI) November 13, 2017
06:36 am:
#Philippines: Prime Minister Narendra Modi arrives at the venue for opening ceremony of 31st #ASEANSummit in Manila pic.twitter.com/lYLYSOFobB

— ANI (@ANI) November 13, 2017
04:30 am: Iranian officials raise death toll to at least 61, more than 300 injured during magnitude 7.2 earthquake on Iran-Iraq border region (AP) CLICK HERE TO READ MORE
03:40 am: Iranian official says at least 30 people killed, more than 200 injured during earthquake on Iran-Iraq border region (AP)
01:30 am: Pregnant woman dead after being run over by a car driven by parking attendant in Noida Sector-18. The parking attendant is said to be a minor (ANI)
12:40 am: Iranian state TV reports magnitude 7.2 earthquake near Iran-Iraq border, no immediate reports of casualties (AP)
12:20 am: Doctors in Rajasthan end strike after talks with state government representatives were successful (ANI)