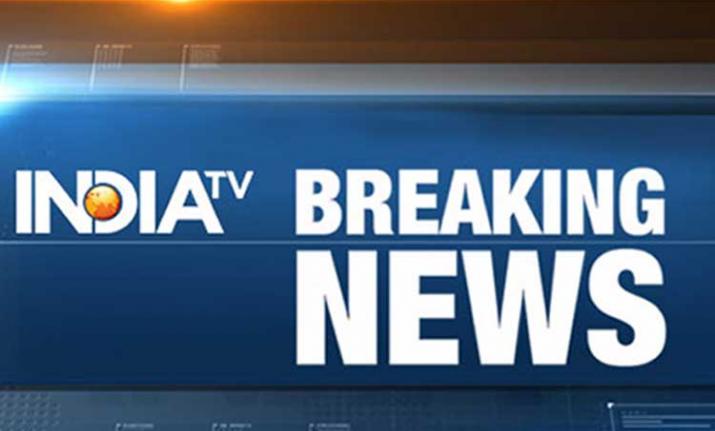 Twitter is buzzing with breaking news and news alerts from India and rest of the world. Here is the coverage of all breaking alerts and latest updates from the micro-blogging site on one page:
Breaking News of July 7:
11:34 pm: US soldier killed in "apparent insider attack" in Afghanistan (reports AFP)
09:44 pm: Kalanidhi Naithani appointed as the new SSP (Senior Superintendent of Police) of Lucknow (ANI)
09:08 pm: Army jawan Sepoy injured during firing from across the border in Nowshera sector of Rajouri in Jammu and Kashmir (ANI)
08:32 pm: Shashi Tharoor moves application before Patiala House Court seeking restraining on Delhi police from providing copy of chargesheet to any third person, in the Sunanda Pushkar death case; the court issues notice to Delhi police (ANI)
07:51 pm: Howrah-New Delhi Rajdhani Express that was halted at Ghaziabad has now departed from the station. The train was stopped at Ghaziabad after a bomb call was received at New Delhi Railway station for the train (ANI)
07:14 pm: Karnataka: 3 people died, 16 injured in a collision between a bus and a lorry at NH 66 outside Kumta in Uttara Kannada this evening. Case has been registered, investigation underway (ANI)
06:54 pm: BJP has destroyed whosoever they termed as their 'mother', be it river Ganga, cows, or India: SP Spokesperson Sunil Singh Sajan on India TV's special show Kurukshetra 
06:47 pm: The situation has been the most risky for Muslims in 2008, so such incidents have happened in the past as well: AIMPLB member Aijaz Arsad Qasmi Mufti on India TV's special show Kurukshetra 
06:46 pm: The incidents that have been reported from West Bengal, which is not a BJP-ruled state, have targeted the Hindus: VHP Spokesperson Vijay Shankar Tiwari on India TV's special show Kurukshetra
06:44 pm: We all know that the incidents of mob lynching are taking place in the country, but it is the act of some political leaders to politicise such incidents: AIMPLB member Aijaz Arsad Qasmi Mufti on India TV's special show Kurukshetra
06:43 pm: FIR filed by a woman alleging that Hardik Patel, Alpesh Thakor and Jignesh Mevani illegally entered her house in Gujarat's Gandhinagar and accused her of selling alcohol (ANI)
06:40 pm: It has been reported that more than 2000 people have been killed in the name of mob lynching: BJP Spokesperson Prem Shukla on India TV's special show Kurukshetra
06:38 pm: There should not be politics on incidents of mob lynching. The accused should be identified by the society and by the authorities: Congress Spokesperson  Pranav Jha on India TV's special show Kurukshetra
06:36 pm: We have been trying to make out if the incidents of mob lynchings can be justified, to which the leaders from the other parties are saying that such incidents have been happening since long and so these can be justified: Congress Spokesperson Pranav Jha on Kurukshetra
06:35 pm: Toll from record Japan rains rises to 30 (reports AFP)
06:34 pm: North Korea regrets US attitude and unilateral denuclearization demands during Pompeo talks (reports Russian Media)
06:19 pm: Supreme Court to pronounce judgment in review petitions, filed by two out of the four convicts in 2012 Delhi gang rape case, on Monday (ANI)
06:16 pm: Howrah-New Delhi Rajdhani Express halted at Ghaziabad after it departed from New Delhi Railway Station, following a bomb call received at the station for the train. The train has been completely vacated; bomb squad with dogs and other devices are checking the train (ANI)
06:14 pm: Today India is witnessing a time when most of the people of the country are taking law in their hands, over different issues: Congress Spokesperson Pranav Jha on India TV's special show Kurukshetra
06:09 pm: The Indian law clearly states that a person cannot be termed criminal until his crime has not been proved: BJP Spokesperson Prem Shukla on India TV's special show Kurukshetra
05:18 pm: Earthquake measuring 6.0 on the Richter Scale jolts Tokyo, no tsunami warning issued (reports AFP) 
05:16 pm: Girl commits suicide by jumping off the 6th floor of a mall in Uttar Pradesh's Noida; suicide note recovered
05:10 pm: One CRPF personal injured as terrorists hurl a grenade on CRPF party in Jammu and Kashmir's Budgam; area being cordoned off (ANI)
05:01 pm: CBI files chargesheet against five people in the death case of a minor girl's father in UP's Unnao. The girl was raped in April this year, BJP MLA Kuldeep Sengar was also an accused in the rape case (ANI)
04:31 pm: Lok Sabha MP & leader of Swabhimani Shetkari Saghtana, Raju Shetti  announces that supply of milk will be halted in Mumbai from July 16 if govt does not listen to their demands. They've been demanding subsidy on milk for dairy farmers & settlement of arrears for sugarcane farmers (ANI)
04:30 pm: Special cell of Delhi Police arrests 2 people with 12 quintals of poppy straw from a truck bound to Punjab. The poppy straw was being transported from Jharkhand (ANI)
03:58 pm: US Secretary of State Mike Pompeo says nuclear talks with North Korea were 'very productive' (reports AFP)
2:00 pm: Jawaharlal Nehru University (JNU) to hold convocation to award Ph.D degree to students on 8th August. Last convocation was held 46 years ago in 1972.
1:23 pm: Heavy to very heavy rainfall expected to occur in Konkan Goa and Mumbai in the next five days: Ajay Kumar, Scientist, India Meteorological Department 
12:50 pm: Prime Minister arrives in Jaipur, to lay the foundation stone for 13 urban infrastructure projects and address a public meeting.
11:47 pm: Heavy rain lashes Mumbai, high tide expected at 6:03 pm today | READ
11:39 pm: Heavy to very heavy rainfall likely to occur at isolated places in Greater Mumbai and suburban areas including Thane and Palghar, today and tomorrow.
11:22 am: Noida gets a facelift for PM Modi's visit on July 9, police issues traffic advisory - READ
11:20 am: Union Minister Jayant Sinha lands himself in trouble, garlands Ramgarh lynching convicts after release on bail
11:13 am: A preliminary report has been registered, 6 people have been arrested out of total 19 accused: AK Singh, DSP, Chhapra Sadar on student of a private school in Saran district alleging she was raped by school Principal, teachers & fellow students for the last 7 months. (ANI)
10:45 am: Congress President Rahul Gandhi meets Prime Minister of Bhutan Tshering Tobgay in Delhi.
10:25 am: Counsels for Shashi Tharoor questioned Subramanian Swamy's locus standi in the case. Court set 26th July as date for the scrutiny of documents and consideration of the application (ANI)
10:20 pm: Public prosecutor & Shashi Tharoor's counsel opposed applications moved by Subramanian Swamy seeking Court's nod to allow him to assist the prosecution in the case & a direction to the police to produce the report of vigilance inquiry conducted earlier.
10:09 pm: Delhi's Patiala House Court grants bail to Shashi Tharoor. Judge said 'no requirement to file a formal bail. Anticipatory bail had been granted by sessions court'
9:07 pm: Man thrashed and detained by Police in Patna yesterday, reportedly after an argument over a traffic violation
8:49 pm: Gujarat Police files FIR against 'unknown ghost' in a suicide attempt | READ
8:30 pm: I think youngsters these days have easy access to internet & smartphones,they watch obscene content on it, this has a negative impact on their innocent minds. All these facts have been reported in media as well: Nand Kumar Chauhan,BJP MP on cases of crime against women (ANI)
8:04 pm: Check latest fuel rates in Delhi, Mumbai here
7:47 pm: Petrol, Diesel prices hiked for third consecutive day.
7:15 pm: 15 students, 2 teachers, principal raped teen for 7 months at a school in Bihar's Chhapra 
6:30 am: Prime Minister Narendra Modi to visit Jaipur today: He will witness an audio-visual presentation of experience sharing by 12 beneficiaries of schemes of the Government of India and Government of Rajasthan. This will be moderated by CM Vasundhara Raje | READ
6:15 am: Jammu & Kashmir: Security forces recovered Pakistan's currency notes, arms & ammunitions from Beri Rakh forest area in Poonch's Mendhar during a search operation yesterday. (ANI)
6:00 am: Minor girl in Indore allegedly committed suicide on July 5 as she was allegedly harassed by man for few days. Relatives say, 'Our complaint was registered after 2 days. Accused lives in our neighbourhood & used to harass her while she commuted to school' (ANI)