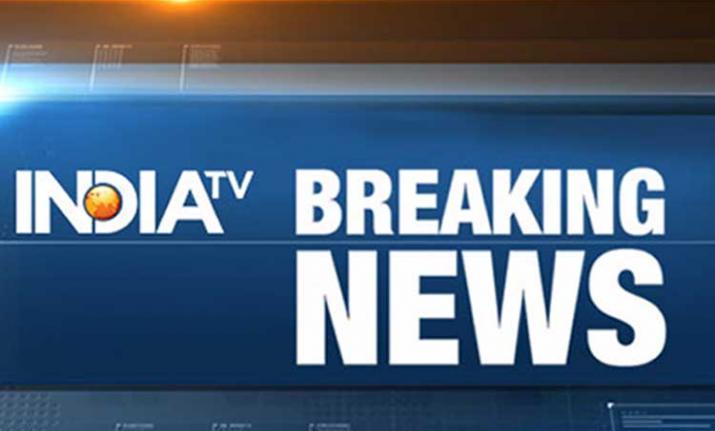 Twitter is buzzing with breaking news and news alerts from India and rest of the world. Here is the live coverage of all breaking alerts and latest updates from the micro-blogging site on one page:
 Breaking News of July 10:
06:20 pm: Andhra Pradesh has been ranked No. 1 in 'ease of doing business' by Commerce & Industry ministry
05:30 pm: Maharashtra: Rain lashes parts of Pune
Maharashtra: Rain lashes parts of Pune. Visuals from Navi Peth. pic.twitter.com/ZzLREvieir

— ANI (@ANI) July 10, 2018
04:30 pm: Air India Express flight IX 213 from Vijaywada to Mumbai, landed and came to halt deep into the runway, overshooting the runway. Air India Express Engineering team is inspecting the aircraft at Mumbai airport. All passengers are safe, says KS Sunder, CEO Air India Express.
04:10 pm: Hearing in the pleas seeking scrapping of Section 377 to continue on Wednesday at the Supreme Court.
02:57 pm: SC hearing pleas seeking scrapping of Section 377: Arvind Dattar, appearing for a petitioner, says if a person has a different sexual orientation, it can't be treated as a crime. This can't be treated as against the order of the nature (ANI)
02:48 pm: SC hearing pleas seeking scrapping of Section 377: Arvind Dattar, appearing for a petitioner, says if Section 377 was enacted today, it won't withstand test of constitutionality. Court tells him, you've to convince court that if a law like this was made now, it won't be sustainable (ANI)
02:43 pm: Ninth person seen carried out of Thai cave on a stretcher (reports Reuters)
02:41 pm: SC hearing pleas seeking scrapping of Section 377: Arvind Dattar, appearing for one of the petitioners, submits to the five-judge constitution bench of the Court that 1860 Code was imposed on India and it did not represent even the will of the British Parliament (ANI)
02:32 pm: Fire breaks out in a five-storey building in Shaitan Chowki area of Mumbai. 5 fire tenders are at the spot (ANI)
02:15 pm: India-Korea for the last 45 years developed bilateral relations in various fields and in 2015 on the occasion of PM Modi's visit to South Korea escalated it to special strategic partnership: South Korean President Moon Jae-in (ANI)
02:14 pm: The proliferation links between north Asia and south Asia are a matter of concern of India, India is a stakeholder in peace process. We will offer all possible cooperation in order to reduce tension. We have also decided to step up scale of consultation and cooperation: PM Modi (ANI)
02:13 pm: Credit for accelerating the peace process in the Korean peninsula goes to President Moon Jae-in. I believe that the positive environment that has been created is an effort of President Moon: PM Modi (ANI)
02:04 pm: When it comes to policies, India's 'Act East Policy' and Republic of Korea's 'New Southern Strategy' have natural common grounds and I welcome the South Korean President's view that India-Republic of Korea relations are the foundation of their New Southern Strategy: PM Modi (ANI)
01:40 pm: South Korea's participation in our 'Make in India' mission has created many employment opportunities in India: PM Modi addressing joint press statement with South Korean President (ANI)
01:39 pm: Korean companies have made an identity for themselves in every household of India due to their commitment: PM Narendra Modi (ANI)
01:35 pm: PM Narendra Modi and South Korean President Moon Jae-in deliver joint press statement (ANI)
12:57 pm: Senior Congress leader Dr Karan Singh writes to PM Narendra Modi over renaming Jammu airport as Raja Hari Singh airport (ANI)
12:52 pm: Union government calls an all party meet on July 17, ahead of Monsoon session of the Parliament (ANI)
12:51 pm: Beheaded body found in Bihar's Nawada on July 7 has been identified as of Rashtriya Janata Dal (RJD) leader Kailash Paswan (ANI)
12:49 pm: SC hearing pleas seeking scrapping of Section 377: Additional Solicitor General Tushar Mehta, representing the Central Government says, "I am in the process of discussing the issue, section 377 is a question of law." (ANI)
12:36 pm: 16th tenure of Lok Sabha has entered into its final year and only 3 sessions are left now. Time is limited but there are several items of work still unfinished and time will be available mainly during the Monsoon and Winter Sessions: LS speaker S Mahajan in her letter to MPs (ANI)
12:34 pm: 
#MumbaiRains | Visuals of water-logging at Kings Circle on Eastern Express Highway due to heavy rains pic.twitter.com/SwxKVq3fK4

— India TV (@indiatvnews) July 10, 2018
12:27 pm: SC hearing pleas seeking scrapping of Section 377: Additional Solicitor General Tushar Mehta, representing the Central Government, tells Supreme Court that the government will file its response today (ANI)
12:24 pm: SC hearing pleas seeking scrapping of Section 377: Mukul Rohatgi appearing for one of the petitioners says, "as society changes, values changes, we can say, what is moral 160 years ago might not be moral today." (ANI)
12:22 pm: Three bike borne robbers loot at least Rs 2 lakhs from Shimla branch of State Bank of India in Khetri police station limits in Rajasthan's Jhunjhunu (ANI)
12:18 pm: SC hearing pleas seeking scrapping of Section 377: Mukul Rohatgi appearing for one of the petitioners says, "Section 377 violates one's human rights. The issue deals only with sexual orientation and it has nothing to do with gender." (ANI)
12:06 pm: Bodies of two terrorists recovered during the ongoing encounter in Shopian's Kundalan area in Jammu and Kashmir (ANI)
11:54 am: 
South Korean President Moon Jae-in meets Prime Minister #NarendraModi at Hyderabad House in Delhi pic.twitter.com/vtUsaSmDaD

— India TV (@indiatvnews) July 10, 2018
11:53 am: NGT issues notice Union of India and Uttarakhand govt, asks about the steps taken by them with regard to the safe disposal of debris generated during the construction of the roads in their Char Dham project (ANI)
11:51 am: Two killed in an explosion close to a fuel station in Afghanistan's Jalalabad city (reports Afghan media)
11:46 am: Constitution bench of Supreme Court begins hearing the pleas seeking scrapping of Section 377 of IPC, which criminalizes homosexuality (ANI)
11:31 am: Supreme Court reserves verdict in the case of former ISRO scientist, Nambi Narayan allegedly framed in a spy case (ANI)
11:00 am: Thai official overseeing cave search says 3rd rescue operation has begun (reports The Associated Press)
10:59 am: Enforcement Directorate files a detailed reply in Aircel Maxis case, opposes P Chidambaram's anticipatory bail (ANI)
10:56 am: Five arrested for allegedly abducting and gang-raping a 14-year-old in Madhya Pradesh's Chhindwara (ANI)
10:51 am: Supreme Court to hear matter pertaining to service, transfer and postings under the Delhi government, next week (ANI)
10:43 am: 
#Chhattisgarh: Heavy downpour results in water logging in various parts of Raipur pic.twitter.com/h1BbJhHFmy

— India TV (@indiatvnews) July 10, 2018
10:34 am: Three people arrested in connection with tying a woman to a tree and beating her over property dispute in Rajasthan's Jhunjhunu (ANI)
10:15 am: Aircel Maxis case: Interim protection granted to P Chidambaram and Karti Chidambaram extended till August 7 (ANI)
09:48 am: Rishikesh-Gangotri National Highway in Uttarakhand blocked due to landslide in Bemund in Tehri Garhwal district (ANI)
09:41 am: Rajasthan Chief Minister Vasundhara Raje and state Bharatiya Janata Party chief Madan Lal Saini to meet party president Amit Shah at his residence today, over Rajasthan Assembly elections (ANI)
09:18 am: Sensex opens 101.03 points higher at 36,035.75; Nifty at 10879.70
09:13 am: In last 24 hours till 8:30 AM today, Mumbai has received 165.8 mm of rain while Mumbai Suburb has received 184.3 mm of rain (ANI)
09:01 am: All eight boys rescued from Thai cave in 'good mental state' (reports AFP)
08:18 am: Dabbawalas have suspended their services for the day due to heavy rains, water-logging and disrupted rail services in Mumbai (ANI)
08:02 am: Man bangs his 3-year-old son against an auto-rickshaw following a quarrel with his wife in Hyderabad; child handed over to Child Welfare Committee. Case registered, accused absconding (ANI)
07:59 am: Heavy to very heavy rainfall likely in few places with extremely heavy rainfall at isolated places in the districts of Greater Mumbai, Thane, Raigad and Palghar between July 10 to 13 (ANI)
07:47 am: Supreme Court to begin hearing pleas challenging Section 377 today
07:40 am: Up and Down through line at Nala Sopara is halted due to heavy rains in Mumbai. Local trains on Western Suburbs are running late by 10 to 15 minutes between Virar to Churchgate (ANI)
07:34 am: 25-year-old student stabbed by unidentified bike-borne miscreants in Ganganagar area of Meerut in UP last night, admitted to hospital (ANI)
07:28 am: Local train services between Vasai and Virar to remain suspended until further information due to heavy rains in Mumbai (ANI)
06:54 am: Encounter breaks out between terrorists and security forces in Kundalan area of Shopian, Jammu and Kashmir (ANI)
06:38 am: Trump picks conservative federal appeals court judge Brett Kavanaugh for Supreme Court nominee (reports Reuters)
06:21 am: Toll in Japan rain disaster rises to 141 
06:19 am: 
#MumbaiRains | Heavy rain lashes the city pic.twitter.com/iT8OY7ebuo

— India TV (@indiatvnews) July 10, 2018
06:16 am: Trump suggests China might be interfering in US-North Korea talks (reports Reuters)