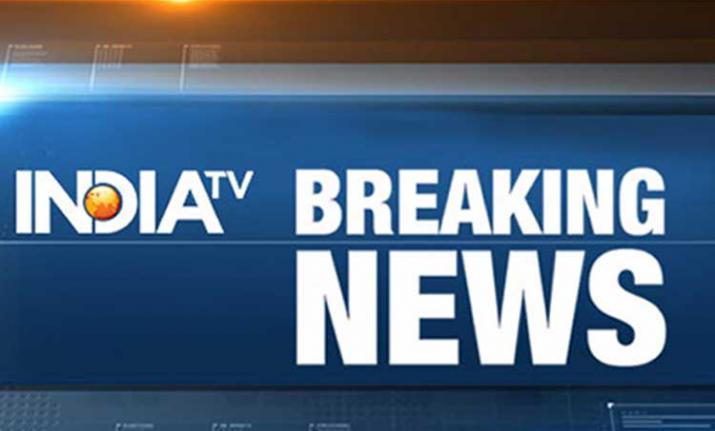 Daily dose of news plays very important role in our daily life. For some people, the morning is incomplete without knowing about what's happening across the world. Some digital-savvy people have a habit of consuming news even when they are travelling or in their free time. In today's world, where people rely on news websites for everything that's happening around, IndiaTV News provides you all breaking news, latest news, breaking story videos, Live TV and top shows of IndiaTV, country's leading news channel on a single platform to ensure you don't miss anything important.
Internet, Twitter, Facebook are buzzing with breaking news and news alerts from India and rest of the world. You can find here the LIVE COVERAGE of all breaking news alerts and latest news updates on just one page. IndiaTV Digital covers all top news as and when it happens and ensures its readers don't miss anything important.
BREAKING NEWS OF OCTOBER 11:
05:15 pm: Today afternoon one Mi-17 helicopter on a routine mission from Tuting, Arunachal Pradesh force-landed West of Tuting. All 16 on-board are safe: Indian Air Force
05:00 pm: Women don't go to work to be harassed. They go to work to live their dreams&earn a respectable living. I am hopeful that all these ladies who are speaking out get the justice that they deserve: Union Minister Smriti Irani on #MeToo
Union Minister Smriti Irani reacts on #MJAkbar, says 'The gentlemen concerned would be better positioned to speak on this issue. I appreciate that the media is accosting his female colleagues...Anybody who is speaking out should in no way be shamed, victimised or mocked.'
04:50 pm: Handwara encounter: The two terrorists killed earlier today, have been identified as Manan Bashir Wani, resident of Tiki Pora, Sogam, Kupwara & Ashiq Hussain Zargar, resident of Tulwari in Langate.
04:40 pm: Punjab: Farmers in Patiala burn stubble, say, "We have no alternative. The government has not even waived off our loans. Does only stubble burning cause pollution and not crackers and celebrations during Dushhera and Diwali? "
04:24 pm: Rajasthan: Three dead after a truck, carrying chemical in it, caught fire after it collided with a trailer vehicle on Ajmer-Jaipur National Highway earlier today.
03:40 pm: Sensex plummets 759.74 points to end at 34,001.15; Nifty slumps 225.45 points to 10,234.65. 
03:30 pm: SC issues contempt notice against three directors, including CMD, of Amrapali group and seeks their reply in four weeks. The apex court has directed the three directors of Amrapali group to present themselves before SHO of Noida Sector 62 tomorrow before 8 AM.
The court has asked Noida police to take the 3 directors to sealed properties where the documents of Amrapali group firms will be catalogued. SC directs opening of sealed properties from 8 AM to 6 PM for cataloguing of documents for next 15 days. 
2:05 PM: In a joint operation, Delhi Commission for Women and Delhi Police conducted a raid in Paharganj area and rescued 8 Nepalese girls.
1:40 PM: Jammu & Kashmir: Terrorists kill a civilian in Shopian, police present at the spot; More details awaited
1:00 PM: Two terrorists killed in Handwara encounter. Arms and ammunition recovered. Identities of the slain terrorists are yet to be ascertained. Operation continues: J&K police
12:25 PM: Supreme Court says sealing of illegal and unauthorised construction in Delhi should be done without giving any advance notice. SC seeks Centre's response on discarding the rule which mandates 48 hours advance notice to be given to violators before taking action.
11:10 AM: Supreme Court will hear a petition challenging West Bengal Government's order to give Rs 10,000 each to Durga Puja committees tomorrow. The decision was earlier upheld by Calcutta High Court.
11:04 AM: SC asks Amrapali group to file undertaking with regard to sealing of its nine properties by 2 pm today. 
10: 45 AM: Jammu and Kashmir: Pakistan violated ceasefire in Krishna Ghati sector along the Line of Control (LoC) in Poonch last night. One jawan injured
10:30 AM: A fishing boat with 5 fishermen onboard capsized in Gopalpur owing to severe cyclonic storm, however, one of the three disaster & rescue teams operating in Gopalpur Paradip area rescued all five fishermen & brought them to safety: Indian Coast Guard.
09:40 AM: Sensex crashes over 1,000 points, Nifty below 10,200 on global sell-off
09:30 AM: Rupee falls by 24 paise, hits all-time low of 74.45 against US dollar
08:20 AM: Heavy rain and hailstorm likely to hit Chamoli, Rudraprayag, Uttarkashi, Pithoragarh and Dehradun. Snowfall expected in areas above 3500 feet: Uttarakhand MeT Dept
08:12 AM: Lucknow brothers murder case: Accused Shivam allegedly commits suicide by shooting himself, other accused Cheena arrested by police. Last week two brothers Armaan and Imraan were shot dead in Thakurganj area. 
07:00 AM: Kupwara: Encounter underway between terrorists and security forces in Handwara's Shartgund Bala. Two to three terrorists believed to be trapped. Internet services suspended in the area.
06:34 AM: Petrol prices in Delhi at Rs 82.36/litre, Rs 87.82/litre in Mumbai; diesel prices in Delhi at Rs 74.62/litre, Rs 78.22/litre in Mumbai
06:18 AM: Very severe cyclonic storm Titli makes landfall near Gopalpur in Odisha: IMD
06:07 AM: In order to deliver some of these offsets, Dassault Aviation has decided to create a joint venture. Dassault Aviation has freely chosen to make a partnership with India's Reliance Group. This joint-venture, Dassault Reliance Aerospace Ltd (DRAL), was created February 10, 2017.
06:05 AM: Within framework of Sept'16 Inter-Govt Agreement b/w France&India, Dassault Aviation sold 36 Rafale aircraft to India. In compliance with Indian regulations (Defence Procurement Procedure), Dassault Aviation committed to offsets worth 50% of value of purchase: Dassault Aviation
06:00 AM: US Secretary of State Mike Pompeo says no more US reconstruction aid to Syria if Iran troops remain in the country