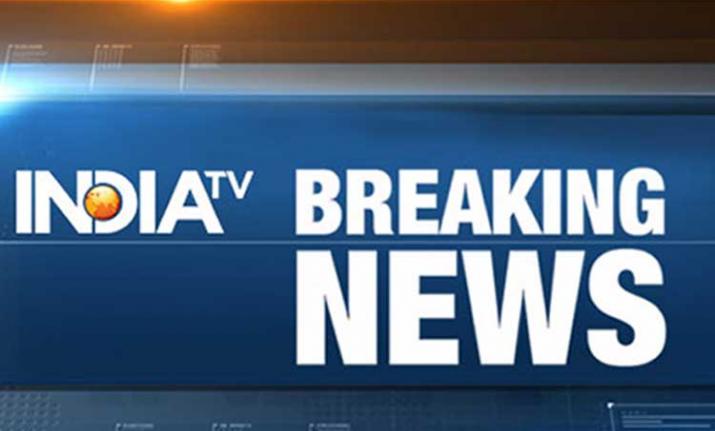 Daily dose of news plays very important role in our daily life. For some people, the morning is incomplete without knowing about what's happening across the world. Some digital-savvy people have a habit of consuming news even when they are travelling or in their free time. In today's world, where people rely on news websites for everything that's happening around, IndiaTV News provides you all breaking news, latest news, breaking story videos, Live TV and top shows of IndiaTV, country's leading news channel on a single platform to ensure you don't miss anything important.
Internet, Twitter, Facebook are buzzing with breaking news and news alerts from India and rest of the world. You can find here the LIVE COVERAGE of all breaking news alerts and latest news updates on just one page. IndiaTV Digital covers all top news as and when it happens and ensures its readers don't miss anything important.
WATCH LIVE COVERAGE HERE:
BREAKING NEWS OF DECEMBER 27:
05:10 pm: Anwar Raja, AIADMK MP on Triple Talaq Bill: The Bill is against the Muslim community. Our party will oppose the Bill, we are against it, that is our stand.(ANI)
03:30 pm: NIA raids matter: Delhi's Patiala House Court allows family members and parents of five accused to meet them inside the court.
03:15 pm: NIA raids matter: Delhi's Patiala House Court sends all the accused arrested by NIA to 12 days remand.
02:55 pm: Meenakshi Lekhi,BJP in Lok Sabha: Would like to ask those opposing the Triple Talaq Bill here that in which suraa of the holy Quran is talaq-e-biddat mentioned? This is not he vs she, these are issues of human rights violation(ANI)
12:45 pm: Gordhan Zadafia on being appointed BJP UP LS incharge:Touched by responsibility given by PM to me.I have worked with him for almost 3 decades. What happened earlier is past, I had merged my party again in BJP in 2014 realising personal egos should be kept aside for sake of nation
12:33 pm: India vs Australia third test: Australia are 8/0 at stumps on day 2. India had declared on 443 for 7 
12:01 pm: 35 students injured in school bus accident near Lunj in Kangra; injured students admitted to a hospital
11:27 am: NIA raids matter: Family members of the accused arrested by NIA are seeking permission to meet them. They are moving separate pleas in Delhi's Patiala House Court
11:16 am: Anupriya Patel, Union Minister and Apna Dal leader on party president Ashish Patel's statement 'BJP should learn from recent losses. SP-BSP alliance is a challenge for us': My party president has already expressed the party's view and I stand by it
11:12 am: Lok Sabha adjourned till 12 pm after uproar by opposition over Rafale Deal
10:28 am: Union Home Minister Rajnath Singh on National Investigation Agency (NIA) busting ISIS module: It is a big success and I congratulate NIA
10:10 am: Mallikarjun Kharge, Congress on discussion on Triple Talaq bill in Lok Sabha today: We will take part in the discussion and keep forward our opinion. We will appeal to the govt that it should not interfere in a religious matter.
10:03 am: Congress issues whip to its Lok Sabha MPs to be present in the House today: Sources
9:51 am: 15 trains to Delhi running late today due to fog conditions.
9:12 am: Badrinath, Auli and Chopta receives fresh snowfall
9:09 am: Union Law Minister Ravi Shankar Prasad to move the #TripleTalaq bill to be taken up for discussion in the Lok Sabha today
8:47 am: Indonesia has rerouted all flights around the erupting Anak Krakatau volcano between Java and Sumatra islands, as it spewed columns of ash into the air, days after it triggered a deadly tsunami.
8:33 am: Major pollutants PM 2.5 and PM 10 in 'Poor' category in Lodhi Road area of Delhi, according to the Air Quality Index (AQI) data.
7:35 am: Police arrested four cow smugglers from Nirdhna area of Muzaffarnagar​, UP
7:32 am: Portfolios have been allocated to the #Rajasthan Cabinet Ministers. Chief Minister Ashok Gehlot keeps nine departments and Deputy CM Sachin Pilot gets five departments.
7:10 am: INDvAUS 3rd Test: Cheteshwar Pujara scores his 17th Test century. India are 271 for 2 against Australia on Day 2. 
6:55 am: Three, including a baby, killed in Christmas day shooting in Mexico
6:25 am: Salman Khan celebrates his 53rd birthday at his farmhouse in Panvel, Maharashtra
6:22 am: United States President Donald Trump made an unannounced first trip to troops in a combat zone in Iraq
6:16 am: Farmers in Bulandshahr are spending nights at their farms protecting crops from being destroyed by stray cattle. 
6:00 am: An IndiGo passenger onboard flight 6E-947 from Ahmadabad to Goa was booked after he was found smoking in the lavatory of the aircraft during the journey