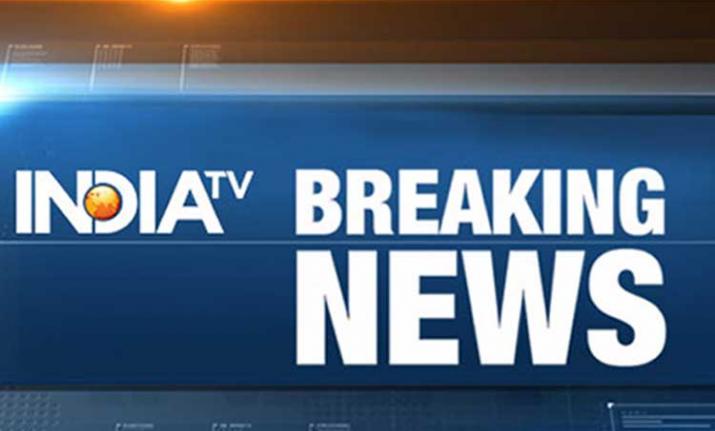 Daily dose of news plays very important role in our daily life. For some people, the morning is incomplete without knowing about what's happening across the world. Some digital-savvy people have a habit of consuming news even when they are travelling or in their free time. In today's world, where people rely on news websites for everything that's happening around, IndiaTV News provides you all breaking news, latest news, breaking story videos, Live TV and top shows of IndiaTV, country's leading news channel on a single platform to ensure you don't miss anything important.
Internet, Twitter, Facebook are buzzing with breaking news and news alerts from India and rest of the world. You can find here the LIVE COVERAGE of all breaking news alerts and latest news updates on just one page. IndiaTV Digital covers all top news as and when it happens and ensures its readers don't miss anything important.
BREAKING NEWS OF DECEMBER 7:
2:00 pm: Justice Arumughaswamy Commission on the investigation of death case of J Jayalalithaa, had sent a letter on 5th December to Tamil Nadu Home Secretary and Karnataka DGP for conducting an inquiry of VK Sasikala.
1:45 pm: Additional District Judge Sumit Dass today allows joint application of senior advocate and former BJP Leader Ram Jethmalani and BJP and disposed of the pending suit. Jethmalani had filed a suit against BJP for expelling him from the party. He was expelled from the party in 2013.
1:37 pm: Voter turnout recorded till 1 PM in Telangana Elections 2018 is 49.15%
​1:19 pm: Voter turnout recorded till 1 PM in Rajasthan Elections 2018 is 41.53%​ 
12:46 pm: Supreme Court says it would hear in January 2019 a petition relating to voting rights for NRIs after it was informed that Bill to amend the Representation of the People Act is likely to come up before the Rajya Sabha in this Winter Session of Parliament.
12:22 pm: Delhi's Patiala House Court fixes January 11 as the next date for recording of statements of rest of the witnesses in MJ Akbar's defamation case against journalist Priya Ramani. Today three witnesses had recorded their statements in the matter.
12:16 pm: A PIL was filed in Delhi High Court yesterday seeking the entry of women in sanctum sanctorum of Nizamuddin Dargah, Delhi. The Court is likely to hear the plea next week.
11:49 pm: Voter turnout recorded till 11.00 am in Telangana Elections is 23.4%
11:43 pm: Supreme Court rejects a PIL filed by lawyer Manohar Lal Sharma, seeking action against Finance Minister Arun Jaitley and alleged that he wanted to "plunder" capital reserve of RBI to waive off loan to certain companies. The Court has slapped a fine of Rs 50,000 on Sharma.
11:18 pm: Special CBI court in Mumbai to pronounce judgement in Sohrabuddin Sheikh encounter case on 21st December.
10:44 pm: Supreme Court issues notice to Enforcement Directorate on a plea filed by Vijay Mallya seeking stay on the proceedings initiated by the ED to declare him a fugitive economic offender and confiscate his assets. SC refuses to stay proceedings initated by the ED.
10:10 pm: Calcutta High Court division bench accepts BJP's Rath Yatra appeal against single bench order, which refused permission to hold the Rath Yatra till next hearing on January 9,2019.
10:00 pm: Voters create ruckus at polling booth no. 253 and 254 in Ahor constituency of Rajasthan's Jalore as voting has been halted following EVM malfunction.
9:56 pm: Supreme Court refuses to give an urgent hearing to a mentioning by the Kerala government, seeking a stay on the observation committee in Sabarimala temple issue.
9:32 pm: CNN's New York offices were evacuated Thursday night after a bomb threat, the network said, recalling a similar evacuation in October after an explosive device was discovered.
9:10 am: Delhi's Patiala House Court deferred the hearing in Delhi Chief Secretary alleged assault case to January 30 for scrutiny of documents.
8:14 am: Actress Zareen Khan has filed a case against her former manager Anjali who allegedly misbehaved with her, threatened her and sent objectionable messages on her mobile phone after the actress terminated her services. FIR registered, investigation underway.
8:00 am: Voting begins for Rajasthan assembly election
7:47 am: Voting is yet to begin at the polling station at GHMC Indoor Stadium, Amberpet due to a technical problem. Voting in Telangana began at 7 am today.
7:40 am: Australia 57/2 in 27 overs at lunch, trail India by 193 runs.
7:34 am: Major pollutant PM 2.5 and PM 10 are at 251 and 255 respectively in Delhi's Lodhi Road area, both in 'Poor' category, according to the Air Quality Index (AQI) data.
7:06 am: Our team is at the police station. We are working on it: Navdeep Singh Suri, Indian Ambassador to United Arab Emirates, on singer Mika Singh detained in UAE after a girl complained against him for alleged harassment
7:00 am: Voting begins for Telangana Assembly Elections
7:00 am: Iceland's Foreign Minister, Gudlaugur Thor Thordarson, arrives in India for an 8-day visit
6:12 AM: NTCA committee on tigress Avni's death: From reconstruction of movement of T-1 & final position of body of T-1, it was moving away from road&vehicle on its traditional walk path while it was shot. Tigress wasn't aggressive & shown behaviour was natural as it was hit by a dart and they were moving towards the direction of the animal. Tiger's reaction was mistaken&shot was taken in a hurry by inexperienced Asghar Ali Khan. Evidence strongly supports above observation. In view of the facts, the firing in self-defence is doubtful.
6:11 AM: Committee constituted by National Tiger Conservation Authority (NTCA) to inquire death of tigress Avni in Yavatmal, Maharashtra: Drugs used for tranquilizing tiger were handled by non-professionals and unauthorised personnel who are not supposed to handle or use the same.
6:02 AM: United Nations rejects US bid to condemn Palestinian Hamas
5:34 AM: India Vs Australia 1st Test Day 2: India all out at 250 in 88 overs, in Adelaide