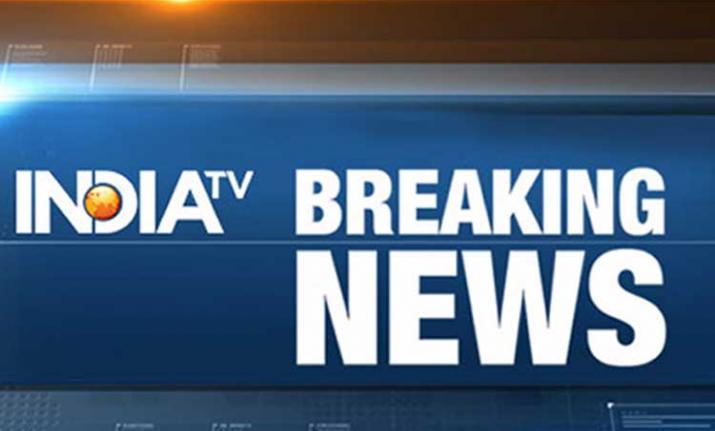 Twitter is buzzing with breaking news and news alerts from India and rest of the world. Here is the coverage of all breaking alerts and latest updates from the micro-blogging site on one page:
Breaking News of June 27:
06:44 pm: My wish is that the prime minister of our country should rank 1st on the list of the most popular people: SP Spokesperson Sunil Singh Sajan on India TV's special show Kurukshetra
06:43 pm: Today we are raising questions at PM Narendra Modi because the promises made by him are still unfulfilled: Congress spokesperson Alok Sharma on India TV's special show Kurukshetra
06:41 pm: Congress lacks the character to listen, the party that opposes even the Supreme Court is raising questions at us today. VHP had fought the movement for the disputed land in Ayodhya: VHP Spokesperson Vinod Bansal on India TV's special show Kurukshetra
06:38 pm: A Muslim panel today sits on the national television and debates in favour of constructing the Ram Mandir, but Muslims are the ones who have filed a plea against its construction: VHP Spokesperson Vinod Bansal on India TV's special show Kurukshetra
06:35 pm: Congress is responsible for the killings in the name of cow slaughtering: VHP Spokesperson Vinod Bansal on India TV's special show Kurukshetra
06:33 pm: Congress has completed its tenure in the country and have yet not responded to a number of questions raised by the people: MP-LS BJP Ram Shankar Katheria on India TV's special show Kurukshetra
06:32 pm: What are we going to gain by playing politics on SCs, STs and Dalits? Why can't we actually take steps for their betterment?: VHP Spokesperson Vinod Bansal on India TV's special show Kurukshetra
06:31 pm: Modi ji is spending crores of money on advertising, he wears costly clothes and delivers speeches to fool the people of the country: Congress spokesperson Alok Sharma on India TV's special show Kurukshetra
06:30 pm: China lifts ban on import of British beef (reports AFP)
06:28 pm: Today Uttar Pradesh Chief Minister Yogi Adityanath has fixed the price of potatoes in the state and this has been done in favour of the common man: MP-LS BJP Ram Shankar Katheria on India TV's special show Kurukshetra
06:26 pm: Congress party is responsible for the worsening conditions of Dalits and for the problems that are being faced by the farmers, as they have ruled the country for decades: MP-LS BJP Ram Shankar Katheria on India TV's special show Kurukshetra
06:25 pm: I am hopeful that PM Modi will come forward and will speak on the national issues resolved within a span of 4 years: SP Spokesperson Sunil Singh Sajan on India TV's special show Kurukshetra
06:24 pm: It is unfortunate that the Congress is still playing politics on Ram Mandir, even after 70 years of Independence: MP-LS BJP Ram Shankar Katheria on India TV's special show Kurukshetra
06:23 pm: Though the matter is pending in the Supreme Court, but our stand is clear on Ram Mandir, the temple will be constructed: VHP Spokesperson Vinod Bansal on India TV's special show Kurukshetra 
06:20 pm: Congress has always said that they will agree with the verdict of Supreme Court on Ram Mandir, but they have opposed the verdict of the top court on a number of occasions in the past: VHP Spokesperson Vinod Bansal on India TV's special show Kurukshetra
06:18 pm: BJP will never let the issue of Ram Mandir resolve, else they will lose the base to ask for votes. BJP has been fooling people in the name of constructing Ram Mandir: Congress spokesperson Alok Sharma on India TV's special show Kurukshetra
06:17 pm: Time will decide on who will win the 2019 elections, but at present we should look at the unfulfilled commitments made by the BJP: Congress spokesperson Alok Sharma on India TV's special show Kurukshetra
06:13 pm: BJP will fight elections on the basis of hard work done by the party members and the trust that we have won: MP-LS BJP Ram Shankar Katheria on India TV's special show Kurukshetra
06:11 pm: UP elections are going to be relevant. PM Modi has won the faith of the people of the country: MP-LS BJP Ram Shankar Katheria on India TV's special show Kurukshetra 
05:37 pm: Anoop Chandra Pandey appointed as the new Chief Secretary of Uttar Pradesh. Rajiv Kumar is holding the position at present, his tenure will end on June 30 (ANI)
05:36 pm: National Commission for Women takes suo-motu cognisance of media report of June 27 captioned "5 Kerala priests 'blackmail, sexually abuse' woman", writes to DGP and Kerala Police Chief, directs him to conduct a probe and apprise the Commission about action taken (ANI)
05:23 pm: White House favors tougher foreign investment oversight, but no specific China restrictions (reports AFP)
05:21 pm: South Sudan foes sign deal for 'permanent' ceasefire within 72 hours (reports AFP)
04:59 pm: Police lathi-charge police recruitment examination aspirants in Bihar's Patna; the protesters had alleged discrepancies in the exam results (ANI)
04:17 pm: Accused Nikhil Handa is giving us misleading information day after day. We have done 90% of the work and in coming days the truth will come out: Vijay Kumar, DCP West Delhi on murder case of Shailja Dwivedi, wife of an Indian Army Major (ANI)
04:15 pm: The weapon that we have in our custody is not the weapon with which Shailja was killed: Vijay Kumar, DCP West Delhi on murder case of Shailja Dwivedi, wife of an Indian Army Major (ANI)
04:11 pm: Pune Sessions Court grants bail to CMD of Bank of Maharashtra Ravindra Marathe with surety amount of Rs 50,000. He was arrested on June 20 in connection with wrong disbursement and sanctioning of loan to a Pune based builder DS Kulkarni (ANI)
03:48 pm: Sensex sheds 272.93 points to close at 35,217.11; Nifty ends at 10671.40 (PTI)
03:31 pm: Union Cabinet approves MoU between India and Singapore on cooperation in the field of urban planning and development (ANI)
03:28 pm: Union Cabinet approves Memorandum of Understanding between India and Germany on Cooperation in the field of Civil Aviation (ANI)
03:27 pm: Union Cabinet approves enhancement of age of superannuation to 65 years of General Duty Medical Officers, Specialist Grade doctors and Teaching Medical Faculty working in Bhopal Memorial Hospital and Research Centre, Bhopal (ANI)
03:26 pm: Gitanjali Gems owner Mehul Choksi moves application for cancellation of non-bailable warrant before the Mumbai CBI Special Court, in PNB scam case (ANI)
03:25 pm: Cabinet Committee on Economic Affairs approves a corpus of Rs. 1,040 cr to National Export Insurance Account Trust to support project exports from the country that are of strategic and national importance (ANI)
03:24 pm: Union Cabinet approves establishment of additional 6.5MMT Strategic Petroleum Reserves at Chandikhol in Odisha and at Padur (ANI)
03:22 pm: Over 200 killed in weekend violence in Nigeria's Plateau state (reports AFP)
03:14 pm: Chairman of Shirdi Saibaba Sansthan Trust, Suresh Kashinath Haware accorded MoS status in Maharashtra Government (ANI)
03:01 pm: Following reinstatement of sexual assault accused actor Dileep's membership in Association of Malayalam Movie Artists (AMMA), four female actors including the victim have resigned from the association (ANI)
02:24 pm: BJP President Amit Shah arrives in Kolkata 
02:06 pm: Nine Karnataka Congress MLAs leave for Dakshina Kannada district's Belthangady to meet Siddaramaiah (ANI)
02:01 pm: I look forward to the inter-faith tour we are going to take tomorrow because we think freedom of religion is just as important as freedom of rights and freedom of people: Nikki Haley, US ambassador to United Nations who is on a visit to India (ANI) 
01:44 pm: Cabinet nod for hike in price of ethanol produced from C-molasses to Rs 43.7/litre for 2018-19 season from current Rs 40.85/litre (reports PTI quoting sources)
01:36 pm: Andhra Pradesh Chief Minister N Chandrababu Naidu interacts with Sub-Inspector trainees of 2017-18 batch, in Amaravati (ANI)
01:03 pm: Income Tax has directed Robert Vadra to pay arrears for the year 2010-11. We want to ask Rahul Gandhi what does he have to say on the Income-Tax evasions of Robert Vadra?: Sambit Patra, BJP (ANI)
12:46 pm: Case registered after 11 people of two families in Kerala's Kasaragod went missing on June 15. Police is investigating their travel history and if they have travelled to an ISIS territory (ANI)
12:13 pm: You are simply an officer. You can't be given a blanket clean chit. Everybody is accountable, Supreme Court tells Rajeshwar Singh. Court further says it would pass appropriate order in the matter at 2 pm today (PTI)
12:12 pm: Supreme Court observes that the allegations against Rajeshwar Singh, whether right or wrong, have to be looked into (PTI)
12:10 pm: We are willing to probe allegations of disproportionate assets against ED officer Rajeshwar Singh probing Aircel-Maxis case, Centre tells Supreme Court. Centre places communication in a sealed cover before the Supreme Court. court says sensitive issues are involved in the matter (PTI)
12:08 pm: Supreme Court says issues related to 2G spectrum case are highly sensitive and no officer probing the matter should be under any cloud (PTI)
11:57 am: Massive fire breaks out at a chemical factory in UP's Meerut; fire tenders present at the spot 
11:52 am: Indian Air Force fighter jet crashes in Maharashtra's Nashik, both pilots safe 
11:49 am: Supreme Court refuses to transfer the case of the disqualification of 18 Tamil Nadu MLAs from Madras High Court to Supreme Court. Supreme Court assigns a new judge in Madras High Court in the case (ANI)
11:27 am: Environmentalist Vimlendu Jha files contempt plea in Delhi High Court against respondent (NBCC) for willful disobedience of the high court order. Petitinor Vimlendu Jha alleged that despite the Delhi HC order, tree felling was carried out by the NBCC yesterday in Netaji Nagar (ANI)
11:25 am: Head of every mission based in Delhi was invited in EAM Sushma Swaraj's Eid Milan program, including Pakistan (reports ANI quoting official sources) 
11:14 am: Anti-corruption team in UP's Mahoba arrests a drug inspector for accepting a bribe of Rs 45,000 for issuing license for a medical store (ANI)
11:11 am: A Special Police Officer goes missing after reportedly leaving from Pampore police station in Jammu and Kashmir, with an AK-47 rifle (ANI)
10:51 am: Rajasthan Govt's labour department issues order for employees to wear trousers and shirt while on duty (ANI)
10:45 am: We have requested Court to allow us to sell these assets under judicial supervision and repay creditors, including the Public Sector Banks such amounts as may be directed and determined by the Court. If the criminal agencies such as ED or CBI object: Vijay Mallya (ANI)
10:43 am: Some have been asking why I chose to make a statement at this time. I have made statement because UBHL and myself filed an application before the Hon'ble Karnataka High Court on June 22, 2018, setting out available assets of approximately Rs. 13,900 crores: Vijay Mallya (ANI)
10:41 am: I'm here to once again solidify our love for India, our belief in friendship of India and US and our willingness to want to make that relationship stronger. In this day and time we see more and more reasons for India and US to come together: Nikki Haley (ANI)
10:38 am: We're two oldest democracies and we see opportunities between US and India in multiple ways whether it's countering terrorism or we want to continue our democratic opportunities or we are going to start to work together more strongly on the military aspect: Nikki Haley (ANI)
10:37 am: It makes me happy to be back in India. It's as beautiful as I remember it to be. We started out at Humayun's tomb which is a reminder of how much we and India value culture and to see the preservation that has happened here: Nikki Haley, US Ambassador to the UN (ANI)
10:15 am: Social security cover extended to 50 crore people, up from about 5 crore in 2014: Prime Minister Narendra Modi (PTI)
10:11 am: Judge orders US to reunite families separated at border within 30 days; sooner for children under 5 (reports The Associated Press)
09:36 am: Amarnath Yatra: Radio frequency based ID tags being installed on vehicles. We'll know whenever they'll pass by our 4 reception centres on 2 routes. If we don't receive signal from a vehicle we'll inform IG Control room&naka points: Commandant PP Pauly, 73 Battalion CRPF at Bemina
09:34 am: Yes FIR numbers have increased but I refuse to believe any report which says that India is at top in crimes against women. There are many other countries where situation is worse: Rekha Sharma, National Commission for Women
09:30 am: Delhi Police arrests 3 people, seizes 26 pistols, 19 magazines and 800 cartridges
08:30 am: 29 June is normal date for onset of monsoon in Delhi. Currently it's progressing in West Bengal, Odisha and Bihar. Till 30 June monsoon will cover all of India except Kutch. We're expecting serious thunderstorm activity prior to monsoon in north west India: India Meteorological Dept
08:20 am: MEA has sought assistance to trace and restrict Nirav Modi's movement in some European countries. Last week MEA wrote letters regarding this to France, UK & Belgium. Indian missions in these countries had shared note verbale on Nirav Modi with respective govts, earlier too: Sources
08:17 am: No invitation was extended to Pakistan High Commissioner to India Sohail Mahmood for the Eid celebration hosted yesterday by External Affairs Minister Sushma Swaraj at Pravasi Bhartiya Kendra: Pakistan sources
07:55 am: Delhi: A Head Constable Rohit Nayar died after being hit by an unidentified bike-borne man at Geeta Colony Road near Shakarpur Police Station last night. Nayar, posted at Sarita Vihar police station, was returning home after his duty. Police has registered a case & started probe.
07:50 am: Udhampur: Pilgrims in first batch of Amarnath Yatra being welcomed by locals & officers of the dist admn, including Dy Commissioner Udhampur Ravinder Kumar & SP Udhampur Faisal Qureshi, at Tikri. Pilgrims say 'We are happy with the arrangements & the security.' 
07:20 am: Emergency days were darkest days in post-independence India. How one can stoop so low to fulfil lust for power was shamelessly demonstrated in the activities of the then ruling party at the Centre. There was a reign of terror throughout the country: WB Guv Keshari Nath Tripathi
07:00 am: Light showers in Delhi's Rajpath bring respite from heat, temperature recorded at 28 degrees 
06:48 am: Like any religious festival in India, whether Deepavali or Christmas or Baisakhi or Navroze or any other, Eid ul Fitr too brings together people of all faiths in India: EAM Sushma Swaraj at the Eid reception she hosted yesterday
06:47 am: India's home to 1 of the largest population of Muslims. Our celebrations of Eid are as diverse as our regions, cuisine and traditions, as vibrant as our festivities and as sweet as our traditional meeti sevaiyan and host of savoury dishes: Sushma Swaraj at Eid Celebration hosted by her (26.06.18)
05:30 am: All security arrangements have been made. We're using latest technology and vehicles, manpower has been increased as compared to last year. There's no specific threat as such, but we're ready for any kind of attack: IG CRPF Jammu Sector on security arrangements made for Amarnath Yatra
05:29 am: Amarnath Yatra is a very significant annual event. With cooperation of public, all security agencies & development agencies we have put a scheme in place & are trying our best to address concerns of the yatris & ensure smooth flow of traffic: Vijay Kumar, Advisor to J&K Governor
05:27 am: First batch of Amarnath Yatra has been flagged off from Jammu base camp. It was flagged off today by BVR Subramanyam, Chief secretary J&K, BB Vyas Advisor to J&K Governor & Vijay Kumar, Advisor to J&K Governor.
04:49 am: Maharashtra: Man dies after he allegedly rammed his sports bike into a divider in Mumbai's Powai area. Police case has been registered. Further investigation underway.
04:25 am: Maharashtra: Locals staged a protest after 6 people who had been granted bail by a court were re-arrested by the police in Aurangabad, yesterday.
04:18 am: Devotees gather at the base camp in Jammu as the first batch of Amarnath Yatra will be flagged off from there, shortly.
03:55 am: Etawah: 2 people arrested during an encounter between police & miscreants. 2 police personnel have been injured & are currently undergoing treatment. (26.06.18)
03:44 am: There's always been electricity in hospital but voltage has been low as a result ACs & machines aren't functional. As soon as we came to know about this issue, we referred those 2 kids to another hospital. They died on way in ambulance: Dr Dinesh, Child Specialist, Civil Hospital
03:44 am: Haryana: 2 children die & 4 children are in critical condition allegedly because there was no electricity in Civil hospital in Panipat. (26.06.18)
01:38 am: Fifa World Cup 2018: Croatia beat Iceland by 2-1 in a Group D match.
01:26 pm: Fifa World Cup 2018: Argentina beat Nigeria 2-1 in a Group D match