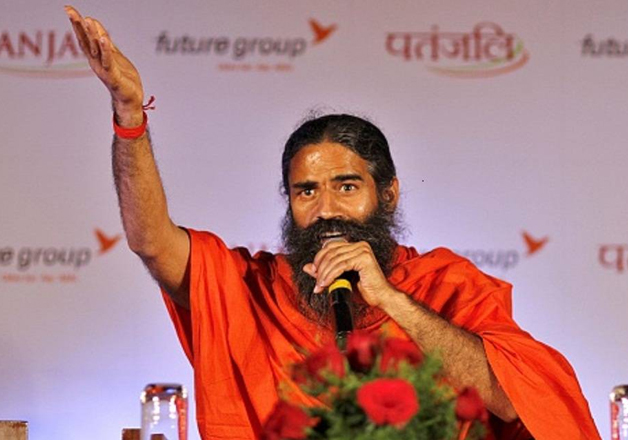 Upping ante against China, yoga guru Baba Ramdev has called for a complete boycott of all Chinese goods and bank on 'Made in India' items.
Speaking at an event here on Wednesday, Ramdev said that he wants to put socio-economic pressure on the Chinese administration because they make money by selling its goods in the country to help Pakistan. 
"China makes money out of India and helps Pakistan," he said. 
At various social media platforms, a campaign calling to boycott the Chinese goods has gained momentum in last few days. Yesterday, Beijing's media said that products manufactured by Indian firms cannot compete with those of the China and that New Delhi can only 'bark' and do nothing about the growing trade deficit between two countries.
Wholesalers in India's largest wholesale market Sadar Bazaar have already claimed that they are seeing a drop of at least 20 per cent in Chinese made products. The Confederation of All India Traders recently predicted that the traders expect they will suffer at least 30 per cent loss due to the boycott of Chinese-made products. 
Experts, however, said that by boycotting Chinese products, there will be a huge setback for China and Chinese business organisation. Right from toys for kids to items of everyday use, China provides everything for India. Festivals take place in India but preparations for them starts in China long back. Under such circumstances, if India decides to boycott Chinese items, it will shake China badly.
This has come as China remained non-committal on India's bid for entry into the elite Nuclear Suppliers Group (NSG) and banning Pak-based terrorist Masood Azhar.
Speaking on the ban on Pakistani artists in Indian films, founder of the Patanjali Ayurved said, "Artistes are not terrorists. But do these people have no souls? They are only concerned about their films, earning crores and eating biryani. Why can't they condemn the brutal killings of Indians in Uri or elsewhere?"
In the wake of the dastardly terror attack in Jammu and Kashmir's Uri region on September 18, in which 19 Indian Army soldiers lost their lives, the Maharashtra Navnirman Sena (MNS) had issued a 48 hour-deadline to Pakistani actors and artists to leave India, saying they will push them out of the country if they don't go back to their nation.
Ramdev also informed that he was open to setting up a Patanjali unit in Pakistan and besides holding yoga camps in Pakistan as 'yoga is also an art'.
Praising PM Narendra Modi for the recent surgical strikes by Indian Army across the LoC, he said, "Eliminating the evil is not violence."
He even expressed hope the present government will decimate underworld don Dawood Ibrahim, and wanted terrorists Masood Azhar and Hafiz Saeed.
"I think (Prime Minister Narendra) Modiji will also decimate Dawood Ibrahim, Masood Azhar and Hafiz Saeed, so that people of this country forget any grudges they have with him with regard to black money and poverty alleviation… I tweeted to Modiji that he should talk about Buddha and yudhha (war) side by side. There can never be shanti (peace) without kranti (revolution)," he said.
Asked to rate the performance of the NDA government, he said, "A yogi should neither be happy nor unhappy. I am stuck somewhere in the middle. I hope Modi becomes the most successful Prime Minister of India. I trust him."