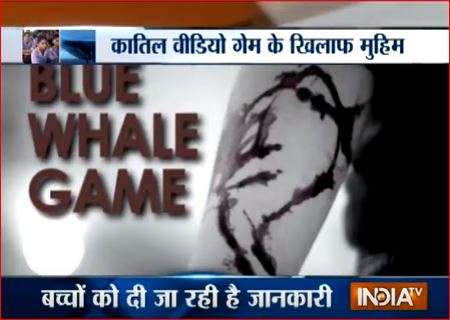 The Delhi high court on Thursday expressed concern over children allegedly committing suicide while playing online game Blue Whale Challenge, which has been allegedly linked to the deaths of several children worldwide.
A bench of acting chief justice Gita Mittal and justice C. Hari Shankar also wondered why adults were getting into this game, in which dangerous tasks like self-inflicting of wounds on the body, are assigned to the player by administrators during a 50-day period. The bench said it can understand children getting influenced, but why were adults getting involved in it.
"If an adult is told to do a task, why would he/she go and jump from a building," it said, adding, "We are wondering why both children and adult are doing this."
The high court, however, refrained from passing any order on the plea seeking direction to internet companies, including Google, Facebook and Yahoo, to take down the links of the game. It wished to know whether the government has issued any prohibition order with regard to downloading of the game.
The court also sought to know from the petitioner, advocate Gurmeet Singh, whether any such incident has happened in Delhi. It asked the petitioner whether any prohibition order can be passed on Thursday and fixed the matter for further hearing on 22 August. Two days ago, the Ministry of Electronics and IT had directed the internet majors—Google, Facebook, WhatsApp, Instagram, Microsoft and Yahoo—to immediately remove the links of the deadly Blue Whale Challenge, which has led several children in India and other countries to commit suicide.
The PIL was on Wednesday moved in the high court seeking directions to internet companies like Google, Facebook and Yahoo to take down the links of Blue Whale. Citing deaths of children in India and abroad, the advocate, who filed the petition, sought immediate directions to restrain the internet majors from uploading any material pertaining to the Blue Whale Challenge.
He also sought direction to the Delhi Police to appoint a special five-member team to oversee whether the internet companies comply with the court's direction. The sudden popularity of the lethal online game in which the final task requires the player to commit suicide, has forced the government to issue directions to the internet giants to remove the links of the dangerous game.
The petition said "there are so many children and people being adversely affected by this menace namely Blue Whale Challenge and they do not even know that the same will cost their life and their families will suffer heavily. All citizens of India will be benefitted if the said menace is stopped."
More than six children across India in the age group of 12-19 years have taken their lives playing this game within a span of two weeks. Deaths of teenagers have been reported from other countries including Russia, China, Saudi Arabia, Brazil, Argentina, Bulgaria, Chile and Italy, the PIL had said.