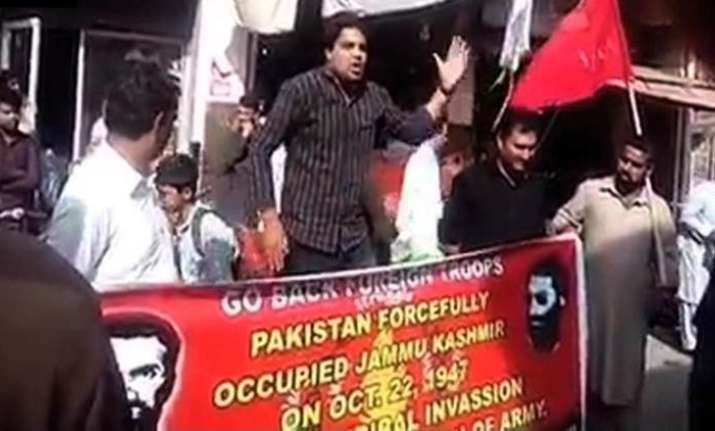 Angry residents of Pakistan-occupied Kashmir(PoK) held massive demonsatrrations on October 22 to mark 'Black Day' against illegal occupation of their land by Pakistan.
It was on this day (October 22) in 1947 when Pakistan violated all international norms by sending tribals to invade Kashmir.Since then, this day is observed as 'Black Day' every year by the residents of PoK.
On Saturday, thousands of agitated people took to the streets in Bhimber, Kotli, Muzaffarabad, Mirpur and other parts of Pakistan-occupied Kashmir to mark 'Black Day'.
They shouted slogans against illegal Pakistani occupation and demanded that their land be freed without any further delay.
However, the protestors were brutally thrashed by the Police.
Mass arrests were made with batons charged and tear gas shells unleashed on peaceful protesters. 
"Pakistan talks about Srinagar and Delhi, but look what they have done here. There is no pond of milk and honey here in PoK," said a leader of the National Student Federation here," one of the protestors said. 
"We don't believe in this kind of Azadi; Pakistan failed to resolve its own issues and it should first deal with terrorists, which it gave birth to. Look at Nawaz Sharif (Prime Minister) wherever he goes in the world, Raheel Sharif (Army Chief) follows him," he added.