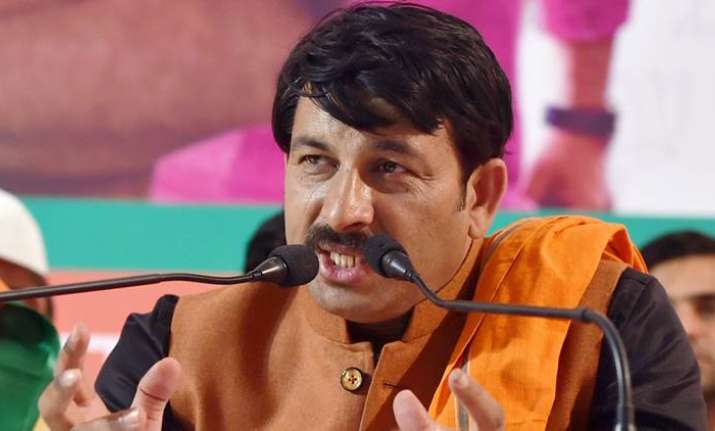 Delhi BJP chief Manoj Tiwari on Saturday questioned the "silence" of Chief Minister Arvind Kejriwal over the killing of a 23-year-old man by the family members of a woman with whom he was in a relationship for three years.
Ankit Saxena, a professional photographer, was stabbed to death on Thursday night in west Delhi's Khyala area. The woman's family opposed her relationship with Saxena as the two belonged to different communities, according to the police.
Special forces had to be deployed in Khayala as the tension prevailed after the murder. 
Tiwari, who met the victim's family earlier in the day, said that it was sad to see such incidents in the national capital. "The silence of the chief minister and several NGOs in the matter indicates that these people speak on issues only when it suits their political interests," Tiwari charged.
During the meeting, Tiwari informed the family about the arrangements his party was making for the treatment of Saxena's mother, who was injured in the attack on her son.
"The family has made several attempts to seek medical assistance by calling on ambulance service telephone No. 1008 but they got no help. Delhi government made no arrangement for the treatment," the Delhi BJP alleged in a statement.
The police arrested the woman's father, mother, uncle and her minor brother in connection with Saxena's killing. "Three accused—the mother, father and uncle of the woman—have been sent to judicial custody. Her minor brother has been sent to the juvenile home," a senior police officer said.
The woman claimed a threat to her life and was sent to Nari Niketan. The family of the deceased has been given security, police said. 
The Delhi unit of the BJP has demanded that the Kejriwal government announce compensation to Saxena's family as it has done in other cases by announcing Rs 1 crore as ex-gratia. 
Local residents claimed the killing was not a fallout of Saxena being in an interfaith relationship. A friend of Saxena said "news reports suggesting a communal angle in the incident are wrong". 
Tiwari also said the incident should not be given a communal angle.