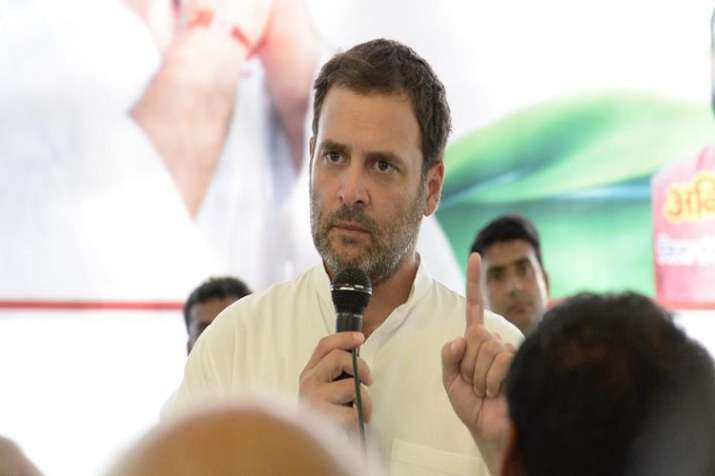 Less than a day after Prime Minister Narendra Modi lashed out at Congress chief Rahul Gandhi over his remark on Congress party standing for Muslims, the Bharatiya Janata Party (BJP) on Sunday questioned the the Congress President's silence over the remark.
The BJP in a strong statement, questioned Rahul Gandhi over why wasn't he responding to the questin by PM Modi on whether his party stood only for Muslim men and not Muslim women.
Union Minister and senior BJP leader Ravi Shankar Prasad accused the Congress party and its chief Rahul Gandhi of stalling bill on triple talaq, pointing that the practice has already been banned by the Supreme Court.
Accusing Rahul Gandhi of "patronising" the minority community, Ravi Shankar Prasad said, "When Rahul Gandhi goes to Gujarat for elections, he becomes a janeudhari (one who wears the sacred thread) and flaunts his Brahmin lineage. He does the same in Karnataka. Now when the elections are over, he starts patronising the Muslims. The issue is why Rahul Gandhi is maintaining conspicuous silence. Why he is not speaking?"
While addressing a public gathering in Uttar Pradesh's Azamgarh on Saturday, Prime Minister Modi had also hit out at Rahul Gandhi over the issue saying, "I have read in the newspaper that Congress President has said that Congress is a party of Muslims, I am not surprised by this. All I want to ask is, is their party only for Muslim men or for women too? These people violate laws and attend Parliament sessions."
"The take of these parties (including Congress) on triple talaq has exposed them. On one side the Centre is trying to make the lives of women easy, on the other side these people have grouped together to make the lives of women, especially Muslim women, difficult," he had further said.
This came after an Urdu daily reported that Congress chief Rahul Gandhi, who met Muslim intellectuals on Wednesday, told them that the Congress was a party of Muslims.